Lost Tables | Remembering Howard Johnson's in St. Louis
Have you ever wondered what happened to that restaurant you once loved and have memories of dining at with your family and friends? We did! There is an amazing website called Lost Tables, dedicated to celebrating the restaurants of our past. We are partnering with the site's creator Harley Hammerman and celebrating these wonderful stories. Hammerman and his wife Marlene are members of Shaare Emeth, and she is past president of the National Council of Jewish Women of St. Louis.   Visit Lost Tables on Facebook
---
Howard Deering Johnson was born on February 2, 1897 in Dorchester, Massachusetts, and moved with his family to Quincy, Massachusetts in 1899. He left school in the eighth grade to work for his father, who owned a small cigar store and manufacturing company.
After serving in World War I, Johnson returned to Quincy and in 1925 borrowed $2500 to purchase a small drugstore at 89 Beale Street. He sold newspapers, magazines, and cigars, and had a marble soda fountain with three flavors of ice cream — vanilla, chocolate, and strawberry.
To ensure his drugstore would be a success, Johnson developed an ice cream recipe with double the butterfat. His rich, creamy ice cream was flavored with all-natural ingredients and the quality and taste never varied. He formulated twenty-eight flavors and was quoted as saying, "I thought I had every flavor in the world."
Throughout the summers of the late 1920s, Johnson opened concession stands on beachfront property along the coast of Massachusetts. The first was opened in 1926 on Wollaston Beach, where he paid $300 for the privilege of selling ice cream from a twenty-two-foot stand. He sold $60,000 worth of ice cream cones that summer — 14,000 cones on one Sunday.
In 1929, Johnson opened a sit-down restaurant in Quincy Square's Granite Trust Building. He served traditional New England foods, including roast turkey, steaks and chops, chicken pot pies, baked macaroni and cheese, baked beans, and, of course, twenty-eight flavors of ice cream.
In the summer of 1935, the first franchised Howard Johnson's restaurant opened on Cape Cod. By the fall of 1940, Johnson had more than 130 restaurants throughout New England in one-story white colonial-style buildings, with dormered orange porcelain tile roofs, turquoise blue shutters and a cupola with a Simple Simon and the Pieman weathervane — all with standardized menus and ice cream dishes
Maintaining consistent quality at each Howard Johnson's location was made possible by an enormous commissary system of centralized kitchens, which produced, froze, and distributed much of the food to individual restaurants. Franchisees strictly adhered to the minutely detailed preparations laid out in the Howard Johnson's Bible.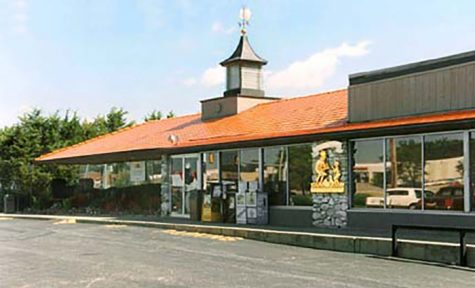 By 1953, there were 353 Howard Johnson's restaurants, all east of the Mississippi. In the spring of 1954, the first Howard Johnson's west of the Mississippi opened in Missouri — at 10460 St Charles Rock Road in St. Ann.
Over the next two years, three more Howard Johnson restaurants opened in the St. Louis area — at 7950 Clayton Road in Richmond Heights, at 1130 South Kirkwood Road in Kirkwood, and at 6935 South Lindbergh in Mehlville. And by the end of the decade, there were restaurants at 8609 Watson in Webster Groves and 3501 North Kingshighway in North St. Louis.
The new restaurants all had a more contemporary design, which would become the standard for Howard Johnson's restaurants and their most famous and recognizable design. The restaurants were sleek single-story structures, surrounded by large plate-glass windows. There was a sloping orange tile hip roof, topped with the trademark cupola and Simple Simon weathervane.