Lost Tables | Remembering Dohack's
Have you ever wondered what happened to that restaurant you once loved and have memories of dining at with your family and friends? We did! There is an amazing website called Lost Tables, dedicated to celebrating the restaurants of our past. We are partnering with the site's creator Harley Hammerman and celebrating these wonderful stories. Hammerman and his wife Marlene are members of Shaare Emeth, and she is past president of the National Council of Jewish Women of St. Louis.   Visit Lost Tables on Facebook
---
Anna Catherine Gangloff was born on September 11, 1880 in Kimmswick, Missouri. She married Joseph Dohack on June 29, 1897, when she was 16 years old. They had four children, including Arthur, born in 1899, and Ernest, born in 1901.
Joseph Dohack was involved with the operation of the Kimmswick Hotel, along with his parents and his brother. In 1899, Catherine Dohack (who got married as Anna, but used the name Catherine, thereafter) took over management of the hotel restaurant.
The Kimmswick Hotel provided food and lodging for riverboat crews making the trip from St. Louis to New Orleans. They would station someone on the roof to spot smoke spewing from the stacks of the paddlewheelers so they could adequately prepare for the boats' arrival.
By 1910, the Dohack family had moved to St. Louis and were living in Carondelet Township. On the 1910 census, Joseph Dohack listed his occupation as blacksmith and by 1920 he worked at a chemical plant. However, by 1930, Dohack was in the restaurant business.
In June of 1923, Joseph and Catherine Dohack built a small frame structure on the side of an unpaved thoroughfare, at the intersection of highways 61 and 77 (Lemay Ferry Road and Lindbergh) in Mehlville. They were joined in their endeavor by their sons, Arthur and Ernest. Initially called Mehlville Barbecue, the little sandwich stand served barbecued meats and fish.
It wasn't long before the little frame stand was replaced by a two-and-a-half-story building with dormers and Cyprus log siding. The first floor contained a large dining room, bar and two kitchens. The second floor was used for office and storage space. The rebuilt restaurant also had a new name – Dohack's.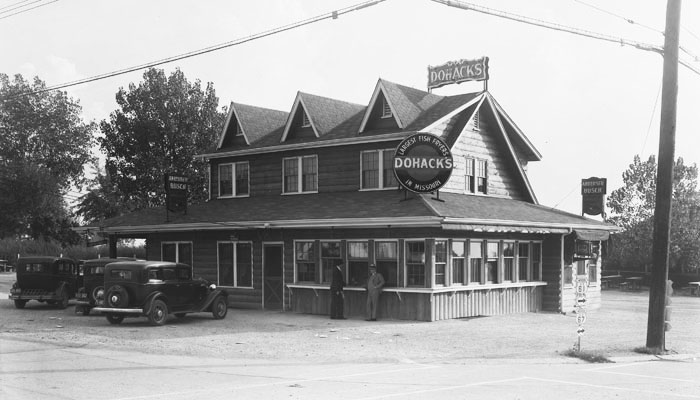 Dohacks, Lemay Ferry Road & Lindbergh, 1934
(click image to enlarge)
At the time, there weren't many places for working-class families to eat out, and the business flourished. Legend has it that the Dohack truck was the first to load up at Anheuser-Busch on the day Prohibition ended, with the restaurant drawing large crowds as it began pouring the brewery's drafts again.
The name Dohack became a byword for good eating throughout the St. Louis area. The restaurant served barbecued rib, fish, ham, beef and hamburger sandwiches, plus lots more, and was the largest fish fryer in Missouri.
Joseph Dohack died in July of 1934 at the age of sixty. Catherine Dohack and her sons continued to operate their restaurant, which evolved into the 1950s with jukeboxes and curb service.
On February 18, 1955, Dohack's was severely damaged by a fire which raged out of control for three and a half hours. Damage was estimated at $100,000.
A temporary structure was erected, and construction of a new building commenced in April of 1957, the new restaurant opening in January of 1958.
The new building, 90 feet long by 42 feet deep, was a one-story fireproofed structure, framed with steel and enclosed in red Norman brick, crab orchard stone and thermo-insulating plate glass, all trimmed in aluminum.
In addition to a drive-in and car-hop arrangement served from a corridor off the kitchen, there was a 40 foot by 32 foot air-conditioned dining room, surrounded on three sides with the insulating glass, under a butterfly type roof. A short-order counter was located on one side of the dining room near the entrance.