Lost Tables | Remembering Hamburger Heaven
Have you ever wondered what happened to that restaurant you once loved and have memories of dining at with your family and friends? We did! There is an amazing website called Lost Tables, dedicated to celebrating the restaurants of our past. We are partnering with the site's creator Harley Hammerman and celebrating these wonderful stories. Hammerman and his wife Marlene are members of Shaare Emeth, and she is past president of the National Council of Jewish Women of St. Louis.   Visit Lost Tables on Facebook
---
Aaron "Ernie" Shriber was born in St. Louis on January 5, 1914. He had two older brothers, Maurice and Bernard (Bud), and two younger sisters, Hildegard and Erma Jean. Tragically, Maurice drowned at age 19 when his canoe was upset in rough water in the Meramec River.
Shriber lived with his family in the city at 1417 Granville Place. He graduated from Soldan high school with the yearbook epitaph: "A man of strife and a man of contention."

| | |
| --- | --- |
| | |
| 1934 Soldan Yearbook | Aaron Shriber, 1934 |
Shriber married Ida Edelstein in 1937. In 1940, the couple lived with Ida's parents at 4114 Fairground Place. Shriber worked as a salesman with Edison Brothers Shoes.
In February of 1946, Shriber and his brother Bernard purchased a two-story building at 2929-31 Big Bend in Maplewood, with plans to "open a cafeteria, dining room and ice cream parlor." In December of 1945, they had registered the name "Ted's Corner" at the address with the state of Missouri.
Ted's Corner, attributed to Ted Lazarcheff, had been a famous Maplewood eatery at the site since the 1930s. After "Bud" and "Ernie" Shriber took over, Lazarcheff went on to be a prominent east side developer.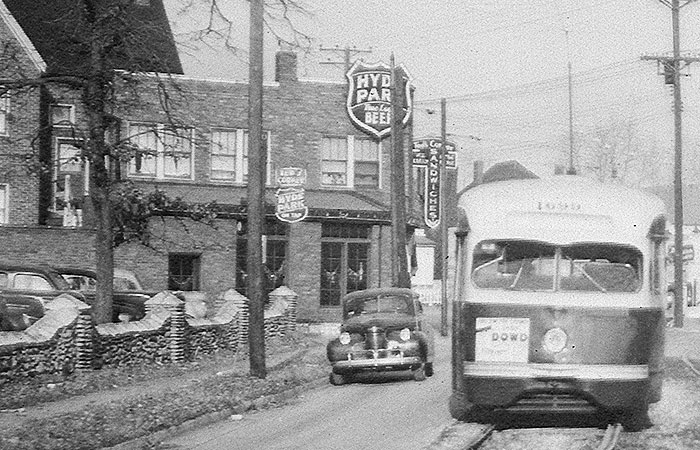 Ted's Corner, 2929-31 Big Bend, February 1949
By the end of the decade, the Shriber brothers would part ways. In May of 1947, the two addresses at Ted's Corner bore the younger Shriber's name – "Aaron Shriber's Restaurant" at 2929 Big Bend and "Aaron Shriber's Ice Cream Parlor" at 2931.
Bud Shriber would go on to operate the Loop Inn at 567 DeBaliviere. And on June 1 1951, Aaron "Ernie" Shriber registered a business with the state of Missouri at 7001 Olive Street in University City with the name "Ernie's Hamburger Heaven."
*     *     *     *     *
According to the St. Louis Post-Dispatch classified ads, it would appear that the misshapen little building at the corner of Olive and Pennsylvania predated Ernie Shriber.
May 5, 1928:  Woman—To run refreshment stand, 7001 Olive St. Road.

May 9, 1942:  Young Man—17-18; to manage and operate small drive-in sandwich stand; evenings; with chance to obtain one-half interest in business; apply 7001 Olive St. Rd.

Jun 8, 1942:  Car Hops—Apply Parkway Drive In, 7001 Olive Street Rd.

May 21, 1948:  Car Hop: Hogan's Hamburger Heaven, 7001 Olive Street Rd.
Not only was there a refreshment stand at 7001 Olive Street Road in 1928 and a drive-in sandwich stand in 1942, but there was already a "Hogan's Hamburger Heaven" at the address in May of 1948.
It's not clear who "Hogan" was. There was a "Hogan's Grill" at 5301 Easton as early as 1942 and at 5620 Delmar as late as 1960. In 1958, brothers Hieatt and Harold Hogan worked as cooks at a Hogan's Grill they owned at 6727 Jennings.
In any event, Shriber appears to have purchased the restaurant at 7001 Olive Street Road from the mysterious Mr. Hogan, just as he and his brother had purchased Ted's Corner from Ted Lazarcheff. Shriber opened his new restaurant sometime in 1949, or at the latest, in early 1950. If he changed the name from "Hogan's Hamburger Heaven" to "Ernie's Hamburger Heaven," it wasn't for long. The name of Shriber's new restaurant would be shortened to simply "Hamburger Heaven."

Click here to read the entire story of Hamburger Heaven on LostTable.com