Lost Tables | U City's amazing pizza past
HARLEY HAMMERMAN, SPECIAL FOR THE JEWISH LIGHT
Published May 25, 2021
Have you ever wondered what happened to that restaurant you once loved and have memories of dining at with your family and friends? We did! There is an amazing website called Lost Tables, dedicated to celebrating the restaurants of our past. We are partnering with the site's creator Harley Hammerman and celebrating these wonderful stories. Hammerman and his wife Marlene are members of Shaare Emeth, and she is past president of the National Council of Jewish Women of St. Louis.   Visit Lost Tables on Facebook
---
Pizza first appeared on a St. Louis menu in 1946 at Melrose Pizzeria in the Central West End. At that time, University City was the home of more than 35 percent of the St. Louis Jewish population and, not surprisingly, there was a plethora of Jewish bakeries and delicatessens throughout the community. But as pizzerias began popping up, pizza became a staple for U City residents – alongside bagels and pastrami.
In 1956, Julius Seitz began serving pizza at Olive and Midland in University City at Jule's Pizza Palace. By 1959, his brother Frank had taken over and the name was changed to Frank's Pizzeria. And about a year later, Frank's sister Helen became a partner and the sign at 7303 Olive Street Road was changed to Frank & Helen's Pizzeria.
Of course, Frank & Helen's is not a Lost Table. The restaurant moved to 8111 Olive in 1967 and still serves pizza at that location to current and former U City residents.
Via's Steak House had pizza on its menu at 8516 Olive in University City (two doors up from Nino's) from 1958 to 1965. However, while Vito Via and his sons, John and Rudy, would go on to write a Lost Tables story of their own, most of it was written in Olivette. Via's II opened at 9641 Olive in 1962 and would thrive at that location for 30 years.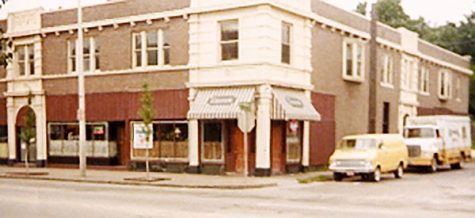 Shawn and Alice Jacobs served pizza and beer at 6510 Delmar in the U City Loop from 1977 until 1996, and then up the street at 6691 Delmar until 2017. But those who mourn the loss of Cicero's do so as much for the lost entertainment as for the pizza.
U City residents have enjoyed pizza at other venues of significance over the years. They crossed the street into St. Louis City for pizza a Talayna's at 276 North Skinker and ordered countless pizzas from Imo's at 8437 Olive.
But there are two iconic U City pizzerias that will never be forgotten. As a former U City resident opined on social media:
As a U City kid in the '50s there were two monumentally important pizza places – Rinaldi's and Nino's – and to this day all else pales in comparison to those delicious memories.  –– Johnny Goldstein, 2019
Rinaldi's
Alfred J. Rinaldi was born in St. Louis on July 11, 1912. He grew up in the Tower Grove South area with his parents and two brothers. In 1935 he married Aureba Franklin, and by 1939 the Rinaldis were living at 4234 Humphrey, still in the Tower Grove South area.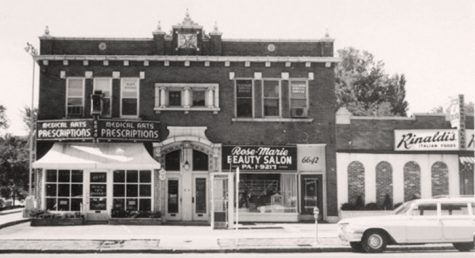 Rinaldi worked for the Federal Engineering and Construction Company in 1941 and as an agent for The Prudential Insurance Company in 1951. In 1956, he decided to go into the restaurant business.
Rinaldi had never worked in a restaurant before opening one of his own.
In 1960, seeking to build on his success, Rinaldi opened a second restaurant at 700 North Skinker, which he called Alfredo's. But by September of 1961, the restaurant bearing his given name was for sale, and by May of 1962, Belvedere Joe's had moved into the space.
As the Jewish population moved westward from University City, so did Alfred Rinaldi. In 1969, he closed his restaurant in the U City Loop and reopened in Creve Coeur at 11611 Olive. He would serve pizza at that location until he retired in 1976.
Ranaldi's pizza was St. Louis style – thin crust, cut into squares. In a January 14, 1990 St. Louis Post-Dispatch article, Rinaldi remarked, "Our customers said we had one of the best pizzas in town." Decades later, they felt the same way.
Pizzas with the crunchy corn meal bottom . . . I swear . . . the best pizza! ●●● Was at Rinaldi's every week for a bacon and mushroom pizza. My all time favorite!!! ●●● By far the quintessential pizza. ●●● And yes, the pizza was the best in the history of the world.
Rinaldi's was also know for their Insalata Rinaldi and dressing.
Rinaldi's salad was still the best! I don't know what they did, but I never had a bad salad there. ●●● I loved the salads with the little square of cheese on top. So good. ●●● I could live forever on garlic bread & salad from there!
Customers raved about the ribeye steak sandwich on toasted garlic bread and the toasted ravioli, all served on tables with Chianti bottle candles and checkered tablecloths.
Click here to read the entire story of U City Pizza on LostTable.com