Lost Tables | Remembering O.T. Hodge Chile Parlor
HARLEY HAMMERMAN, SPECIAL FOR THE JEWISH LIGHT
Published May 17, 2021
Have you ever wondered what happened to that restaurant you once loved and have memories of dining at with your family and friends? We did! There is an amazing website called Lost Tables, dedicated to celebrating the restaurants of our past. We are partnering with the site's creator Harley Hammerman and celebrating these wonderful stories. Hammerman and his wife Marlene are members of Shaare Emeth, and she is past president of the National Council of Jewish Women of St. Louis.   Visit Lost Tables on Facebook
---
Otis Truman Hodge was born in Perry, Illinois in 1872. By 1880, young Otis had moved with his parents and siblings to Benton Township in Cedar County, Missouri, where his father was a farmer.
Hodge had moved to St. Louis by 1900 and set up shop as a barber at 1029 North Broadway. By 1903, he had moved his barbershop to 1003A Pine Street, and he was still cutting hair there when he and his younger brother Mervin set up a food stand at the 1904 St. Louis World's Fair to sell their homemade chili. The chili stand was such a success that O. T. Hodge decided to stop cutting hair and start selling chili full time.
Lore has it that Hodge opened his first chili parlor at 814 Pine Street in 1904. However, the 814 Pine location wasn't open until 1917. Hodge opened his first retail chili restaurant at 818 Pine Street, in a space that had formerly housed Mound City Restaurant. He may have opened his restaurant as early as 1905, after the close of the World's Fair. However, Gould's Directory shows Hodge continuing to cut hair at 1003A Pine Street as of 1907 and doesn't list him as a restaurateur at the 818 Pine address until 1908.
By 1913, Hodge was selling his chili from a second location at 1611 Market. By 1916, the Market Street address had changed to 1528, and there was a third location at 715 North 6th Street. Hodge's 818 Pine Street restaurant moved two doors down to 814 Pine in 1917, and O. T. Hodge's chili was served at that address until 1985.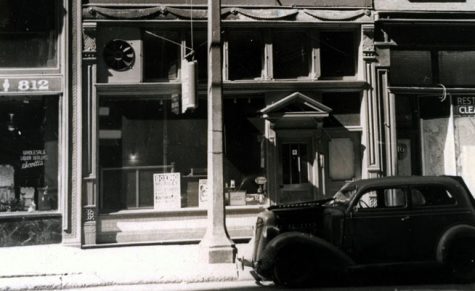 Hodge initially christened his restaurant "Hodge's Chile and Lunch Room," and the Pine Street location, with its neon sign, kept the name into the 1940s. However, as Hodge opened additional locations, he gave them the "O. T. Hodge Chile Parlor" brand. By 1955, after the exterior of the 814 Pine restaurant had undergone a major facelift, it too became an O. T. Hodge Chile Parlor.
In the 1920s, Hodge's chili could be had for 10 cents a bowl, with all meat or with beans added. Chili mac was 15 cents a dish, served with two slices of bread and a pat of butter or with oyster crackers.
By 1930, there were seventeen O. T. Hodge Chile Parlors between Jefferson Avenue and the Mississippi River. Hodge ran what was essentially a franchising operation, selling chili to those who'd taken over his parlors. The original chili factory, which was across the street from the Edison Hotel at 18th and Chestnut, used coal-fired chili cookers. Health regulations forced that chili plant to move to a former fire-engine repair station at 2310 Sidney Street.
An unidentified photograph of Hodge's 814 Pine Street restaurant, probably taken in the early 1940s, can be found in the Missouri History Museum archives. The Hodge's Chile and Lunch Room neon sign, with its reflection in the window, is visible in the photo.
Otis T. Hodge died in November of 1942 at the age of 70. By that time, the number of chili parlors bearing his name had been considerably reduced.
Harry Brunsen was born in St. Louis and raised in Maplewood. He served in the army in World War II as a baker and cook. After the war, he returned to Maplewood and started the Brunsen Candy Store.
Otis and Miriam Hodge had one adopted daughter and no sons. Their daughter, Audrey, married Harry Brunsen, and after Otis Hodge died in 1942, Brunsen took over operation of the chili parlors.
Brunsen was married to Hodge's daughter for 18 years; the couple divorced in 1960. After the divorce, Brunsen stayed in the Hodge family business, running the parlors with his nephew, John Eirten. In 1962, Brunsen married Ruth Brunsen, who was his wife for 36 years.
By 1973, Harry Brunsen's restaurant at 814 Pine Street was the last remaining O. T. Hodge Chile Parlor. Brunson remembered the bustling days when the doors were never locked. "We used to be open all day and all night," he recalled. "Why, sometimes at two or three in the morning there'd be so many winos and, well, other people in here you could hardly sit down."
Hodge's had come a long way from the days when Otis and Miriam Hodge made their chili in a dishpan in the kitchen of the restaurant. But there was still an old world charm about the place.
The restaurant had well-scrubbed white tiled floor with brown hexagonal patterns. There was a counter and several tables set end to end, communal style. There were wall hooks for hanging coats on three sides of the restaurant. Background music was provided by the crackling sounds of KMOX-FM on a radio that sounded only a tad younger than the restaurant itself.
Click here to read the entire story of O.T. Hodge Chile Parlor on LostTable.com