Lost Tables | Remembering Al Baker's
Have you ever wondered what happened to that restaurant you once loved and have memories of dining at with your family and friends? We did! There is an amazing website called Lost Tables, dedicated to celebrating the restaurants of our past. We are partnering with the site's creator Harley Hammerman and celebrating these wonderful stories. Hammerman and his wife Marlene are members of Shaare Emeth, and she is past president of the National Council of Jewish Women of St. Louis.   Visit Lost Tables on Facebook
---
Al Baker and Mary Sarandos grew up on the same street in St. Louis' West End. "I would have never thought we'd get together," Baker recalls. "When I left to go into the service, she was a skinny, little runt. But when I came back, and I saw her in the corner of the dime store, she looked real OK."
After attending Blewett High School for two years, Baker dropped out and joined the Navy. He got his diploma while in the service, and after discharge, returned home and attended Harris Teachers College. After finally marrying Mary Sarandos, Baker quit school and tried his hand at selling shoes.
"After selling shoes I became a liaison engineer at a factory." Baker recalled. "I was working there with this guy who'd been there 40 years and was making $35 a month more than me. It was depressing. I'll never forget that old guy. He was really bitter and I don't blame him. It made me want to go into business for myself."
Mary's father had a tiny grocery store on Delmar at Hamilton. When his father-in-law died in 1951, Baker purchased the store, renaming it Baker's Handy Fruit & Vegetable Market.
"Mary taught me about the grocery business," Baker said. "She had worked in the store after school with her dad for many years, so she had a head start on me."
Al and Mary Baker's grocery store was across the street from the Blue Moon Café, owned by Ernie Theodore. Baker and Theodore became friends, and in 1958 they decided to sell their respective businesses and purchase Sorrento's.
Sorrento's opened in 1953 at DeBaliviere and Waterman on the DeBaliviere Strip. The Italian eatery, originally owned by George S. McClelland, was known for its pizzas and steaks. Baker and Theodore were running the restaurant by the end of 1959. After eight months, Baker bought out his partner, but credited Theodore with teaching him everything about the restaurant business.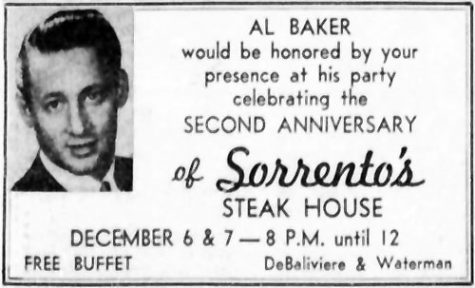 "Restaurant-wise, you'd call Sorrento's semi-elegant," Baker remembered. "It wasn't elegant, but it was an unusual place, the kind of place that catered to all kinds of people – the good guys and the bad guys, the swingers and the diners.
"The big thing was you could walk in there any time – we stayed open until 3 a.m. and became the melting pot for all the other restaurants and bars – and not know if you were going to meet a celebrity or a bum. We had entertainers, politicians, gangsters – all kinds of wonderful people."
In 1964, Baker sold Sorrento's and he and Mary took a long vacation. They then started looking for a new restaurant.
Construction was going on at the northwest corner of Clayton Road and Brentwood Boulevard. The site was to house a clothing store, but complications arose and Baker took over the lease and had the site built to his specifications – for a restaurant.
"We were all set to open in 1966 as the same type of restaurant as Sorrento's – you know, nice, but not really elegant," Baker said. "But then I realized that this place was just too nice – too fancy – to be an Italian restaurant just like so many others in town."
Al Baker's Restaurant opened on St. Patrick's Day in 1966 at 8101 Clayton Road. Its name, though an obvious one, wasn't chosen automatically. Baker searched through New York and Chicago telephone directories for a really elegant name but couldn't find one that suited him. It was a friend who suggested "Al Baker's."
"I liked the idea, because to my way of thinking if it says Al Baker on the door Al Baker should be in the building," he said. "And that's the way I like to operate. I'm married to my business."
"People remark about the Japanese paintings hung about the walls," Baker said. "The idea came from Rome, where restaurants have Oriental art mixed in with Italian. I tell them I know they haven't been to Rome lately," he said with a laugh.The restaurant had rich, rose colors, dark paneling, soft lighting and paintings on the walls. Baker described the effect as antique elegance.
The draperies were always drawn, which seemed to add a note of mystery. However, after the St. Louis Galleria opened across the street in 1984, the draperies on the south side were open, and the Galleria was in full view.
"We kept them closed all these years," he explained, "because the gas station across was the only view. Now it looks a lot better."