Why 'Sopranos' fans should be very excited about 'The Many Saints of Newark'
"When I was kid, guys like me were brought up to follow codes."
The second "Sopranos" ended, all fans wanted was more. The day the music died for fans of the legendary HBO series was when the screen black at that diner, leaving Tony Soprano (the late, great James Gandolfini) and his family in possible peril with no definitive end. While the new prequel won't answer that unstoppable question that has sparked debates over the last 15 years-whether or not Tony lived or died that day-it will take us back to the 1960's when this mob boss experienced his formative years.
The trailer for "The Many Saints of Newark" dropped yesterday. The release date is Oct. 1 in theaters and on HBO Max. Give it a watch and let's talk about the preview. Returning to a story a decade and a half later carries risk-catching lightning in a bottle with a different cast-but there are definitive reasons for this movie to exist.
First off, David Chase, the Godfather and creator of the show, is behind it all. If the guy who brought us the series wasn't returning, it wouldn't be worth a look at all. That would be like making a "Goodfellas" sequel without Martin Scorsese. Chase co-wrote the "Many Saints" script with Lawrence Konner, a Jewish screenwriter who wrote several episodes of the show.
Gandolfini, who became a household name playing a jaded gangster, died of a heart attack in 2013. His son, Michael, will portray a young Tony Soprano in the movie, keeping the iconic character in the same family. Anyone who saw The Russo Brothers' "Cherry" this past winter got a glimpse of what the young Michael can offer, but this will be a role that could define his career–just like it did for his dad.
But look at the rest of the decorated cast, which is loaded with big time talent. Jon Bernthal, a brilliant ensemble player who is best known for "The Punisher," has a big part. Alessandro Nivola, another longtime face of film who rarely gets a lead part, is playing Richard "Dickie" Moltisanti, an older family member of Michael Imperioli's Christopher, aka Chris-tah-Fer! Corey Stoll ("House of Cards" and "Ant-Man") is playing a young Uncle Junior while Vera Farmiga ("The Conjuring" film series) takes on the role of Livia Soprano. John Magaro is a young Silvio Dante, showing us the younger years of Steven Van Zandt's wacky yet deadly suit. Billy Magnussen ("Game Night") will play Paulie Walnuts. Ray Liotta, Leslie Odom Jr., Joey Diaz, and Mattea Conforti also have supporting parts.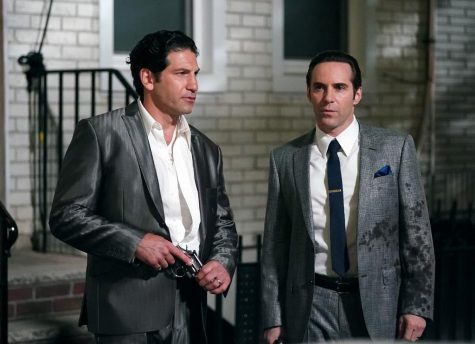 Chase, along with frequent "Sopranos" director Alan Taylor, has assembled another band of rarities. What I like about this setup is that it's not just a bunch of big names or movie stars, but character actors and faces that are right for the part. There's some bold and refreshed choices, such as Magnussen and Magaro–as well as the assured presence of Bernthal and Farmiga. Check out the part in the preview where a school principal tries to convince Tony's mom, played by Farmiga, that his bad grades mask the leader he will become. Her laugh there is terrific.
The story will take place in the fiery 60's, which saw torment befall both the Italian American and African American communities, as they became embroiled in a turf war in Newark, New Jersey. What fans are getting is a bookend to the big story instead of a make-or-break answer to their fate of Tony question. For years on the TV show, he suffered from what can clearly be seen as a form of Jewish guilt, feeling like his actions as a mob boss and family man were already endangered by a violent and misbegotten youth. Chase and Konner's story will show us the kid before he became a dangerous man.
Here's what I loved about the trailer. The mood, vibe, and personality all points to a memorable experience, one that doesn't just fill in the blanks of how a teen from New Jersey became one of the most powerful yet sophisticated bosses, but expands Chase's world even more than it did in six seasons on HBO. Also, all they had to do was bring back that killer intro music somewhere in this tease, and they did. Throwing "Serve Somebody" from Mountain with Warren Haynes's mad guitar riffing was icing on the cinematic cake.
Mark my words. David Chase brought Tony Soprano and his gang of misfit thieves back for a reason. We have a few months to get ready, so watch the trailer again.