'Luca's' Jewish connection and the rest of the Jewish Hollywood news
"Luca," a Disney/Pixar animated fantasy comedy film, began streaming on Disney+ on June 18. The film is set on the Italian Riviera.  Luca Paguro, the star character, is a 13-year-old sea monster curious about the world above the sea. Despite warnings that the human world is dangerous, he decides to explore a nearby Italian port with his best friend, Alberto, a teen sea monster. Alberto and Luca have the ability to disguise themselves as human.
The film centers around a growing friendship between Luca and and Giulia, a (human) Italian girl (voiced by Emma Berman, 12).  The supporting (voice) cast includes MAYA RUDOLPH, 48, as Daniela, Luca's protective (sea monster) mother, and SACHA BARON COHEN, 49, as Uncle Ugo, a sea monster who is a cousin of Luca's.
It's likely that Emma Berman is Jewish or 'part' Jewish, but as with many child actors, there is little biographical info available. She was raised in northern California and her parents are Russian immigrants.
Luca's original screenplay was co-written by JESSE ANDREWS, 38. He's best known for his acclaimed (2012) novel, "Me and Earl and the Dying Girl."  Like "Luca," it is about three teen friends. In "Me and Earl" the teens are high school seniors, not sea monsters. Still, teens are teens and Andrews has a real gift for capturing the authentic voices and emotions of teens.  (Andrews' novel was made into a "worth seeing" 2015 film of the same name. The novel had a lot of Jewish content. The movie retained some of it.)
"Good on Paper," an original Netflix film, began streaming on June 23. The capsule plot: for years, stand-up comic Andrea (ILIZA SHLESINGER, 38) puts her career ahead of romance. Then she meets Dennis (Ryan Hansen), a seemingly perfect guy: smart, nice, and successful.  It's not really a spoiler when I tell you that things don't turn out well for Andrea and Dennis. Shlesinger wrote the film, and she is happy to tell anyone that her screenplay is based on a real-life horrific (and hilarious) dating experience she had.
Shlesinger, who has had five Netflix stand-up specials, is out of the dating pool now. In 2018, she married top chef NOAH GALUTEN, 38, in a Jewish ceremony.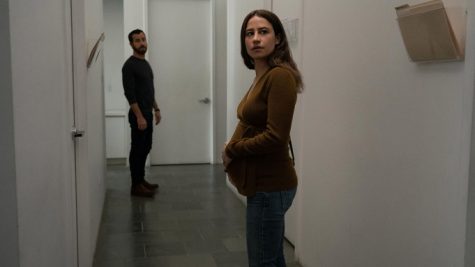 "False Positive," a new horror film, began streaming on Hulu on June 25.  ILANA GLAZER ("Broad City") stars as Lucia "Lucy" Martin, a woman who has been trying and failing to get pregnant with her husband (Justin Theroux). Things look up when she gets an appointment with Dr. Hindle, a "star" fertility doctor (Pierce Brosnan). However, it doesn't take long until Lucy starts getting weird vibes from Hindle. Glazer, 34, co-wrote the screenplay, which many advance reviews say is a searing commentary on the "patriarchy."
"Black Widow" opens in theaters on July 9 and starts streaming on Disney Premiere + on the same day. It's another tale about Natasha Romanoff/The Black Widow ["BW"]. "Marvel Universe" fans know that "BW" died in "Avengers: End Game" (2019). However, this film is an "End Game" prequel. The new flick finds "BW" battling a serious conspiracy. Once again, SCARLETT JOHANSSON, 36, plays "BW." Oscar-winner RACHEL WEISZ, 51, co-stars, making her debut in a comic-book inspired films. She plays Melina Vostokoff, a veteran member of the Black Widow organization, a seasoned spy and a mother-figure to Romanoff.
"Lady Boss," a documentary about writer JACKIE COLLINS (1937-2015), is now available on CNN on-demand. Collins' "hot" romance novels were huge bestsellers, and she was innovator in her field. Her first book (1968) was much "steamier" than other romance novels and, like her successive novels, featured strong women.  Collins was born in the U.K., the daughter of a Jewish father and a non-Jewish mother. Her sister was actress JOAN COLLINS, now 88. Her husband, OSCAR LERMAN (1919-1992), encouraged her writing and they had a happy marriage. Their daughters told the filmmaker that Jackie was a faithful wife and an attentive mother.
"Monsters at Work" is an animated series that begins streaming on Disney+ on July 2. It follows up on two hit "Monster" films. In the first film, monsters powered their city with the screams of frightened kids. In the second film, they discover that making kids laugh powers their city better than fright. The series shows us the monsters' transition to laughter power. BILLY CRYSTAL, 73, reprises his star role as the voice of Mike, the partner of the monster in charge of power. BEN FELDMAN, 41 ("Superstore") has third billing as the voice of Tylor, a power plant technician, and HENRY WINKLER, 75, voices Fritz Fritz, Tylor's nice boss.