Remembering when and where you could buy brains for 25¢
Harley Hammerman, Special For The Jewish Light
Published March 27, 2022
There is an amazing website called Lost Tables, dedicated to celebrating the restaurants of our past. We are partnering with the site's creator Harley Hammerman and celebrating these wonderful stories. Hammerman and his wife Marlene are members of Shaare Emeth.
Lost Tables: Harvey's Sandwich System

In 1907, the two-story brick building at the southeast corner of Chouteau and Carr Lane avenues in St. Louis housed a confectionery. In 1910, the confectioner sold his business to a butcher, and the 3532 Chouteau address became a meat market.
In 1934, the butcher put his meat market up for sale, and by the end of 1937, he had sold it to a baker, who turned it into a sandwich shop.
The building at 3532 Chouteau remained a sandwich shop until 1978; most of that time it was owned by the baker who had purchased it from the butcher in 1937.
In 1993, the two-story brick building was demolished. The property is now a parking lot.
The two-story building at 3532 Chouteau, just 500 feet east of South Grand, should have been no more than a footnote in St. Louis history. The names of the confectionery and meat market have been forgotten. But the sandwich shop lives on in St. Louis lore – in photographs, in paintings, on t-shirts – because of a sign that was painted on its second story.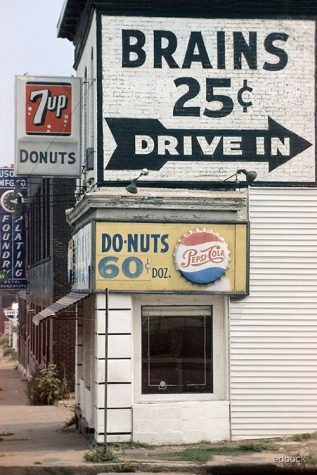 Harvey Warren Evans was born in St. Louis in 1910 – the same year the 3532 Chouteau address was transformed from a confectionary into a meat market. In 1930, at the age of 19, Evans was living with his parents and working as a baker in a cookie factory. In 1932, he worked for the Nafziger Baking Company, at Sarah and Cook.
In 1935, Evans married Marie Rose Mills. By 1937, the couple was living at 3646 West Loughborough and Evans was still working as a baker. But by November of 1937, Evans had started his own business. He purchased the building at 3532 Chouteau and turned it into a sandwich shop.
Evans called his new venture Harvey's Sandwich System, the name displayed prominently on the front of the building. With his experience as a baker, Evans may have baked his owns sandwich breads, as well as the donuts he advertised on the front and side of the building. His sandwich selection included a hamburger, with lettuce, tomato and onion, also advertised in paint on the building. And, of course, Evans offered his customers brain sandwiches for twenty-five cents.
Brain sandwiches were "a South St. Louis thing," explained the late Vince Bommarito, who never served brains at Tony's. They were specific to St. Louis like toasted ravioli and gooey butter cake, although not as beloved.
The regional delicacy dated back to the late 1800s, when the proximity of the East St. Louis stockyards made cow brains, along with other parts of the animal, widely available.
"Brains and lungs and other parts of the cow were not saleable," explained chef and Bizarre Foods host Andrew Zimmern. "The workers were allowed free access to them, and brains became something that workers got used to eating."