Lost Tables: Remembering one of Clayton's best, Remy's
HARLEY HAMMERMAN, Special For The Jewish Light
Published March 6, 2022
There is an amazing website called Lost Tables, dedicated to celebrating the restaurants of our past. We are partnering with the site's creator Harley Hammerman and celebrating these wonderful stories. Hammerman and his wife Marlene are members of Shaare Emeth.
Joseph Slay was born in Syria in 1889. He immigrated to the United States at the age of four. In 1911, he and his wife Moneitta opened a small restaurant in St. Louis at 1105 Chouteau. He sold the restaurant in 1919 "on account of other business and illness."
Slay went on to own a drayage company with his brother, become superintendent of refuse collection for the City of St. Louis from 1933 to 1941, and serve as a St. Louis alderman from 1946 to 1949. In 1949, he returned to the restaurant business, opening Slays Bar and Bar-B-Q at 2652 Hampton. When Joseph Slay died in 1951, three of his sons – Michael, Anthony and Francis – took over operation of the restaurant.
Anthony Slay's seven children grew up in his restaurant. Lisa Slay started working there at age 12, washing dishes and busing tables. She went on the payroll at age 16, working every weekend throughout high school. She had no formal culinary training – she learned to cook in her grandmother Monietta Slay's kitchen and from her father.
After half a semester at Southeast Missouri State University on a basketball scholarship, Lisa Slay decided school wasn't for her. She returned home just months before her father was killed during a robbery at his restaurant in March of 1982.
After her father's death, 19-year-old Lisa stayed close to home to be with her mother. She began cooking with her brother David at Cafe Hampton, a restaurant he'd opened at 2607 Hampton in January of 1982. She was still working with her brother when he transformed the restaurant to La Veranda in 1984. When David Slay moved to California in 1988, he sold the building to his bar manager, Tim Mallett.
In November of 1988, Tim Mallett reopened the space as Blue Water Grill. Lisa Slay stayed on as day prep cook. She would become the restaurant's executive chef in 1992, the year Mallett opened a second restaurant, Big Sky Cafe, in Webster Groves.
In February of 1995, Mallett opened a third restaurant at 222 South Bemiston in Clayton. He named the new restaurant after his son Remington, calling it Remy's Kitchen & Wine Bar.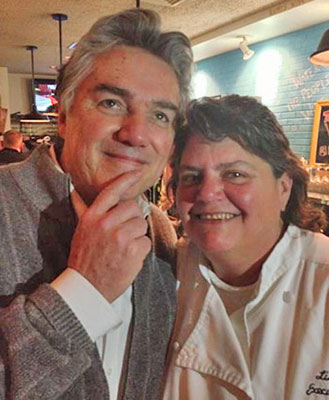 Although Mallett was already operating two well-known restaurants, his "wine bar" concept got off to a slow start.
"I was late to the party in Clayton, but I had traveled to New York, San Francisco, and Chicago and saw how restaurants that featured wine had become very popular," said Mallett. "It didn't do well at the start, because people thought it was just for those who were very serious about wine. I intended it to be more of a fun experience. I wanted a wine bar for the rest of us."
Mallett's wife Kimber provided much of Remy's decor, including a wire mesh likeness of Bacchus near the entrance and gastronomical quotations stenciled on the walls.
Lisa Slay moved from Blue Water Grill to Remy's as executive chef. She would become a shareholder in Mallet's restaurants in 2001.
When we opened Remy's, Tim said, "What do you want to do? Do whatever you're comfortable with." With Remy's I got to design the kitchen, order all the china. I'd opened restaurants with my brother, but Remy's is like my baby.
Tim and I really clicked early on. He knew a lot about business, and I knew how to cook, so we made a good pair. For the longest time I couldn't imagine doing all of it because the kitchen is so much. It's constant. Even if you have a slow night, you're still busy. I gave him the respect he deserved, and he gave me the respect I deserved, and he pretty much let me do what I wanted.