Paying tribute to Al Baker, whose namesake restaurant was a St. Louis institution
Some sad news to tell you about. Renowned St. Louis restauranteur Al Baker has passed away. His family posted the following in Jewish Light yesterday.
Al Baker, March 15, 2022
Beloved husband of the late Mary Baker; dear father and father-in-law of Allison Baker-Weiss (late Mark Weiss) and Marcia Berger (late William Donahue); dear grandfather of Marke Weiss and Ashley Sontheimer (Chris); dear great-grandfather of Addison and Jackson Sontheimer; dear brother and brother-in-law of the late Ruth Lefkowitz (late Earl) and the late Ida Tepper (late Hymie); dear brother-in-law of the late Christine Dover (late Don); dear uncle, great uncle, cousin and friend to many.
Graveside service Thursday 9:30 AM at Bellerive Gardens Cemetery, 740 Mason Road. Visit bergermemorialchapel.com for more information and Live Stream link.
In honor of Al and Mary, please enjoy the following story which was originally published here on June 21, 2021 by Harley Hammerman, the creator of the Lost Tables website and a contributor to the Jewish Light. Here is Harley's telling of the story of the history of Al Baker's, which was located at the northwest corner of Clayton and Brentwood, where a CVS now resides.
---
Al Baker and Mary Sarandos grew up on the same street in St. Louis' West End. "I would have never thought we'd get together," Baker recalls. "When I left to go into the service, she was a skinny, little runt. But when I came back, and I saw her in the corner of the dime store, she looked real OK."
After attending Blewett High School for two years, Baker dropped out and joined the Navy. He got his diploma while in the service, and after discharge, returned home and attended Harris Teachers College. After finally marrying Mary Sarandos, Baker quit school and tried his hand at selling shoes.
"After selling shoes I became a liaison engineer at a factory." Baker recalled. "I was working there with this guy who'd been there 40 years and was making $35 a month more than me. It was depressing. I'll never forget that old guy. He was really bitter and I don't blame him. It made me want to go into business for myself."
Mary's father had a tiny grocery store on Delmar at Hamilton. When his father-in-law died in 1951, Baker purchased the store, renaming it Baker's Handy Fruit & Vegetable Market.
"Mary taught me about the grocery business," Baker said. "She had worked in the store after school with her dad for many years, so she had a head start on me."
Al and Mary Baker's grocery store was across the street from the Blue Moon Café, owned by Ernie Theodore. Baker and Theodore became friends, and in 1958 they decided to sell their respective businesses and purchase Sorrento's.
Sorrento's opened in 1953 at DeBaliviere and Waterman on the DeBaliviere Strip. The Italian eatery, originally owned by George S. McClelland, was known for its pizzas and steaks. Baker and Theodore were running the restaurant by the end of 1959. After eight months, Baker bought out his partner, but credited Theodore with teaching him everything about the restaurant business.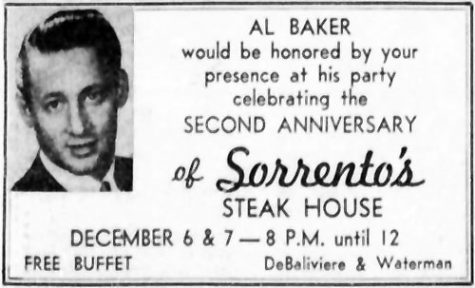 "Restaurant-wise, you'd call Sorrento's semi-elegant," Baker remembered. "It wasn't elegant, but it was an unusual place, the kind of place that catered to all kinds of people – the good guys and the bad guys, the swingers and the diners.
"The big thing was you could walk in there any time – we stayed open until 3 a.m. and became the melting pot for all the other restaurants and bars – and not know if you were going to meet a celebrity or a bum. We had entertainers, politicians, gangsters – all kinds of wonderful people."
In 1964, Baker sold Sorrento's and he and Mary took a long vacation. They then started looking for a new restaurant.
Construction was going on at the northwest corner of Clayton Road and Brentwood Boulevard. The site was to house a clothing store, but complications arose and Baker took over the lease and had the site built to his specifications – for a restaurant.
"We were all set to open in 1966 as the same type of restaurant as Sorrento's – you know, nice, but not really elegant," Baker said. "But then I realized that this place was just too nice – too fancy – to be an Italian restaurant just like so many others in town."
Al Baker's Restaurant opened on St. Patrick's Day in 1966 at 8101 Clayton Road. Its name, though an obvious one, wasn't chosen automatically. Baker searched through New York and Chicago telephone directories for a really elegant name but couldn't find one that suited him. It was a friend who suggested "Al Baker's."
"I liked the idea, because to my way of thinking if it says Al Baker on the door Al Baker should be in the building," he said. "And that's the way I like to operate. I'm married to my business."
"People remark about the Japanese paintings hung about the walls," Baker said. "The idea came from Rome, where restaurants have Oriental art mixed in with Italian. I tell them I know they haven't been to Rome lately," he said with a laugh.The restaurant had rich, rose colors, dark paneling, soft lighting and paintings on the walls. Baker described the effect as antique elegance.
The draperies were always drawn, which seemed to add a note of mystery. However, after the St. Louis Galleria opened across the street in 1984, the draperies on the south side were open, and the Galleria was in full view.
"We kept them closed all these years," he explained, "because the gas station across was the only view. Now it looks a lot better."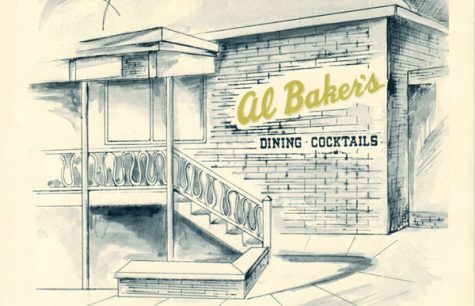 In the years between his grocery store and his elegant restaurant, Baker learned much about food and wine. He graduated from preparing sandwiches for the lunchtime crowd on Delmar and Hamilton to preparing gourmet dishes at tableside. A cornerstone of the Al Baker elegance was cooking at customers' tables.
"We decided to teach the waiters to cook some different things." explained Baker. "It's a good way for them to impress their guests." Tableside finishing also ensured that dishes were piping hot.
Baker's menus evolved from year to year. Early on the restaurant displayed six different menus, one for each day of the week. The specialties varied from day to day, with appetizers, pastas, steaks and most fish items remaining the same.
Baker and his chef Tom Van Hardy worked out all the recipes together. The ideas came from various sources – books, travel, friends and relatives. The oldest recipe on the menu came from an ex-convict.
"When I had my other restaurant," Baker said, "this fellow wrote me a bad check. He was writing them all over town. When they put him in prison they put him to work in the kitchen. Somehow the warden's wife found out what a great cook he was, and he went to work in her kitchen.
"When he finally got out he came back and paid me the $25 for the bad check he wrote me. Because I was the only one who hadn't pressed charges against him, he gave me this fantastic recipe for stuffed tenderloin. He said he'd come back once every year and give me another recipe. I never saw him again."
The tenderloin was stuffed with crabmeat and broiled like a Chateaubriand.
Before new dishes earned a permanent position in the restaurant's repertoire, Baker "auditioned" them. "Certain waiters will suggest new items to certain customers. If the items go over, then we add them to the menu," Baker explained.
Fresh fish became the restaurant's biggest boon.
"When we realized that people were getting into lighter food, we made a couple of trips to Boston to visit the fisheries," Baker said. "We actually went onto the boats to see just how the fishing was done.
"As a result of those trips, we now work with people who guarantee us the 'top of the load' fish. That's where the fishermen put the last and freshest of the catch before sailing to the docks. It makes a difference to us to have the best for our customers."
Al Baker's wine list was as distinguished as any in the area.
"Wine is a self-taught thing with me," he said. "I got a book on wines and started reading about them, experimenting with them, tasting them. All the great names you've heard about, we've got them here – and in great vintages."
He bought every one of the 35,000 bottles that stocked his huge wine room. A special rack in the center of the room held valuable and specially prized bottles, some of them which were not for sale.
Baker had a thriving lunch business for a few years early on, but stopped it because the round-the-clock hours were too long for him; he couldn't stand the thought of not being on the scene when the restaurant was open.
"You have to stay and take care of it; be there all the time," Baker explained. "There are chains that do fine, but if you're talking about an elegant gourmet restaurant, you must be there."
When Baker was not at the restaurant, he was often at his farm in Sullivan, hauling hay, mending fences, moving cattle, brush hogging, fishing or riding his white fox-trotter, one of six horses the Bakers owned.
On December 5, 1993, Jerry Berger reported the following in the St. Louis Post Dispatch.
Al Baker's Restaurant will shutter at the close of business on New Year's Eve, because the building's owners exercised their option to buy out the restaurant lease. The building that houses Al Baker's will be torn down to make way for a single tenant.
Initially, Baker said he would move to a new location, somewhere in the same area, and reopen in April. But shortly after the first of the year, Baker backtracked.
"On my doctor's orders, I am retiring. Everything, including the walls, will be sold."
Al and Mary Baker retired to their home in Ladue, their 574-acre ranch in Sullivan and to the gym for daily step-aerobics classes.
Mary Baker died on June 6 2013. Al Baker can sometimes be seen dancing on Friday evenings at the Ritz Carlton Lobby Lounge in Clayton.