Remember Monarch? Here's the story of it and its Jewish co-owner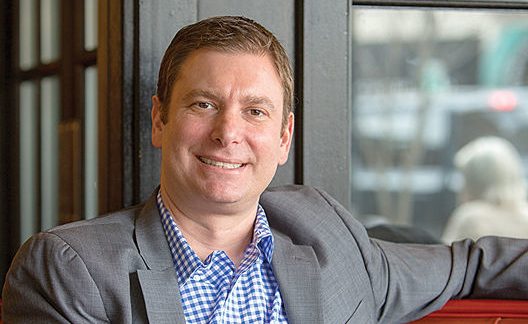 Harley Hammerman, Special For The Jewish Light
Published January 30, 2022
There is an amazing website called Lost Tables, dedicated to celebrating the restaurants of our past. We are partnering with the site's creator Harley Hammerman and celebrating these wonderful stories. Hammerman and his wife Marlene are members of Shaare Emeth.
---
Aaron Teitelbaum grew up in University City; he graduated from University City High School in 1992. It was while in high school that Teitelbaum, in need of spending money, took a job at Mark Erker's Catering St. Louis. He would move into a management position with the company by the time he was nineteen.
"Erker was my first mentor, and he taught me about business, serving people, and doing what you do with care. He instilled in me how important it is to be your best. That's an important thing for me, sometimes to a fault," said Teitelbaum.
Teitelbaum worked for Catering St. Louis for eight years before leaving the company to go to college. Once there, however, he realized that school wasn't his thing. After a year of floundering, he returned to St. Louis and again worked for Erker.
Lost Tables: Culinary School
After three years, Erker encouraged Teitelbaum to apply to culinary school. He was admitted to the Culinary Institute of America in Hyde Park, New York. where he fell in love with cooking, both inside the classroom and during his externships, including a stint at Bobby Flay's Mesa Grill.
After graduating from the Culinary Institute, Teitelbaum wanted to learn about the front-of-the-house side of the restaurant business. He applied for a job at Daniel, Daniel Boulud's Upper East Side Manhattan restaurant.
"I didn't know anything about it. I was big enough in my world in St. Louis that I knew I was going to do a good job, but I didn't know what I was getting into there," said Teitelbaum. "They ended up hiring me as an assistant general manager — a new position — but they had to sneak me in under the chef's nose because I wasn't French, and they wanted me to prove why this non-French guy was running the show in his house. For the first month, they hid me from him, which was so bizarre because he lived above the restaurant."
Teitelbaum and Boulud grew close, with Teitelbaum learning not only the operations and cooking sides of the business, but also how important it was for a restaurant owner to be a part of the community. But Teitelbaum's stay in the Big Apple would come to an end.
"After 9/11, New York changed. I decided it was time to move on and move back to St. Louis to open a restaurant," said Teitelbaum.
Lost Tables: Orbin and Teitelbaum
Jeff Orbin and Aaron Teitelbaum were friends as kids. Orbin grew up in the Florissant area and graduated Hazelwood Central High in 1988.
Orbin had a background in design. He owned Project 13, a graphic design firm in St. Louis. When he designed and marketed the sushi bar Miso on Meramec, he became turned on to the restaurant business.
"That's when it got in my blood. I called Aaron in New York and said, "Let's do this. St. Louis is ripe for something like this, and if we don't do it now, we never will," said Orbin.
Orbin and Teitelbaum formed a business partnership based on Orbin's sense that the city was ready, and on Teitelbaum's experience as a chef and restaurant manager. They conceived of a place that fused food, wine and art. But they needed a chef.
At the time, Brian Hale was executive chef at SqWires Restaurant in Lafayette Square. His resume also included Al Baker's and Harry's. Hale had found his way back to St. Louis after spending time in Europe. His culinary career included a series of apprenticeships in Milan, Paris and Brussels.
"I just traveled and found different chefs to work under. I'd go in and cut celery and onions and carrots for eight hours a day for free. I'd gain speed and precision at that level while I was soaking up as much as I could from each chef. I took everything I learned and I used it to create my own art," said Hale.
Lost Tables: Lunch at SqWires
Orbin stopped by SqWires for lunch because he'd heard Hale was considering opening his own place. He ordered Hale's signature lobster mac-and-cheese.
"It blew me away. It was a cool restaurant with a different menu, and so I decided to talk to Brian," remembers Hale.
Orbin and Teitelbaum explained their restaurant philosophy to Hale and he agreed to join them – before the restaurant had a name or a space.
In 1996, Bob and Barbara Suberi had purchased a building in the heart of Maplewood, at the corner of Manchester and Sutton. It had originally housed a Katz Drug Store. They opened Bobby's in the space, a restaurant they had originally operated as Bobby's Creole in University City.
By 2003, the Suberis had had enough of the restaurant business. They closed their restaurant and leased the space at 7401 Manchester to Aaron Teitelbaum and Jeff Orbin.
Teitelbaum and Orbin's new restaurant, which they called Monarch, opened for business on June 4, 2003. Orbin had designed and transformed the massive space into an innovative floor plan. His imaginative use of expensive hardwoods, supple leathers, chic fabrics and art glass made Monarch one of the most visually interesting restaurants in St. Louis.
The large formal dining room was nearly theatrical in design, with silk fabric overhead, draping across the ceiling in billowing waves. Its adjacent glass-walled wine cellar, visible from the dining room, accessed a secluded private dining area.