Lost Dishes: Balaban's Smoked Trout Pancake
HARLEY HAMMERMAN, SPECIAL TO THE JEWISH LIGHT
Published June 15, 2021
Restaurants hold a special place in our lives. We cherish memories of the hangout we went to in high school, the posh eatery we dined at on special occasions, and that place we kept returning to when it had been too long. We've lost many of the St. Louis restaurants once special to us. But the wonderful food they served can be resurrected. Lost Dishes collects the signature dishes from these lost St. Louis tables, preserving their recipes for today's chefs and the chefs of tomorrow. Lost Dishes is a companion to the Lost Tables website created by Harley Hammerman, which looks back fondly at the iconic St. Louis restaurants which created these special dishes. We are partnering with Hammerman and celebrating these wonderful dishes. Hammerman and his wife Marlene are members of Shaare Emeth, and she is past president of the National Council of Jewish Women of St. Louis.   Visit Lost Tables on Facebook
---
In October of 1986, Herb and Adalaide Balaban sold their restaurant to Tom Flynn and Steve McIntyre. In September of 1988, David Timney was brought on as executive chef. And by the early 1990s, smoked trout with horseradish on corn pancakes began appearing on Balaban's menu.
A December 6, 1997 St. Louis Post-Dispatch article states that Timney created the pancakes. However, in an August 15, 2012 Post-Dispatch article, Steve McIntyre revealed that he had developed the recipe more than 30 years earlier for a contest sponsored by the Missouri Restaurant Association. The challenge was to develop a special dish sourced from Missouri foods. McIntyre used trout from local streams, local eggs, local cream, local corn, local horseradish, local everything.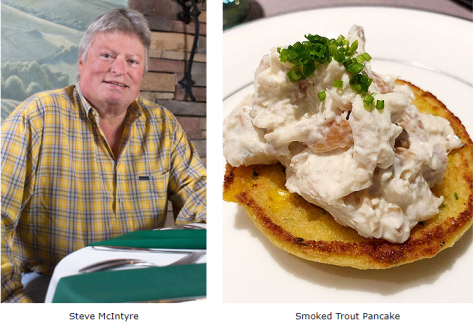 Below are two versions of Balaban's smoked trout pancake recipe, compliments of David Timney and Steve McIntyre.
---
Smoked Trout with Horseradish on Corn Pancakes
SOURCE: David Timney, Great Meals of St. Louis, 1996
YIELD: 4 servings
INGREDIENTS
Smoked Trout and Horseradish Topping
3/4 cup smoked trout, broken into bite-sized pieces
1/2 cup mayonnaise
1/4 cup horseradish, drained
Corn Pancakes (8 pancakes)
2 cups corn (approximately 2-4 ears, husked and blanched, using kernels)
1/2 cup milk
3 large eggs
1/2 cup semolina
1/2 cup red onion, finely diced
1/4 cup chives or scallions, chopped
2 tsp olive oil
1/2 tsp salt
1/2 tsp finely ground black pepper
1 tsp baking powder
1/8 cup chives, chopped (garnish)
PREPARATION
Combine smoked trout pieces, mayonnaise and horseradish in bowl. Gently fold together until trout pieces are covered. Set topping aside.
Combine half the corn and all of the milk in blender. Puree, then strain mixture through fine strainer or chinois. Set aside. Beat eggs in medium bowl until well blended. Add pureed corn to eggs.
Stir in semolina, red onion, chives or scallions, half the olive oil, salt, pepper, remaining corn and baking powder.
Put remaining olive oil in non-stick skillet. Heat on low. Once oil becomes slightly hot, add 1/4 cup batter per pancake. When bubbles form, flip pancake and brown. You may use more oil if needed to finish cooking pancakes.
Remove pancakes from heat and place on serving dish. Divide trout mixture evenly on top of pancakes. Sprinkle with fresh chives to garnish.
---
Balaban's Smoked Trout Pancake
SOURCE: Steve McIntyre, St. Louis Post-Dispatch, September 25, 2012
YIELD: 16 large pancakes
INGREDIENTS
For smoked trout:
2 lb smoked trout
2 cups mayonnaise
2/3 cup sour cream
4 Tbsp horseradish
1 Tbsp lemon juice
1–3 healthy dashes Tabasco
1 dash Worcestershire
Salt to taste
White pepper to taste
For pancakes:
2 1/2 cups fresh corn cut off the cob
1 cup half-and-half, divided
3 large eggs
1 cup semolina
4 Tbsp (1/2 stick) butter, melted
2 Tbsp finely diced red onion
2 Tbsp chopped chives
1 1/8 tsp baking powder
1 1/2 tsp salt
1/4 tsp white pepper
Butter, for frying, 1 Tbsp per pancake
Chopped chives, for garnish
PREPARATION
Mix smoked trout. Break (do not mash) trout into small chunks. Combine mayonnaise, sour cream, horseradish, lemon juice, Tabasco, Worcestershire, salt and white pepper in a large bowl. Stir in smoked trout. Cover and refrigerate.
Mix pancake batter. In a blender or food processor, puree half the corn with one-half the half-and-half until smooth. Strain through a chinois, preferably, or a fine-mesh strainer into a bowl, discarding the solids.
In a large bowl, beat eggs well. Stir in strained corn mixture, remaining corn kernels and remaining half-and-half. Stir in semolina, butter, red onion, chives, baking powder, salt and white pepper just until combined. Pancake mixture may be mixed ahead of time and refrigerated for up to a week.
Make pancakes. In a nonstick or well-seasoned skillet, melt 1 tablespoon butter until it sizzles. Measure ¼ cup batter and let spread naturally (pancake will be quite thick). Let pancake cook until golden and edges are crisp on one side, flip and cook until golden and crisp on the other. Repeat with remaining pancakes.
To serve Balaban's-style, place a pancake on a serving plate, top with 1/3 cup smoked trout. Sprinkle with chopped chives.