Lost Dishes: Famous Barr's French Onion Soup
Restaurants hold a special place in our lives. We cherish memories of the hangout we went to in high school, the posh eatery we dined at on special occasions, and that place we kept returning to when it had been too long. We've lost many of the St. Louis restaurants once special to us. But the wonderful food they served can be resurrected. Lost Dishes collects the signature dishes from these lost St. Louis tables, preserving their recipes for today's chefs and the chefs of tomorrow. Lost Dishes is a companion to the Lost Tables website created by Harley Hammerman, which looks back fondly at the iconic St. Louis restaurants which created these special dishes. We are partnering with Hammerman and celebrating these wonderful dishes. Hammerman and his wife Marlene are members of Shaare Emeth, and she is past president of the National Council of Jewish Women of St. Louis.   Visit Lost Tables on Facebook
---
Famous-Barr Tea Room: French Onion Soup Au Gratin
There's ongoing debate as to who gets credit for the iconic French onion soup served in Famous-Barr's department store tea rooms. Chef Manfred Zettl often gets the nod, but he became Famous-Barr's Executive Chef in 1963, while "Onion au Gratin" soup can be found on tea room menus as early as 1942. Thomas Ferrario was Executive Chef throughout the 1950s and Erich Dahl was Director of Food and Beverage. Both had a hand in creating the soup which Manfred Zettl perfected. The soup was thick and rich, and came from the kitchen in a McCoy pottery brown drip soup bowl, bubbling with melted Gruyere cheese atop two slices of French baguette. The cheese was so thick and stringy when spooned, it was a challenge to get it into your mouth.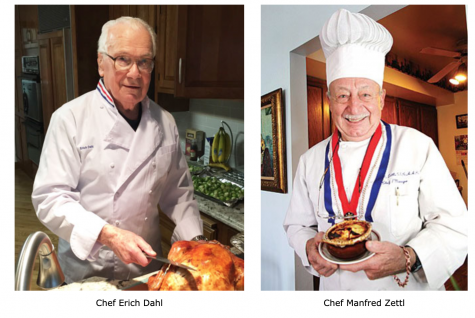 Below are two versions of Famous-Barr's French onion soup recipe, one given by Erich Dahl to his daughter on downtown Famous-Barr letterhead and the other given by Manfred Zettl to the St. Louis Post-Dispatch, appearing in the January 3, 1973 edition.
---
French Onion Soup Au Gratin
SOURCE: Chef Erich Dahl
YIELD: 8 servings (2 quarts)
---
INGREDIENTS
1 lb Bermuda onions

1/4 lb butter or margarine 

4 whole baby leafs

5 whole cloves

1 tsp freshly ground black pepper

1 tsp salt

1 tsp glutamate

1 tsp flour

1/3 cup Burgundy wine (optional)

2 qt beef stock, au jus or strong beef broth *

French bread croutons

1 lb grated French Gruyère or Swiss Gruyère
---
PREPARATION
Slice Bermuda onions paper-thin. Sauté the onions until golden brown in approximately 1/4 pound of dairy fresh sweet butter. (A copper-lined sauté pan will give the best results.)
When onions are golden brown add bay leaves, cloves, salt, glutamate, Burgundy wine (optional) and freshly crushed black peppercorns. Add 2 quarts of clear beef stock, au jus or strong beef broth (bouillon cubes may be used as a substitute). Simmer slowly for another 30 to 35 minutes. If soup appears too thin, add beurre manié which consists of 2 tablespoons of melted butter and 1 heaping teaspoon of all purpose flour.
Ladle soup into an earthenware cup or bowl. Place French bread croutons (cut about 1/4 inch thick) to cover surface. Top with a generous portion of grated French of Swiss Gruyère cheese. Place under broiler for approximately 5 minutes or until cheese melts. Remove and serve immediately.
---
French Onion Soup
SOURCE: Chef Manfred Zettl, St. Louis Post-Dispatch, January 3, 1973
YIELD: 2 quarts
---
INGREDIENTS
3 lb onions, peeled

1/2 cup butter or margarine

1 1/2 tsp freshly ground black pepper

2 Tbsp paprika

1 bay leaf

3/4 cup all-purpose flour

3 qt canned (or homemade) beef bouillon *

1 cup white wine (optional)

2 tsp salt

French bread

1/2 lb imported Swiss cheese
---
PREPARATION
Slice onions, 1/8 inch thick.
Melt butter, place onions in it, sauté slowly for 1 1/2 hours in a large soup pot.
Add all other ingredients except bouillon, wine and salt. Sauté over low heat 10 minutes more.
Add bouillon and wine and simmer 2 hours.
Adjust color to a rich brown with caramel coloring or liquid brown sauce.
Season to taste with salt.
Put in refrigerator over night.
To serve: Heat soup. Fill ovenproof casserole or individual ovenproof bowls with 1 cup soup, top with three 1/2 inch slices of French bread and top with a slice of imported Swiss cheese. Place under broiler to brown, approximately 5 minutes at 550 degrees.
* To create a Kosher version without beef stock or bullion, you can try a kosher vegetable stock