Lost Dishes: Karen's Meatloaf from Layton's
HARLEY HAMMERMAN, SPECIAL FOR THE JEWISH LIGHT
Published June 1, 2021
Restaurants hold a special place in our lives. We cherish memories of the hangout we went to in high school, the posh eatery we dined at on special occasions, and that place we kept returning to when it had been too long. We've lost many of the St. Louis restaurants once special to us. But the wonderful food they served can be resurrected. Lost Dishes collects the signature dishes from these lost St. Louis tables, preserving their recipes for today's chefs and the chefs of tomorrow. Lost Dishes is a companion to the Lost Tables website created by Harley Hammerman, which looks back fondly at the iconic St. Louis restaurants which created these special dishes. We are partnering with Hammerman and celebrating these wonderful dishes. Hammerman and his wife Marlene are members of Shaare Emeth, and she is past president of the National Council of Jewish Women of St. Louis.   Visit Lost Tables on Facebook
---
The Howard Johnson's at 7950 Clayton Road was opened in 1955 and purchased by Harry Giessow in 1959. In 1984, Giessow ended his franchise agreement with Howard Johnson's, redecorated the restaurant, and renamed it Layton's.
Karen Stemmerman started at the restaurant's soda fountain in 1968, working her way up to manager, a position she held until Layton's closed in 2004. Her meatloaf recipe with its special red sauce was a menu favorite.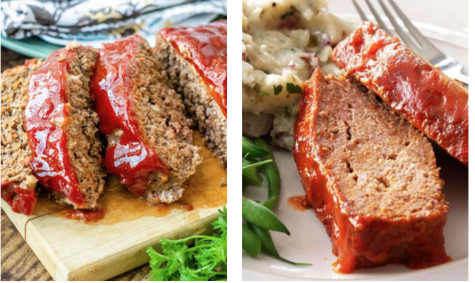 INGREDIENTS
For special red sauce:
1 (8-oz) can tomato sauce
1 cup plus 1 Tbsp water
1 (12-oz) can tomato juice
1 (10 3/4-oz) can condensed tomato soup
1 Tbsp prepared yellow mustard
1/4 cup granulated sugar
For meatloaf:
3 lb ground beef
1 Tbsp garlic salt
1 tsp ground black pepper
2 Tbsp chopped onion
1/2 cup dry Italian-seasoned bread crumbs
2 eggs(kosher)
PREPARATION
To prepare special sauce: Combine tomato sauce, water, tomato juice, tomato soup, mustard and sugar in a saucepan. Mix well. Bring to a boil, then reduce heat and let simmer for 3 minutes. Remove from heat; set aside.
To prepare meatloaf: Preheat oven to 350 degrees. Using your hands, gently mix ground beef, garlic salt, pepper and onion. Add bread crumbs and eggs; mix well. Add 1/2 cup special sauce; mix well.
Shape meat into a loaf and place on a broiler pan. Bake for 40 minutes. Pour 1 cup sauce over loaf; bake 10 minutes longer.
Heat remaining sauce; pass at the table to top meatloaf or potatoes, or freeze for a future meatloaf.