Major donations help fuel Crown Center construction
Bill Motchan, Special For The Jewish Light
Published July 13, 2022
The 55-year-old Crown Center senior living facility in University City is well on its way to a major renovation, thanks in large part to several significant contributions. Those include a $1 million donation from Michael and Carol Staenberg, a $1 million grant from the JCA Charitable Foundation and, the most recent, a $1 million donation from the Harry and Jeanette Weinberg Foundation.
The key initial component in Phase 1 of the renovation is the creation of a five-story, 52-unit residential building that will be completed in January. It will replace the original 10-story Tallin Building. Residents of Tallin will move to the new building, so none of them will be displaced. The Tallin Building will then be razed and replaced with a second five-story residential building in Phase 2.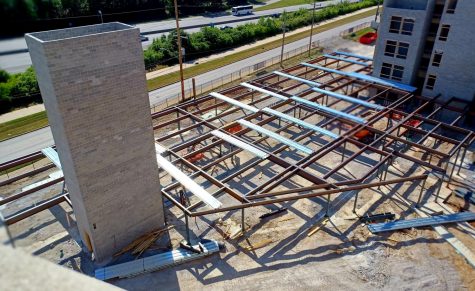 Another part of the project will be a modern community center called Staenberg Commons on the first level of the first building. It will connect to the existing Weinberg Building on the southside of the Crown Center property. That eight-story building, which opened in 1995, will also be renovated to bring its apartments up to current standards.
The Baltimore-based Weinberg Foundation primarily funds initiatives in five priority communities. None of those are in Missouri, but Crown Center offered a setting that fit other criteria, said Jon Hornstein, the foundation's program director.
"The foundation considers capital projects from around the United States that align with its priority of aging in community," Hornstein said. "National projects typically focus on the creation of new units of affordable housing or the implementation of best practices models. This project includes both elements."
Another important factor in awarding the grant to Crown Center was its dual role as a community resource and affordable independent living option for older adults on a fixed income, he said.
"The fact that Crown Center will provide programs and services to the whole community, not just those living in the building, made this a very compelling project," Hornstein said. "The foundation also gives strong priority to affordable housing projects that include comprehensive case management and supportive services. Crown Center's services, from social workers who speak Russian and Mandarin to delivery of fresh and healthy meals, certainly meet this standard."
Plans for a capital campaign, construction and renovation were born out of necessity, said Nikki Goldstein, Crown Center's executive director.
"We decided this building just couldn't be renovated and was becoming functionally obsolete," Goldstein said. "It's still safe, but it just couldn't be retrofitted for today's standards and the way people live today."
In the 1960s, a senior living apartment was efficient with few amenities. In 2022, residents want accessibility, architectural elements, and in-unit washers and dryers. The new Crown Center facilities will provide these.
Staenberg Commons and the Circle@ Crown Café, which features a kosher kitchen, will continue to serve the needs of residents and neighbors in the community. Goldstein said it's an example of Crown Center's focus on inclusion.
"It's not only Jewish people that can come here to live or to participate, but we have a unique place in U City," she said. "We're in a walkable neighborhood. We have people living here that are observant. Our new building will have a Shabbat elevator that will stop at all the floors and accessible stairways. There are things that demonstrate sensitivity and inclusiveness.
"Our mission is to provide high-quality housing and supportive services to older adults, regardless of their financial situation. These changes mean we can continue to play that role in the community for the next 50 years."
In addition to the large donations mentioned in this story, the Crown Center board of directors and other members of the community have contributed to the renovation effort. The current and future costs of construction mean Crown Center is continuing to accept donations for its capital campaign through its online portal