The Lighter Side: Q&A with Beth Kodner, director of Camp Emeth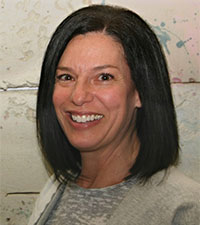 Q&A with Beth Kodner, director of Camp Emeth at Congregation Shaare Emeth
How long have you worked in the Jewish community?  
I was a camp counselor at Shaare Emeth when I was in high school and college and then returned in 2009 as a preschool teacher at Shaare Emeth. I joined the Camp Emeth staff in 2014.
In one or two sentences, can you explain your job?
As the Camp Emeth director, I get to plan fun stuff all year and then spend two months having fun with my staff and campers.
What sparked your love of summer camp? 
My camp family. While I loved being a camp counselor long ago, it was the camp community I joined at Camp Emeth that brought that love back.
What part of in-person summer camp did you miss the most during the pandemic shutdown?
While we did have camp in 2020 and this summer, I missed everyone being together in close proximity: eating together, hugging, singing. And we have missed our oldest campers.
I know you're married with three teenagers. What brings you the greatest joy in raising them?
I love seeing them grow up and become real human beings and interacting with them. They are all sweet with great senses of humor.
What did your family enjoy doing this summer that you were unable to do last summer because of the pandemic?
I got to enjoy all three of our kids on staff this summer at camp. We have been able to see more family and friends.
What do you do to chill out, when you need a break from work, family and friends and just want a break on your own?
For me time, I love to binge a Netflix series, spend time outside or shop for anything.