Yes, Passover cocktails are a thing. Here are 6 straight from the seder plate
Jordan Palmer, Chief Digital Content Officer
Published April 14, 2022
You've heard it before. Purim is the Jewish holiday in which the imbibing large amounts of alcohol is practically mandated. But, don't forget about Passover. Four cups of wine? And while no one is suggesting you become farschnickert, Passover is certainly a wonderful time to raise a glass and toast the fruits, so to speak.
This week, I went in search of cocktails to recommend for this Passover, and discovered a website called The Sipping Seder, where this belief is shared and taken to a new level
What is The Sipping Seder?
The Sipping Seder is a creative reinterpretation of the traditional Passover seder plate as a series of classically-inspired cocktails.
Created by Rob Corwin and Danny Jacobs, a pair of cocktail enthusiasts from San Francisco. The project was born out of their interest in cocktail culture and their desire to keep ties with Jewish heritage.
"It took approximately two years of research, planning — and numerous taste tests — to develop. The process helped both of us hone our appreciation of fine cocktails and learn a bit more about the traditions of our Jewish heritage," writes the pair on their website.
"Obviously, this is not intended as an actual observance of Passover. These recipes could never replace the seder plate – no matter how much you might want them to. These cocktails are merely artistic representations. Together, we hope they'll bring you some light-hearted joy at a time when many turn their thoughts to tradition," writes the duo.
The cocktails
Corwin and Jacobs created six cocktail recipes.
But the two that I am recommending are the Z'roa and the Beitzah. Mostly because bourbon is my preferred spirit.
Z'roa
Z'roa symbolizes the traditional Passover sacrifice, a lamb that was offered in the Temple in Jerusalem and then eaten as part of the seder meal. On the modern seder plate, z'roa is represented by a roasted lamb shank bone.
Ingredients:
2 oz (60 ml) Basil Hayden's Bourbon
2 oz (60 ml) Ruby Port
1 tsp (5 ml) Gum Syrup
¼ oz (7 ml) Lemon Juice
¼ tsp (1.25 ml) Maraschino Liqueur
Directions:
1) Combine all ingredients in a mixing glass. Shake well with ice.
2) Strain through a fine mesh strainer into a chilled cocktail glass.
Beitzah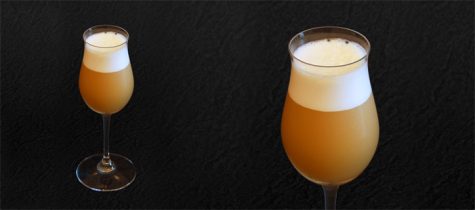 On the seder plate, beitzah is said to remind us of the other festival sacrifice offered in the Temple in Jerusalem. It is represented by a baked egg and symbolizes our sorrow at the destruction of the Temple along with the hope that it will be rebuilt.
Ingredients:
1/2 oz (15 ml) Laird's Bonded Apple Brandy
1/2 oz (15 ml) Bulleit Bourbon
1/2 oz (15 ml) Benedictine
1/2 oz (15 ml) Galliano
1 Egg White
Directions:
1) Combine all ingredients in a mixing glass and shake vigorously without ice.
2) Fill 2/3 full of ice and shake vigorously for an additional 60 seconds.
3) Strain into a chilled tulip-shaped glass.

Notes:
As with almost any egg-based drink, shaking is the key to this cocktail. The "dry shake" (without ice) in the first step will improve your results significantly.
If you have an extra Hawthorn strainer, remove the spring and place it in the shaker. The little coil will help further improve your egg froth.
Please see notes on keeping kosher if that's important to you.
The Sipping Seder's Notes on Keeping Kosher
Because of the grains used to distill the spirits in the recipes, the cocktails in The Sipping Seder are not kosher for Passover. However, a few of our drinks can be adapted easily to meet the requirements. Or, you can enjoy any of these cocktails to get into the spirit of the holiday as Passover approaches.
Distillery 209 introduced a lovely kosher-for-Passover gin in 2010 that is made from certified sugar-cane-based neutral spirits with an adjusted mix of botanicals. It is featured in the chazeret cocktail. The gin is a limited release. If you can't track down a bottle, I would check with the distillery directly. They are very nice people. You might also want to try their gin in the karpas cocktail.
The maror cocktail is kosher for Passover if prepared with the proper vodka. Despite common misconceptions, most vodkas on the market today are distilled from grain. Distillery 209 introduced a kosher-for-Passover vodka in 2012. It shares a similar neutral flavor with their popular paschal gin, but has a somewhat sweeter finish. If you can't obtain a bottle in your local area, a potato-based vodka will work well. Be sure to check ingredients carefully or ask for a recommendation.