The Jewishness of the dumpling
Jordan Palmer, Chief Digital Content Officer
Published May 20, 2022
I had heard good things about a place called Soup Dumplings STL on Olive Boulevard, in University City. The location is not far from my office, but not exactly close to my house. My first visit was outstanding. I am now obesessed with soup dumplings.
So when my wife tested positive for COVID recently, I thought what better comfort food for her to enjoy than a steaming bowl of hot soup with dumplings. Not exactly Jewish penicillin, I know, but this version seemed the next best thing.
So, despite the pounding rain outside, I got into the car and drove 25 minutes to carry out. Yes, folks, that's just the kind of husband I am.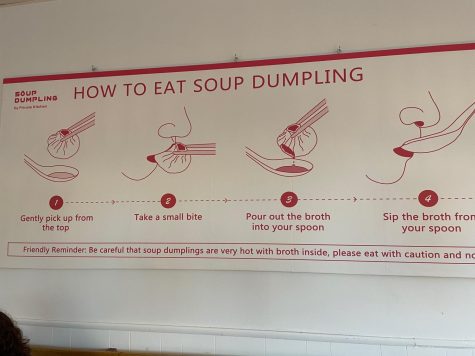 When I arrived, the restaurant was half full, with diners lingering, most likely to wait out the rain. As I sat down to wait for my order, I happened to overhear two women discussing the matzah ball soup one of them made for her seder. She went on to say that matzah balls are also considered, "Jewish dumplings."
I had never heard this before, so I was intrigued.  Guess what, she was right.
The Jewishness of dumplings
The tale of the Jewish dumpling is tied directly to the history of our people, and our forced migrations and resettlements through the years. Wherever we Jews landed, we adapted to our surroundings, and that included assimilating to the local cuisines while bringing and keeping our traditions from the whence we came.
In her book, "Dumplings: A Global History," author Barbara Gallani writes, "Jewish dumplings also developed a distinct identity through the interaction of Jewish communities, with ingredients, food, and traditions around the world, mainly in parts of Europe and the Middle East."
Gallani found that Jewish dumplings made from egg and flour and added to chicken soup in the Ashkenazi tradition were very similar to gunmandu, the Korean dumpling, which is also similar to the Chinese guotie gyoza.
In her book, "Bukharan Jews and the Dynamics of Global Judaism," Alanna E. Cooper, a cultural anthropologist and assistant professor of Jewish studies at Case Western Reserve University, says, "the Jews of ancient Bukhara—which today comprises parts of several modern central Asian nations—embraced another filled dumpling tradition. These Jews were totally integrated into the central Asian landscape that included the most ancient of dumplings, manti—a large dumpling made from pasta or wonton-style dough, wrapped in a distinctly shaped square packet, filled with meat and cooked in stacked steamers."
(Soup Dumplings STL serves their dumplings in stacked steamers)
What is a Jewish dumpling?
There are two iconic versions of the Jewish dumpling. The matzah ball is the quintessential one and has been traced back to German, Czech and Austrian Jews who would make flour and breadcrumb soup dumplings.
"Once made kosher, they became popular throughout Eastern Europe's Jewish community and the Pale of Settlement," writes Claudia Roden in "The Book of Jewish Food: An Odyssey from Samarkand to New York."
"The dumplings epitomize the robust peasant-and-poor-man's-food," she continues. "These simplest of dumplings were simultaneously homey and sustaining. With the large migrations of mostly poorer Ashkenazim around the turn of the 20th century, matzah balls, made from cheap and readily available ingredients, became the queen of Jewish food in North America."
Don't forget kreplach
And then of course there is kreplach. I've always thought of them as "Jewish wontons." Like their Chinese counterpart, they're filled with meat, wrapped in dough and added to a soup. I remember them as a staple at many Yom Kippur break-fast meals.
In an article about kreplach, Chabad.org writes "Jewish scholars say the dumplings have special meaning for Yom Kippur: The filling and its wrapper together serve as a sort of meditation on our inner and outer selves as we approach a sacred holiday."
How to try the best soup dumpling around
Chao Baan, the authentic Thai restaurant located in the city's Grove neighborhood, is hosting a one-night chef dinner to celebrate Asian American and Native Hawaiian/Pacific Islander (AANHPI) Heritage Month. On Tuesday, May 31, from 5 to 8 p.m., guests can enjoy a meal that includes starters and sides and a variety of dumplings prepared by some of St. Louis' most prominent AANHPI chefs. They include:
Ivan Wei of Corner 17 and his colorful chicken, pork, beef and vegan dumplings
Nick Bognar of iNDO & Nippon Tei, with foie gras wagyu dumplings
Munsok So, So Hospitality Group: Drunken Fish, Kimchi Guys & 612 North Event Space and Catering with kimchi and vegetable dumplings
In addition to these dumplings, guests will receive an Asian-inspired meal, including chicken tom yum soup, spring rolls and Chao Baan's signature fried rice dish, Khao Tod Nam Sod. Taiyaki, the a Japanese fish-shaped cake, will be served for desserts, thanks to Amy Guo of Hello Poke.
Michelle Li, a KSDK news anchor and founder of the Very Asian Foundation, along with the Asian American Chamber of Commerce, will host a panel discussion during the evening with the participants.
The dinner comes after Li received a racist voicemail from a viewer. The caller claimed that Li's mention of eating dumplings for New Year's dinner was "annoying" and "inappropriate," and that Li should "keep her Asian to herself." Li's reaction post defending her comment included the hashtag #VeryAsian, and AANHPI communities and allies turned the hashtag into a badge of pride and honor.
Tickets are limited and are available for purchase online now for $60 per person.