The remarkable story of "Glaser Drug" in St. Louis
HARLEY HAMMERMAN , SPECIAL FOR THE JEWISH LIGHT
Published December 6, 2021
Have you ever wondered what happened to that restaurant you once loved and have memories of dining at with your family and friends? We did! There is an amazing website called Lost Tables, dedicated to celebrating the restaurants of our past. We are partnering with the site's creator Harley Hammerman and celebrating these wonderful stories. Hammerman and his wife Marlene are members of Shaare Emeth.
---
Louis Greengard was an old-school druggist who didn't believe in cluttering his store with hardware and beauty parlor paraphernalia. He stuck to the prescription business, regarding his chosen work as a noble profession.
From 1918 to 1924, Greengard had a drugstore at Pershing and DeBaliviere, in the Bristol Hotel Building. One of his employees was Morris Glaser, who worked for Greengard as a delivery boy.
Glaser's Begins
After graduating as a pharmacist, Glaser decided to open his own drugstore. To help him get started, Greengard allowed his 24-year-old former employee to take one item out of everything on his shelves, provided there were three or more of each item.Morris Glaser was born in St. Louis on January 30, 1904. He lived on North Garrison Avenue with his parents, his five brothers and one sister. After graduating from Central High School, Glaser attended the St. Louis College of Pharmacy ― and worked part-time at Louis Greengard's drugstore.
Glaser opened his drugstore at the southwest corner of Clayton and Big Bend on October 1, 1924. But unlike his mentor, Glaser did not stick to just the prescription business. Like most drugstores of the era, he also offered his customers a soda fountain.
When Morris Glaser opened his drugstore at Clayton and Big Bend in October of 1924, he saw a landscape very different from the one that would soon develop at the intersection. The iconic Phillips 66 station across the street would not open until September of 1930. The Parkmoor restaurant at the northeast corner would not open until July of 1931.
Normally renting for $125 per month, Glaser got a concession from the building owner in the form of 6 months free rent and a rate of $65 per month thereafter. This, he said, was because the owner felt the need for a drugstore in the area.
The county's dirt roads, which kept customers away in bad weather, led Glaser to start a delivery service.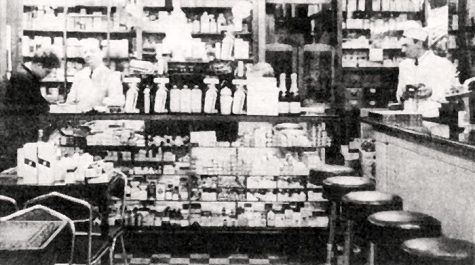 By 1927, a second drugstore was opened at Bellevue and Wise avenues in Richmond Heights. And by 1935, the Glaser Drug Company had additional stores at Delmar and Midland, Hanley and Wydown, and Forsyth and Lindell.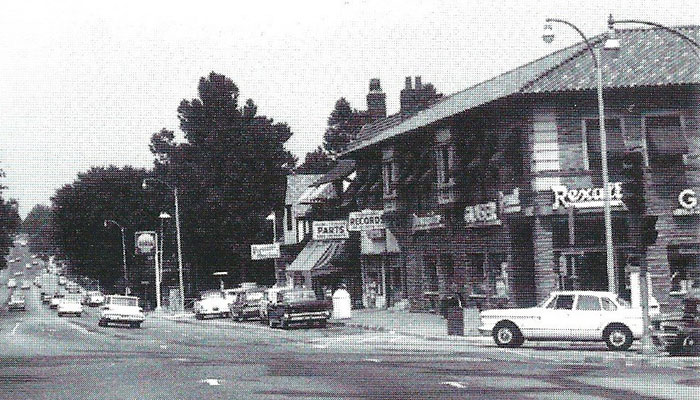 Glaser Drugstore, Hanley and Wydown
Morris Glaser tailored his drugstores to fit the small neighborhoods where he put them and then hired neighborhood people to run them. Each drugstore had a soda fountain, which provided both revenue and visibility.