Lost Tables | Remembering lunch at Famous Barr
Published October 3, 2021
Have you ever wondered what happened to that restaurant you once loved and have memories of dining at with your family and friends? We did! There is an amazing website called Lost Tables, dedicated to celebrating the restaurants of our past. We are partnering with the site's creator Harley Hammerman and celebrating these wonderful stories. Hammerman and his wife Marlene are members of Shaare Emeth, and she is past president of the National Council of Jewish Women of St. Louis.   Visit Lost Tables on Facebook
---
In the first half of the twentieth century, department store restaurants were some of the best places in town to eat. They often did their own baking and made desserts from scratch. They whipped up mayonnaise and produced their own potato chips. Dishes popular through the decades included chicken pot pies, tomatoes stuffed with chicken salad, club sandwiches, and frozen fruit salads.
Most tea rooms had children's menus; department store restaurants were pioneers in catering to children. And it was as children, accompanied by their mothers, that most St. Louis baby boomers first visited the tea rooms at Famous-Barr, Stix Baer & Fuller, and Scruggs Vandervoort Barney.
Famous-Barr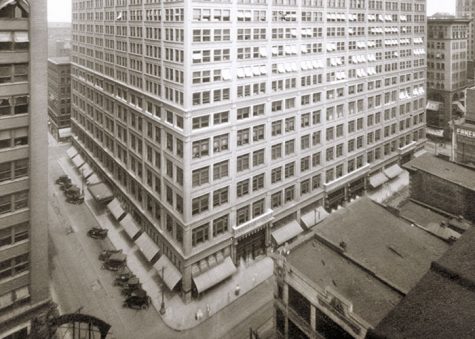 In January of 1912, the Famous Clothing Company and the William Barr Dry Goods Company merged to form the Famous & Barr Company, at Washington Avenue and Sixth Street.
In September of 1913, the Famous & Barr Company formally opened its new store in the first eight floors of the massive Railway Exchange Building at 611 Olive Street.
Famous & Barr had a tea room as early as 1913, first in their store at Washington and Sixth Street, and then on the sixth floor of their new store in the Railway Exchange Building.
The sixth-floor Tea Room featured live music. Both table d'hote and ala carte menus were available. Starting in 1915, women customers were entertained during lunch by a Fashion Revue.
n 1929, Famous-Barr opened its Tunnelway Restaurant, billed as "that different eating place under Locust Street." There were two entrances, one through the Basement Store and one at 404 North Seventh Street.
The Tunnelway, open daily from 7 a.m. to 7 p.m. for breakfast, lunch, and dinner, featured "Mrs. Alden" and her pies.
The Tunnelway Restaurant was a staple for Downtown St. Louis shoppers and non-shoppers through at least 1977.
The sixth floor Tea Room continued on as Famous-Barr's main dining room, offering a large array of luncheon options. A 1942 menu featured "Onion au Gratin" soup the forerunner of a Famous-Barr classic.