Lost Tables: Remembering Cyrano's
Harley Hammerman, Special For The Jewish Light
Published August 29, 2021
Have you ever wondered what happened to that restaurant you once loved and have memories of dining at with your family and friends? We did! There is an amazing website called Lost Tables, dedicated to celebrating the restaurants of our past. We are partnering with the site's creator Harley Hammerman and celebrating these wonderful stories. Hammerman and his wife Marlene are members of Shaare Emeth, and she is past president of the National Council of Jewish Women of St. Louis.   Visit Lost Tables on Facebook
---
John Bryan Marshall Jr. was born on July 7, 1922 in Mexico, Missouri. After serving 13 years as a Marine Corps fighter pilot in both World War II and the Korean War, he married Frances Huff on April 18, 1953. By 1955, the Marshalls were living in St. Louis.
In 1956, John Marshall opened the High Fidelity Showroom at 6383 Clayton Road, on the northeast corner of Clayton and DeMun. It was billed as the first exclusively high-fidelity studio in the St. Louis area.
Marshall's hi-fi business did well. In November of 1957, the Marshalls purchased a home at 1259 Hampton Park Drive in Richmond Heights. But Marshall described himself as a frustrated restaurateur. Through the years he had collected 150 gourmet cookbooks and he wanted to put them to use.
So in 1960, John and Frances Marshall opened a European-style coffeehouse in the basement of their Hi-Fi Showroom at Clayton and DeMun. They called their coffeehouse Cyrano's.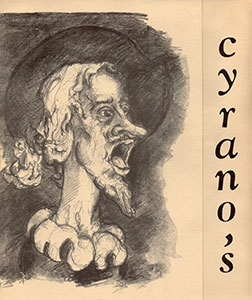 Cyrano's entrance was down a flight of steps on the DeMun side of the building. Inside, a hallway led to a smallish waiting room with bench seats on either side. Against the back wall, a reel-to-reel tape deck behind smoked glass played classical music throughout the restaurant.
The dining room was dark and romantic, with exposed pipes overhead, painted the same dark color as the ceiling. Candle-lit wooden tables completed the scene.
Cyrano's menu included a few simply prepared sandwiches, 16 types of coffee, a variety of teas and cocoas, and a  collection of pastries and ice cream desserts.
Roast beef sandwiches were served two to an order. The thinly sliced beef was served on mouthwatering floury rolls, said to be supplied by Pfeiffer's Bakery.
Cyrano's desserts were made with St. Louis based Chapman's ice cream. An early favorite was the World's Fair Éclair – a delicate pastry covered with French vanilla ice cream, milk chocolate and whipped cream.
But the dessert that would become Cyrano's signature dish was not on the original menu. The Cleopatra was added sometime after the restaurant opened. An ice cream sundae, with bananas, whole strawberries, rum sauce, a hard chocolate shell and a mountain of whipped cream, it was "truly fit for royalty."
Cyrano's was one of Pevely Dairy's biggest whipped cream customers, using over 100 gallons of whipping cream every week. In addition, 40 trays of fresh strawberries were flown in from California weekly.
Cyrano's was the place to go for high school and college students after movies, proms and other social events. The wait for a table could be an hour or more, with customers lined up out the door.
In the spring of 1972, the Marshalls took advantage of Cyrano's popularity and expanded upward. They converted the east half of their Hi-Fi Showroom into a second dining room, increasing the restaurant's seating capacity to 165.
In the new upstairs dining area, tables were intimately arranged with candles and fresh flowers on their marble tops. Reproductions of masters were softly illuminated on the walls, there were beamed ceilings and fine walnut that originally graced Mill Creek Valley homes, and in the background, classical guitar and piano music added a soothing touch.