Lost Tables: Remembering the Eat-Rite Diner
Harley Hammerman, Special For The Jewish Light
Published September 19, 2021
Have you ever wondered what happened to that restaurant you once loved and have memories of dining at with your family and friends? We did! There is an amazing website called Lost Tables, dedicated to celebrating the restaurants of our past. We are partnering with the site's creator Harley Hammerman and celebrating these wonderful stories. Hammerman and his wife Marlene are members of Shaare Emeth, and she is past president of the National Council of Jewish Women of St. Louis.   Visit Lost Tables on Facebook
---
Lewis B Powers was born in Arkansas in 1937. He grew up in the Dutchtown neighborhood of South St. Louis, attending Meramec Elementary School and Cleveland High School.
Powers was immersed in the sandwich business at an early age. His parents owned the Superior Sandwich Shop at 601 South Vandeventer. His uncle ran the Courtesy Sandwich Shop at Olive and 18th streets. Employed there at age 16, Powers fell in love with a customer – a receptionist named Marjorie Dorcas Conway. They were married in 1954.
Lewis and Dorcas Powers opened their own sandwich shop in 1957; the Rock Hill Sandwich Shop was located at 9507 Manchester. By 1962, their sandwich shop had become a diner and the couple had amassed six diners throughout the area.
They called their chain of diners "Eat-Rite" and coined the slogan "Eat-Rite or Don't Eat At All."
Over the next four decades, there were Eat-Rite Diners in south St. Louis city and county, Maplewood, Sappington, Fenton, High Ridge and Overland. While each location had its own following, none captured the imagination of St. Louisans like the downtown Eat-Rite at 622 Chouteau.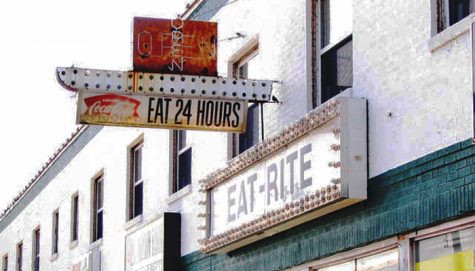 The white brick building at 7th and Chouteau may have started out as a White Castle restaurant. An article in the May 1, 1929 St. Louis Post-Dispatch noted a holdup at the White Castle lunch room at 622 Chouteau. While the 622 Chouteau address was not listed as one of the seventeen White Castle locations in a May 8, 1929 Post-Dispatch ad, its white porcelain tile walls were a White Castle standard.
By 1933, Elias and Elizabeth Mahanna were grilling burgers at 622 Chouteau. They called their eatery White Kitchen. In 1943, the Mahannas sold White Kitchen to Charles L. Reed, who kept the name and business until at least 1946.
The Regal Sandwich Shop occupied the building at 7th and Chouteau in 1955. By 1966, the eatery has become the Gateway Sandwich Shop, one of a chain of sandwich shops owned by Leon Harris.
Lewis and Dorcas Powers purchased the property in 1970, adding it to their chain of diners and changing the name to Eat-Rite.
Dorcas wasn't happy with the surroundings. The neighborhood had a decidedly gritty feel and a reputation for crime.
But husband and wife pressed on, and in the 1980s, Ralston-Purina started cleaning up the area. The couple eventually sold their other diners to employees and friends, but they held onto the Eat-Rite at 7th and Chouteau.
The exterior of the Eat-Rite Diner was white painted brick and block, topped with a three sided porcelain Eat-Rite sign, which in turn was partially capped by Coca-Cola signs.
The diner's white outside was matched by an equally white inside of porcelain tile walls, a metal ceiling and a tile floor. Service was only available at a curved corrugated stainless steel counter with a well-worn Formica top. There was seating for thirteen customers on leatherette topped stainless steel stools.
A "Lord of the Rings" pinball machine and an older "Can-Can" pinball game from 1961 occupied limited floor space. NO SMOKING and CASH ONLY signs adorned the walls, along with a pocket Cardinals schedule.
There was a warmth and camaraderie that came over those who enter the Eat-Rite Diner; everyone seemed at peace with their fellow man or woman. If they were less than peaceful, there was a surveillance camera and customers had to be buzzed in after dark.