New museum provides tools, space to preserve Holocaust artifacts
By Bill Motchan , Special to the Jewish Light
Published October 31, 2022
The St. Louis Kaplan Feldman Holocaust Museum displays many timeless, sobering artifacts. Those visual reminders of the Holocaust provide visitors with a sense of history and offer a glimpse into Europe during the early 1940s. The museum has been collecting and displaying artifacts since its 1995 opening. Among the items are a Jewish ghetto police stamp, displaced persons camp tags, a U.S. Signal Corps camera and a child's shoe.
Protecting priceless artifacts is a challenging job that falls to archivist Diane Everman and associate curator Jillian Howell. The recently expanded museum offers them tools and space to ensure the safety of those items.=
"We have an 80 percent increase in space for both the Jewish Community archives and the Holocaust museum archives," Everman said.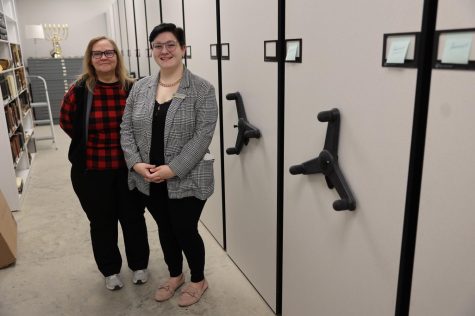 Those items are housed in the lower level of the museum in the archive area, Howell said as she turned the lever on a compact mobile shelving unit.
"These shelves are really cool because they've expanded our storage space," she said.
The logistics of preserving artifacts also require special handling, Everman said.
"Everything has to be in acid-free housing when it's processed, and everything is in an acid-free box and enclosures," Everman said. "Environmentally, we set everything at 40 to 45 percent relative humidity and 65 to 68 degrees in temperature."
That environment is a happy medium for paper, photographs and audio-visual materials, she said.
Importance of Holocaust awareness
Education efforts about the Holocaust are particularly important based on studies that track awareness. A September 2020 survey conducted by the Conference on Jewish Material Claims Against Germany revealed a significant lack of knowledge of the Holocaust among U.S. millennials. The survey showed that 63% of respondents did not know that 6 million Jews were murdered during the Holocaust, and that 36% thought "2 million or fewer Jews" were killed.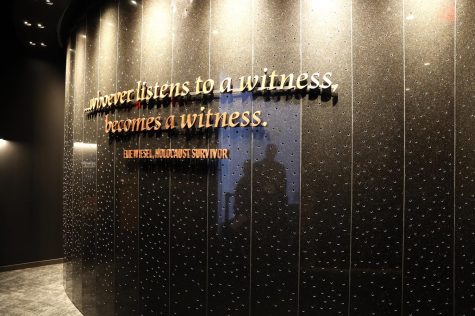 More than 40,000 camps and ghettos existed in Europe during the Holocaust. But 48% of survey respondents couldn't name a single one. The survey broke down results by state. In Missouri, among millennials:
· 64% did not know 6 million Jews were killed in the Holocaust.
· 37% did not know what Auschwitz was.
· 50% couldn't name a concentration camp or ghetto.
One positive statistic emerged from the Claims Conference study. Most respondents, including 85% in Missouri, said it's important to continue teaching about the Holocaust, in part so it doesn't happen again.
Marci Rosenberg, former chair of the museum who has worked with Steven Spielberg's Shoah Foundation, said the lessons of the Holocaust must continue to be provided to future generations to fight hatred in any form.
"There is still so much antisemitism, racism, bigotry, propaganda, lie and hatred in this world of what one human being can do to another," she said. "It hasn't stopped. We've been teaching these lessons for over 80 years. People have been telling their stories of what was done to them because they were Jewish. That's why this museum is here."