New, expanded Holocaust museum renews mission of 'breaking the cycle of hate'
Bill Motchan, Special To The Jewish Light
Published October 30, 2022
The St. Louis Kaplan Feldman Holocaust Museum officially re-opens to the public at 1 p.m. Nov. 2 with many more resources to continue its mission to reject hatred, promote understanding and inspire change. Following a 2½-year, $21 million renovation and expansion, the museum features a wide range of exhibits and education tools to achieve those goals.
In recent months, museum staff and volunteers have been preparing for this day as construction crews put the finishing touches on the structure. The building design and entrance strike a balance that is both solemn and welcoming.
With 36,000 square feet of space, the museum is already booking school outings and group tours. Those opportunities to educate students and adults are key to making sure the lessons of the Holocaust don't fade from memory.
The museum's reopening comes at an important time, said Frances Levine, interim executive director.
"I think we've opened this museum at a really critical juncture when the rhetoric and conspiracy theories have brought so many issues home to us," said Levine, who holds a doctorate in anthropology and is former CEO of the Missouri Historical Society. "I think that we couldn't have opened at a better time in our history."
An asset for the community
The new Holocaust museum will take on the crucial task of education and fighting hatred, said Carol Staenberg, who spearheaded the museum's capital campaign.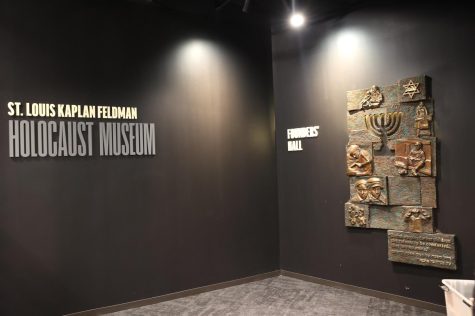 "The previous museum was pretty outdated," Staenberg said. "And with the rise of antisemitism all over the world, we built a place that is so beautiful and impactful on the outside, but also inside. We raised a lot of money for the capital to build it, and then we started to talk about what was going to happen inside and what people would take away from visiting the museum. That was my motivation and why I really thought it was important to be a part of this project."
Staenberg says that for our region — and our community — the chance to have a safe environment like the museum to learn about the Holocaust, and infuse those lessons into our daily lives, will be both crucial and impactful.
"It's going to be big enough for when students come, they don't have to just get right back on the bus and go back home," Staenberg continued. "They can actually sit and debrief with their teacher, maybe with a survivor, and be able to have conversations."
Importance of Holocaust awareness
Education efforts about the Holocaust are particularly important based on studies that track awareness. A September 2020 survey conducted by the Conference on Jewish Material Claims Against Germany revealed a significant lack of knowledge of the Holocaust among U.S. millennials. The survey showed that 63% of respondents did not know that 6 million Jews were murdered during the Holocaust, and that 36% thought "2 million or fewer Jews" were killed.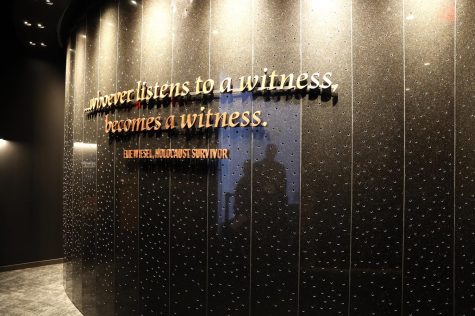 More than 40,000 camps and ghettos existed in Europe during the Holocaust. But 48% of survey respondents couldn't name a single one. The survey broke down results by state. In Missouri, among millennials:
· 64% did not know 6 million Jews were killed in the Holocaust.
· 37% did not know what Auschwitz was.
· 50% couldn't name a concentration camp or ghetto.
One positive statistic emerged from the Claims Conference study. Most respondents, including 85% in Missouri, said it's important to continue teaching about the Holocaust, in part so it doesn't happen again.
Marci Rosenberg, former chair of the museum who has worked with Steven Spielberg's Shoah Foundation, said the lessons of the Holocaust must continue to be provided to future generations to fight hatred in any form.
"There is still so much antisemitism, racism, bigotry, propaganda, lie and hatred in this world of what one human being can do to another," she said. "It hasn't stopped. We've been teaching these lessons for over 80 years. People have been telling their stories of what was done to them because they were Jewish. That's why this museum is here."
Key features
The first significant design element at the museum is a sculpture of a red flame in front of the entrance. The sculpture was donated by developer and philanthropist Michael Staenberg. The image of a flame is significant because the definition of the word Holocaust is "destruction by fire."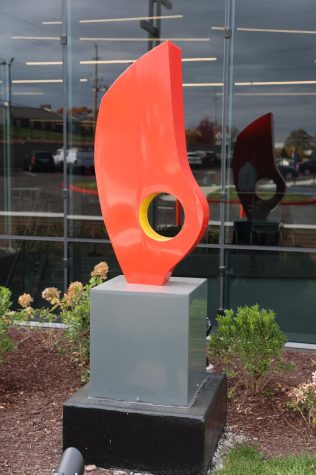 Visitors to the museum will enter through a light-filled main lobby. Ceiling panels and the front façade are uneven and distorted, inspired by Kristallnacht. That design merges on a flat, nonbroken, dark gray wall on the north side of the lobby. That design element symbolizes a feeling of hope.
The expanded facility is three times bigger than the previous museum's 8,000 square feet and will make St. Louis a major destination for Holocaust learning. The additional space allows curators to more effectively preserve and share survivor stories and challenge visitors to role-play as collaborators, bystanders, upstanders and liberators.
In the main permanent exhibit area, visitors enter through a room that looks like it's been covered in damask wallpaper. It is decorated with prewar family photos that show the vibrancy and diversity of Jewish life. Within the exhibit area are galleries that focus on the history of antisemitism before the Holocaust, the history of the Holocaust, choices people made during the genocide, and survivors.
Some of the other noteworthy features are an expanded learning center, a larger auditorium, classrooms, and flexible space that allow visitors to gather for self-reflection and discussion.
Impact Lab interactivity
A section of the museum will challenge students and visitors to reject hatred, promote understanding and inspire change. Known as the Impact Lab, this interactive space offers an opportunity to learn more about current issues such as genocide and hate crimes viewed through the lens of the Holocaust.
Within the Impact Lab, each station will be staffed by a volunteer. The volunteers are preparing for opening and getting an education of their own, said Brayden Swathwood, coordinator of programs and events.
"The training is quite extensive," Swathwood said. "I was involved in theater for many years, and even I would say there's a lot for volunteers to remember. But what's interesting is each group is going to have its own set of knowledge about events. Each of the volunteers will have an opportunity to work with that group."
A top-tier Holocaust museum
There are other Holocaust memorials and small museums around the country, some in university settings.
Susan Myers, president of the Association of Holocaust Organizations (AHO), said: "Our records indicate that there are 16 museums, including the St. Louis Kaplan Feldman Museum, with two more getting ready to break ground in Orlando and Boston. The United States Holocaust Memorial Museum in Washington, our national museum, is the largest. We put all the other museums in the second category, which are state, public and privately supported museums."
Myers said the AHO doesn't rank those 15 other museums in order of size or dollar amounts spent on construction and renovations because "they are all important to our mission."
The St. Louis museum was already tracked by AHO and, with the expansion, will be a destination for travelers, including students of history and those who study World War II.
Law enforcement and society
The St. Louis Kaplan Feldman Holocaust Museum is among a small group of Holocaust museums that participates in the Law Enforcement & Society program, which teaches law enforcement officials how police responded during the Holocaust and how to apply those lessons in their work today. It is one of the first institutions to pilot the program, which has trained thousands of law enforcement personnel. The program is held in conjunction with the Anti-Defamation League.
Separation from Jewish Federation
An Aug. 1 announcement that the museum would separate from Jewish Federation of St. Louis signaled the beginning of a new era for the museum, a 25-year-old institution. It was driven by Federation's strategic plan. Jewish Federation President & CEO Brian Herstig, said running a museum of this size and scope is best handled by museum professionals.
"It will be its own institution with its own board and its own budget," he said. "The Holocaust museum will be a partner to make sure a very specific part of the mission of our community is met. We will fund them and support them and have a formal relationship with them."
The decision to separate was the result of two task force studies over six months, Jewish Federation Board Chair Greg Yawitz said.
"Task Force 1 looked at the macro concept of independence," Yawitz said. "Task Force 2 did the hard work of figuring out what that actually meant and how it would potentially work, and recommendations around structures and governance. It was a painstakingly thought out decision because of its significance."
Over the next several months, the Federation board will draft bylaws and policies for the museum. It will also apply for 501c3 (nonprofit) status and select an initial board of directors. After the official separation, some services and security will continue to be shared between the two institutions.
Looking to the future
The reopening of the St. Louis Kaplan Feldman Holocaust Museum marks a significant milestone in Holocaust remembrance. The facility will be a major destination for history and learning.
What does the future hold for the museum? Levine, the interim director, said it has the potential to be a partner in education throughout the region and the country.
"I really see us breaking the cycle of hate and violence," Levine said. "You have to keep at it every day. I feel strongly that this museum sits at the confluence of trauma-informed education, which so many young people and older people now need. They need that sensitization."
The museum will also be a beacon of hope and a positive influence, Yawitz said.
"It's my hope that the museum will open people's eyes and make them more thoughtful about what's possible and set people on a more positive trajectory in how they treat others, how they see the world through the lens of others," he said.
The St. Louis Kaplan Feldman Holocaust Museum opens to the public at 1 p.m. Wednesday, Nov. 2. The Jewish Light's free commemorative Holocaust museum print edition, filled with news and feature stories and pictures and graphics, also coincides with the opening. For museum hours and more information, please visit the museum's website.