Lost Tables | Remembering Crazy Fish
Harley Hammerman, Special For The Jewish Light
Published October 31, 2021
Have you ever wondered what happened to that restaurant you once loved and have memories of dining at with your family and friends? We did! There is an amazing website called Lost Tables, dedicated to celebrating the restaurants of our past. We are partnering with the site's creator Harley Hammerman and celebrating these wonderful stories. Hammerman and his wife Marlene are members of Shaare Emeth
---
Chris LaRocca grew up in the restaurant business. His parents owned LaRocca's Restaurant at 9845 West Florissant in the '60s, the restaurant moving to 12900 New Halls Ferry Road in the '70s.
"I began working in restaurants by default," LaRocca said. "You start washing dishes, you bus tables, you cook and you move all throughout the restaurant."
As an 18-year-old in 1975, LaRocca bought a little company called The Candle Man, which supplied tapers to area restaurants. He quickly turned it into a completive enterprise with more than 70 accounts. "That was my first taste of business," he recalled.
LaRocca later moved to Washington, D.C., where he owned and operated a restaurant in the theater district. In 1982, he was hired by General Mills to work in the Casa Gallardo and El Torrito restaurant chains. The company brought him to St. Louis where he was regional manager in charge of 24 restaurants.
In his travels for General Mills, LaRocca found that diners in other areas of the country were being offered all sorts of interesting combinations of foods. He found this imagination lacking in St. Louis restaurants. So with four young children in tow, he decided to open his own restaurant to help St Louisans "step over the edge" in their eating habits.
LaRocca thought Clayton was a "cool place" and looked at a building at 15 North Meramec, but walked away from a deal because of the building's long, narrow shape. He finally came back to the location and was able to reconfigure the space to include seating for 90 in the dining room and 36 in the bar area.
"It was truly a family project," LaRocca recalled. "I tore the panels off the ceiling and repainted it. My sister-in-law did the artwork that hangs on the wall. My wife, father-in-law, brother and cousins all helped. It took seven weeks to rehab the building."
LaRocca went to 22 banks seeking financing, but having no track record as a business owner, he had trouble getting a loan. Finally, he was approved for an SBA loan, but then was notified that the SBA funding had dried up.
"I opened on a shoestring," LaRocca said. "I was paying rent checks out of my personal checkbook."
LaRocca opened his new restaurant in October of 1993. He was originally going to name it Pescado Loco.
"Our concept was for a straight Mexican seafood restaurant, but we decided we didn't want to be pigeonholed. We thought it was too ethnic and would be too hard for people to pronounce and remember. We still liked the name, though, so we just translated it."
LaRocca dubbed his new restaurant Crazy Fish Fresh Grill.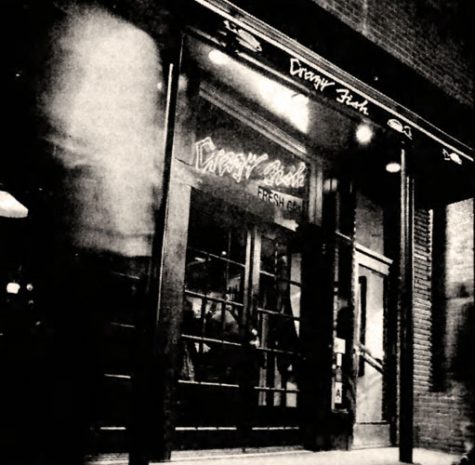 Most of the dishes served at Crazy Fish couldn't be found anywhere else, or at least not in the form offered at LaRocca's quirky new restaurant.
"We go to pains to be different," he proclaimed. "I've tried to bring a new concept to St Louis to fill a void that St. Louisans didn't know they had." The idea, he said, was to "take easily recognizable things and make them unique."
Menu items included Maryland Crab Cakes with Jalapeño cream, Rain Forest Tilapia, Shrimp and Voodoo Pasta Salad, Coho salmon, roasted tomato chicken, and pepper pasta, pork tenderloin with papaya sauce, and chipotle chicken with Jamaican shrimp. The meatloaf was made of bison and served with pieces standing on end, with corn confetti shooting out of them.