The Lighter Side featuring Sean Jameson, of the Delmar Gardens West activities team
BILL MOTCHAN , SPECIAL TO THE JEWISH LIGHT
Published December 21, 2021
In one or two sentences, can you explain your job?
We develop a schedule of activities to keep residents busy and engaged and stimulate their senses. They come to activities to get away from the nursing and medical part of their lives and enjoy themselves, so we see ourselves as an outlet.
What's the most rewarding part of your work?
When I see residents smiling and happy. I try to be there as a friend, not just an employee. We grow friendships with them. Sometimes I feel like I have a couple of hundred grandparents.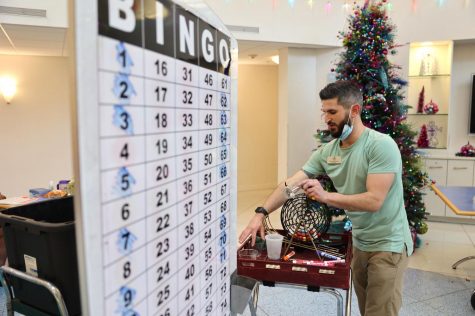 Has this job made you more aware of the emotional well-being of seniors, including your own relatives?
Definitely—I have a very close relationship with my grandmother, and I have always been able to interact with people of all ages. Working here has made me grow as a person.
At work you provide entertainment and a diversion. What's your favorite entertainment and diversion activities away from the job?
I try to exercise a lot. I'm a big NFL and New Orleans Saints fan. I like trying out different restaurants and I enjoy live music. My brother Drew is part of the St. Louis music scene. He runs the concert promotion company Jamo presents. COVID made that challenging, but he kept doing live shows with social distancing, so I was able to attend some, which was awesome.
How did COVID impact your job?
It made us think outside of the box to come up with new ideas. It was difficult when residents had to stay in their rooms. We did room visits and hallway bingo and brought arts and crafts room to room and tried innovative ways to keep everybody busy, but it was hard. For a while, I was scooping ice cream every day and bringing it to residents' rooms. We were doing a lot of walking.
You were confirmed at Temple Emanuel. Now you assist the Congregation B'nai Amoona volunteers with weekly Shabbat services at Delmar Gardens West. Is that a popular event?
It has been. Our numbers went down a little bit because of COVID but we actually are getting more people to attend now, which is great. We've been able to get the word out and get more people involved. We have some residents who aren't even Jewish, but they come to Shabbat service to educate themselves. We also have our monthly Jewish study program back.