Reader says this recipe will change my mind about honey cake
Jordan Palmer, Chief Digital Content Officer
Published September 19, 2022
In Monday's Morning Light email, I opened my heart and my belly to you all, admitting that I'm just not into this whole honey cake phenomenon. Many of you have sent in messages of support. One reader, Rivka Dushoff-Tobin, who is the proud grandmother of 13 and a member of U City Shul, went so far as to not only give me her support against honey cake, but offer up a new take on the dessert that she says might work for me.
"I thought I was the only one who felt this way," wrote Dushoff-Tobin in an email. "I agree, traditional honey cake is heavy and dry. I have a recipe from a Russian friend that incorporates sour cream and is light and delicious (obviously I use pareve sour cream for yom tov meals.) Also, very easy to make."
So, while I try to re-discover my baking skills, of which I have none, I thought I'd share this recipe with you all.
The backstory
From 1991-1996, Dushoff-Tobin was living in San Jose, Calif.  She was working to establish a small Jewish school called Eitz Chaim Academy. And to get a new school off the ground, they needed creative fundraisers.
"There were no kosher establishments in the entire Bay Area – from San Francisco, down to Palo Alto, to Berkeley on the east side of the Bay, and San Jose at the southern edge," said Dushoff-Tobin. "One of our activities was a restaurant night called 'Gourmet Kosher Goes to…' We would choose a country, get authentic recipes, decorate in that theme, etc.  Customers came from quite some distance. We had candles, music, and wine – we wanted it to be a 'get away' for adults, so we did not offer a discount for children."
When it came time for "Gourmet Kosher Goes to Russia," the group used recipes from a member of the community who had emigrated recently from there.
"Irina Pevzner brought out her grandmother's recipes, written in Russian of course, and we translated to English. I found out at the last minute that her honey cake needed sour cream – pareve of course since we were serving fleishig. (Meat: This includes everything made from meat or poultry, including their schmaltz) There was one kosher store for the entire Bay area and they had barely enough pareve sour cream for us to make the recipe," remembers Dushoff-Tobin.
Its name in Russian is Myedovic.
"Whenever I serve it or take it to a friend's house to share, people who hate honey cake take one cautious bite, then eat the entire slice. Even though I have to use pareve sour cream. It is light like regular cake, and you can definitely taste the honey. It is more delicious with real dairy sour cream, but then I can't have it on my yom tov table," said Dushoff-Tobin.
Russian Honey Cake (Myedovic)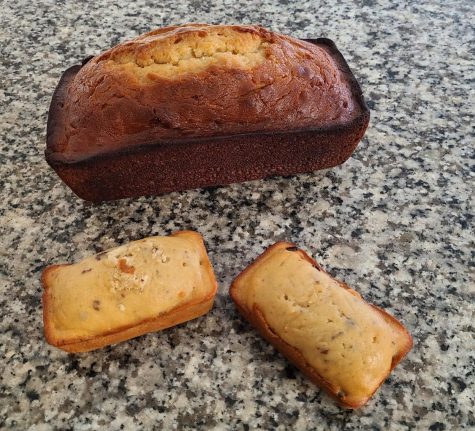 Preheat oven to 350. Prepare a loaf pan, and also some cupcake pans – there will probably be some extra batter.
½ cup margarine softened
¾ cup sugar
½ cup honey
½ cup raisins
3 eggs
1 cup pareve sour cream
2 tblsp oil
½ tsp baking soda
Approximately 2 cups flour
---
Cream the sugar with the margarine. Add everything except the flour. Continue to mix while adding flour until it is the consistency of thick sour cream. (I find that the amount of flour does vary; Irina insisted this is the way to do it, not to measure an exact amount of flour.)
Pour into loaf pan. If the pan is more than 2/3 full, your cake will split on top. The extra makes wonderful cupcakes.
Bake 45-60 minutes until toothpick comes out clean.
Cupcakes bake 20-25 minutes.
This cake freezes very well.