Dear Reader: Our love / hate relationship with honey cake
Published September 19, 2022
Dear reader,
Honey cake is the sweet baked treat many Jews eat on Rosh Hashanah to bring in a sweet Jewish New Year. For many, the cake has come to be a symbol. As children, the smells and flavors that emanated from the kitchens of our families are now memories that connect our present with our past, especially around the time of a holiday such as Rosh Hashanah.
"I have fond memories of helping my Baba Kappico make a honey cake by staying out of her way," remembers Jewish Light reader Keith Guller. "She would give me a handful of walnuts to play with, to roll on the kitchen floor, up a wooden cutting board, enjoying the warm sweet scent of honey cake being baked, and then being the first to taste from the oven."
I myself can imagine little Keith playing on his grandmother's kitchen floor. The image is right out of a movie. And I love that this nostalgic feeling helps define what growing up Jewish really means.
And wouldn't you know it, just this week a brand new cookbook came out, with "Honey Cake" right there in the title. "Honey Cake & Latkes: Recipes from the Old World by the Auschwitz-Birkenau Survivors" was produced during the pandemic to preserve the stories of a dwindling group of Holocaust survivors. The book contains 110 recipes as well as the survivors' inspiring stories. And out of 110 recipes, the authors went with honey cake in the title. The point here is that honey cake is very, very important to a lot of people.
But admittedly and I say this with just a tad bit of apprehension, I don't like honey cake.
Where I went wrong with honey cake
You see, my grandmother, my "Mama" used to make honey cake every New Year and I remember secretly not really liking it. It would show up each year on her nice china, with the proper fork and while everyone else was attacking their dessert, I was crumbling it up and feeding to Moishe the dog under the table. Now, allowing for the possibility that I may be misremembering, I reached out to my mother via text to confirm that what I remember was indeed honey cake:

Now, I'm sure we did eat it anyway. It was cake after all, and you didn't want to disappoint Mama. But isn't it interesting that just because something is a "tradition" it doesn't necessarily make it a "good" tradition? And, guess what. I'm not alone. More on that in a moment.
Love for honey cake
Because I know I can be wrong about anything, I went in search of love for this "delectable delight" by asking readers if honey cake was a tradition in their lives.  I heard from the aforementioned Keith Guller, as well as others.
Jodie Bertish, otherwise known as the "Jewish Strudel Lady" owns The Delectable Dough Baking Company. She makes a mean honey cake herself.  She says she is thankful for all the special traditions she's experienced over the years.
"Rosh Hashanah has always been one of my favorite holidays. Celebrating and visiting with family is definitely the most important part of the holiday, however, who cannot be grateful for the special meals that we have enjoyed and continue to bring to our tables today," said Bertish. "I didn't really acquire a taste for honey cake until later in life after I tried and tweaked many recipes and finally came up with a moist, sweet cake that is not too overbearing with spices, for Rosh Hashanah and Yom Kippur."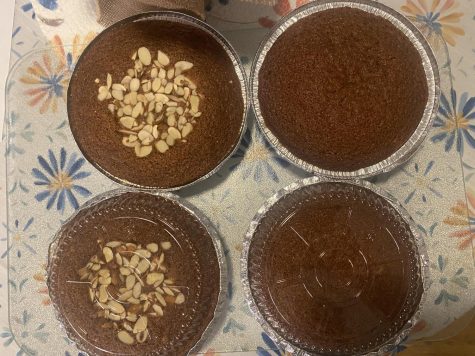 Even within the halls of the Jewish Light office itself, the honey cake is adored.
"I'm a honey cake lover. I think it's one of the best parts of Rosh Hashanah and every year I end up with a few of them that others 'donate' to me. They are under-appreciated…like me. #honeycakesforever," said Angie Rosenberg, Jewish Light senior sales executive.
No love for honey cake
As I was developing the idea of writing about honey cake, I never thought I'd reveal my true feelings on this issue. But, then I got this:

There are two of us? How could this be? I then reached out to a few of the local bakers in town, who like Jodie Bertish, all make fantastic baked goods, including honey cake, and I got this:

This was sent to me by Alana Umansky, who is part of the mother-daughter baking team that is Just like mom's bakery, which offers a wide selection of made-to-order homemade baked goods including honey cake.
Where to find yourself some honey cake
I know I'm in the minority on this honey cake thing and am alone in calling it the "Jewish Fruitcake," (harsh) so let me share what I know about where you can find some really good honey cake, made here in St. Louis.
Toby's Challa House & Bake Shop
Toby Elefant has been baking for more than 30 years. The University City resident who runs her business, Toby's Challa House & Bake Shop, out of her home is making honey cake, honey cookies, round challah with and without raisins and sweet crumb top challah.
To order or for more information, call 314-281-6781 or email [email protected].
Delectable Dough
Located inside the Trolley Stop Bakery at 67 Forum Shopping Center in Chesterfield. Jodie Bertish and her team are busy baking their Signature Old Fashioned Apple Strudel, honey cakes and other delectable sweets. Visit their website for more information.
Just Like Mom's Bakery
The mother-daughter team of Peggy Umansky and Alana Minoff offer made-to-order honey cakes.  Call 314-303-0861 to order and for details or email [email protected]. Pick-up in Olivette or Chesterfield.
Sprinkles by Miriam
Miriam Schwab offers freshly baked honey cake for $10 a loaf pan. Call 561-542-4923 or emailing her at [email protected]. Pick-up in University City.
Thanks for reading,
Jordan