Do you know this Jew? One of his books is among the most "checked out" ever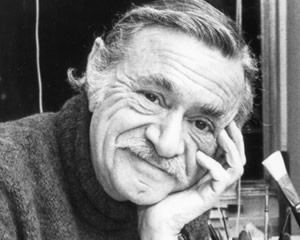 Published December 8, 2021
Born Ezra Jack Katz in Brooklyn to Polish Jewish immigrants in 1916, Keats was a largely self-taught artist who would go on to become the trailblazing children's book author of "The Snowy Day, the most checked out book of all time at the New York Public Library.
Published in 1962, "The Snowy Day" tells the story of a young boy named Peter who experiences the magic of freshly fallen snow in the streets of his urban neighborhood. It was among the first mainstream illustrated children's books to feature an African-American child and is credited with breaking the diversity barrier in children's publishing.
The book won the 1963 Randolph Caldecott Medal, an annual prize recognizing the year's best illustrated book for children.
Its success is due in part to its universal appeal, according to Andrew Medlar, of the NYC Public Library.
The Life Of Ezra Jack Keats
Unable to attend art school despite having received three scholarships, he worked to help support his family and took art classes when he could. Among the jobs he held were mural painter with the Works Progress Administration and comic book illustrator, including at Fawcett Publications illustrating backgrounds for the Captain Marvel comic strip.
He joined the Army in 1943 and spent the remainder of World War II designing camouflage patterns. In 1947, he legally changed his name to Ezra Jack Keats in reaction to the anti-Semitism of the time. He never married.
At the time of his death in 1983, Keats had illustrated over 85 books, and written and illustrated 22 children's classics.