Two decades at the J, 'People just want to be around Kevin and Lynda'
Meet two fitness instructors at the J who have spent decades connecting with their students
I learned long ago that many of the best story ideas come from readers. So when someone calls or stops me to say, "Hey, I've got a good story for the Light," I listen.
Sure, some stories don't pan out or live up to the hype, but the flip side is that some are much better than advertised.
A few weeks ago, when I saw her at a Jewish Federation event, Sherri Weintrop mentioned two group fitness instructors at the Jewish Community Center — Kevin Johnson and Lynda Anderson — each of whom have been teaching there for roughly 20 years. Actually, in Johnson's case it's longer; he's been teaching at the J for 26 years while Anderson has been there for 19.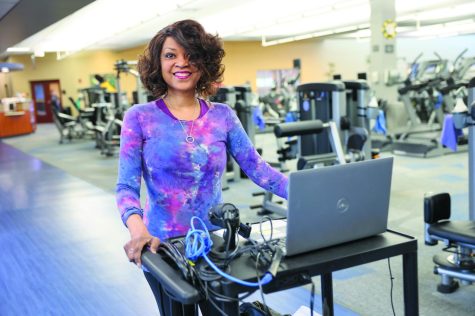 Of course, I had no way of knowing if teaching fitness classes for that many years is anything out of the ordinary.
"It's unheard of," said Patrick McKee, director of fitness and membership at the J. "Typically, instructors jump around a lot, changing format and changing places (to teach). The fitness industry as a whole has a high turnover. There is a lot of burnout. They are an anomaly."
Johnson says he's been teaching the J's Sunday morning Step class for "at least the past 20 years," adding, "I've taught in different capacities throughout my years at the J — hi-lo aerobics, spin, boxing. But I'm still teaching Step."
In fact, it's the only class he now teaches. And his devotees, dubbed (by me) the "Step Moms" — never (as in hardly ever) — miss a class. Not even on Mother's Day.
"The only time you're allowed to miss is for a funeral," said Weintrop, 62, jokingly, but not really. "We're like a family. Many of us have been taking the class together for decades. If someone doesn't show up, we want to know where they are if they haven't told us."
Added Susan Nunez, 55, another longtime Step Mom, "If I miss more than one class I'll get a text from one of my friends (in Step) asking, 'Is everything OK?'"
Johnson, 58, initially began taking aerobics classes at the YMCA to help with his own weight loss. "It started 30 years ago, when I lost 100 pounds," he said, chuckling, "and over the last 15 years, I put it all back on."
After six months of taking classes, the fitness director at the Y asked Johnson if he ever thought about teaching. Eventually, he became a certified aerobics instructor and taught at various gyms locally before landing at the J in 1996.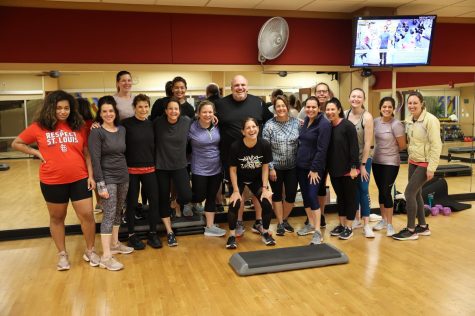 "For me, it's a job without really having a job because I enjoy it so much," said Johnson, who has a master's degree from Washington University in health care services and whose "day job" is as a mortgage lender. "I enjoy the creativity of coming up with the choreography for the class. "
And it's the students. My perspective has always been that exercise should be fun, so I try to make it fun for them. I think that's why they keep coming back."
His students agree — Johnson's 85-minute Step class is a lot of fun — but it's also a lot of hard work. Trust me, I have the muscle soreness to prove it. His routines involve various step patterns, done on an elevated platform, that need to be executed precisely, and the pace is fast. As in rapid fast. As in needed-a-water-break-every- five-minutes fast. Talk about shivitzing up a storm.
"I watch a lot of online videos to get ideas and then change them so they work for my class," Johnson explained. "Normally, it takes a couple of hours to do. I procrastinate, which is why I spend my Saturday nights pretty much doing choreography."
According to his students, Johnson's affability, likeability and preparation keep the class from ever getting boring. They also delight in giving him grief when he messes up demonstrating a routine.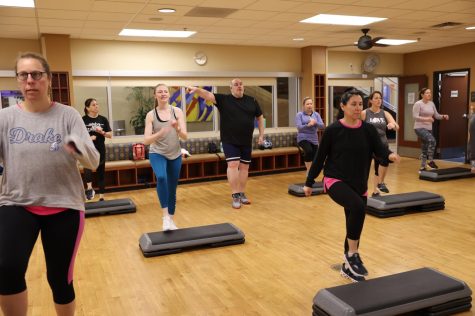 "He used to do new choreography every single week, but when (the-class) returned to the J (last fall), he went to every other week," said Weintrop, who owns a wealth management firm and belongs to Shir Hadash Reconstructionist Community. "It's because we're all getting older, and the steps are still complicated and our ability to move as much as we used to is lessening. Every other week gives us a little more time to learn the steps and still keeps the class challenging."
When the J closed because of COVID, the Step Moms came up with a Plan B. They brought their own equipment and with Johnson at the helm, did step routines on the parking lot of Weintrop's business every Sunday morning.
When it got too hot there, they moved to another parking lot that had an overhang providing shade. When it got too cold, they moved to a home with a six-car garage, where they social distanced and wore masks while working out.
"Kevin didn't ask for any payment, but every so often we would surprise him with gift cards," said Lisa Deutsch, 51, who has been taking Johnson's Step class since the Clinton administration.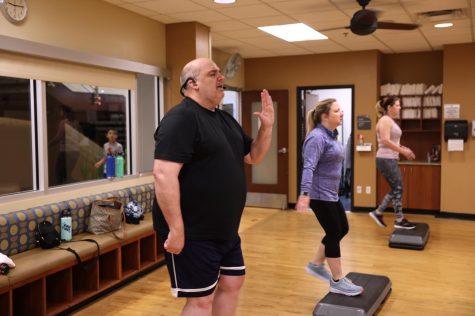 Deutsch, like Nunez and Weintrop and so many others at the J, are also bigtime Lynda Anderson fans. The 55-year-old University of Texas graduate had wanted to be a dancer, but her mother nixed that idea for something practical — like (get this!) journalism.
Today, while Anderson still pursues her passion for dancing — word on the street: she's a killer salsa dancer — she found a niche teaching fitness, which she did for years at a corporate level at Emerson Electric. The company also paid for her various certifications, including a prestigious one through the American College of Sports Medicine.
When Anderson left Emerson and made her way to the J, Nunez followed. The two had met at Emerson, where Nunez, an attorney, also worked.
"We became, and are, very good friends," said Nunez, adding that Anderson's husband's band played at Nunez's wedding in 2002. "I honestly first joined the J to take Lynda's classes. She is amazing. She never pushed me to where I'd get hurt but definitely knows how to motivate."
Anderson has taught Zumba, boot camp, Step and other high-impact-aerobic classes at the J but is currently teaching yoga and Pilates both in-person and virtually. Like Johnson, she enjoys working there for a multitude of reasons.
"It's the people and the fact that I've known many of them for almost two decades. I like helping people to get healthy, fit and strong," said Anderson, whose sister, Denise, (fun fact) used to be married to Cardinals great Ozzie Smith. "The J's facilities are great, we have great coordinators that really help us out and support from upper management. I also like that there's babysitting, because I need that when I teach on weekends and bring my nieces."
Said Nunez: "I've been athletic since high school and have worked out with many different trainers. Lynda and Kevin are by far, my favorite. They really care about each individual person and treat them with the utmost respect.
"People just want to be around Kevin and Lynda."