Newsmakers: June 2022
Nancy Litz was recently installed as the next president of the National Council of Jewish Women St. Louis for a two-year term. She attends Congregation Temple Israel.
Of 21 entries (pre-K to kindergarten) in this year's Creve Coeur Arbor Day Art Show contest, the top three honors went to students in the Congregation B'nai Amoona Linda Rotskoff Early Childhood Center. First place went to Moses Ohana, son of Katya and Shimon Ohana. The Panda class took second place, and Celia Picker, daughter of Elyse and David Picker received third place.
Michael Geigerman and Robert Rosenthal are among 31 lawyers honored with a Missouri Lawyers Media ICON Award. This award is presented to lawyers age 60 and older in recognition of their notable and sustained success and leadership within and beyond the field of law. They will receive their awards at the fifth annual luncheon June 29 at the Missouri Athletic Club. Geigerman is the managing director of US Arbitration & Mediation, vice president of the St. Louis Mediation Project and a member of Congregation Shaare Emeth. Rosenthal is a lawyer with Brown & James and attends Central Reform Congregation.
Pepe Prince Finn has joined the board of directors of Operation Food Search (OFS), a nonprofit hunger relief organization. She is a longtime supporter of OFS and brings a broad range of experience and civic involvement to the board. Finn is a lawyer and serves as CEO and board chair for Stern Brothers, an investment banking firm nationally certified as a Woman-Owned Business Enterprise in more than 20 states. She is a member of Temple Israel.
Alex Abramson is joining Georgia Tech as an assistant professor in chemical and bimolecular engineering. His lab will develop ingestible, wearable and implantable bioelectronics and drug delivery devices to treat the world's most pressing diseases. If you or someone you know wants to invent medical tools that will have a quantifiable impact on patient's lives, learn the latest micro-engineering and advanced manufacturing techniques and be a part of a group with a track record of bringing devices into clinical trials, please reach out through this website to apply. The lab opens August 2022. agabramson.com/future-lab
Haley Abramson, Alex Abramson's sister, received the grand prize at the Five Minute Pitch Competition held by the Design of Medical Devices Conference in April in Minneapolis. The title of her speech was "Towards a Universal Device for Point-of-Care Medicine: A Custom Transducer for Long-Term Monitoring of Local Vascular Flow via Ultrasound Imaging." Abramson, a Johns Hopkins University doctoral candidate, was awarded $500, and her project was selected for a Johns Hopkins Discovery Award, receiving $100,000 in funding for one year.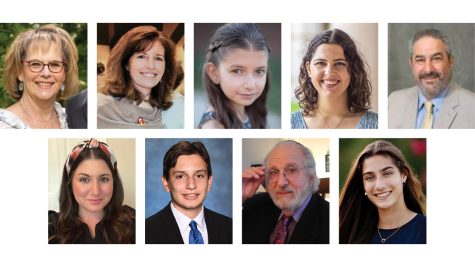 Diane Friedman and Elise Krug were installed as co-presidents of the B'nai Amoona Sisterhood for a two-year term. Krug is also joining the St. Louis Rabbinical and Cantorial Association as its administrator. She will be responsible for community engagement, administration and strategic planning.
Coco Bland will be part of the "Mary Poppins" youth ensemble at the Muny this summer. The show runs July 5-13. Coco, daughter of Karen and Jeffrey Bland, will be in seventh grade at John Burroughs in the fall and attends Shaare Emeth.
Amanda Lopatin, a recent graduate of Rice University, received the James Street Fulton Prize for Excellence in Philosophy because she demonstrated the highest levels of achievement and motivation in the field of philosophy. She also received the Linguistics Prize for Excellence as the top graduating senior majoring in the department of linguistics. Amanda is the daughter of Cheri and Brian Lopatin and will pursue a doctorate in philosophy at Berkeley. Her family attends B'nai Amoona.
Ken Levine is the new business manager for Seeger Toyota. He is responsible for securing financing for new and used vehicles. Levine is a member of Shaare Emeth. Levine's daughter Becca Levine has joined the Jewish Federation of Greater Kansas City as the financial resource development associate.
Parkway Central High School senior Danny Baris is one of seven in the Parkway district selected for the 2022 Missouri Scholars 100 list. This is a statewide program that honors 100 of the state's top academic students in the year's graduation class. Son of Melissa and Jon Baris, Danny plans to attend Syracuse University in the fall, majoring in sports analytics. He and his family are members of B'nai Amoona.
The Men's Club of B'nai Amoona has honored Fred Blumenthal as its Man of the Year. He has taken an active leadership role in the annual Men's Club Shabbat and participates in most Men's Club activities. Blumenthal contributes classical music reviews to the St. Louis Post- Dispatch and is the former president and current vice president of the St. Louis Circle of Jewish Music.
Ellior "Elli" Rose, daughter of Rabbi Carnie and Paulie Rose, received the Youth of the Year award from the Men's Club of B'nai Amoona. She has been actively involved in United Synagogue Youth locally, regionally and nationally. She is a teacher at B'nai Amoona's religious school, a member of the Torah reading corps (the Yad Squad), a B'nai Mitzvah tutor, a Shabbat morning babysitter, and also leads prayer services. Elli is committed to tikkun olam through a wide variety of activities including the "HaMakolet" Food Pantry and JCRC's Student-to- Student program.
This fall, Elli will attend Case Western Reserve University as a member of its women's tennis team. Elli also recently received Whitfield School's Outstanding Senior of the Year Award, which is given to a senior who has been an outstanding school citizen, distinguishing themselves by leadership in extracurricular activities and involvement as a significant contributor to the St. Louis community.
She was also recognized as the school's female Athlete of the Year for being the first athlete in Whitfield's history that went to state finals in tennis, track and field, and soccer. Elli was also given the Class of 2022 Community Service Award.