Newsmakers – February, 2023
Published February 14, 2023
John Wilson has joined the St. Louis Jewish Community Center as its director of Cultural Arts. He will oversee the annual Jewish Film Festival and supervise and support the Jewish Book Festival, the New Jewish Theatre and the Youth Theater Program. Wilson formerly served as the chair of the School of Visual and Performing Arts, and chair of the Department of Theatre and Dance at the University of Central Missouri. He is a professional actor with both Equity and Screen Actors' Guild credits, having appeared in more than 50 commercials, films and stage productions. His latest film, "Accidental Family," can be found streaming on Amazon and Apple TV. 
The Israel ParaSport Center has hired Becca Near as its Midwest & New Initiatives director. In this newly developed role, she is responsible for elevating the center's profile, enhancing relationships, increasing financial support for the Israel ParaSport Center in the Midwest, as well as developing the organization's NextGen initiatives nationwide. She is a member of Young Israel of St. Louis.
Beth Feldman has joined University Advancement at Washington University as the director of Volunteer Engagement. In this role, she will lead the team who works closely with Eliot Society and Reunion Class Gift volunteers. Feldman, a member of United Hebrew Congregation, previously held several roles at Jewish Federation of St. Louis.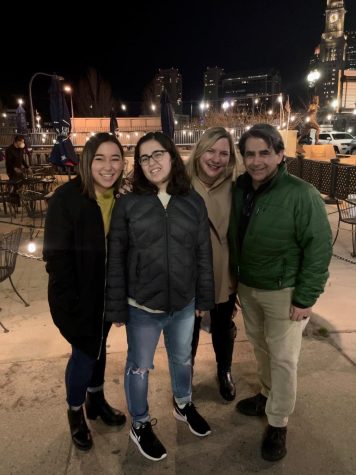 Greg, Julie, Alyson and Kaitlyn Yawitz, will be honored on March 10th at the 11th annual Autism Speaks St. Louis Chef Gala at the Ritz Carlton St. Louis. The Yawitz family has been involved with Autism Speaks since its first inaugural walk in 2001. Their team, Kaitlyn's Crew, is named after daughter Kaitlyn. As a group they have raised over $200,000 to help fund the mission of Autism Speaks, which is "to help create a world where all people with autism can reach their full potential." Greg served as board chair for Autism Speaks and Julie has been involved in planning many events. The family attends Congregation Shaare Emeth.
Out of 120 fourth grade teams enrolled in the WordMasters Challenge gold division, Mason Ridge student, Madison Cohen and her team, placed third in the nation. Daughter of Liz and Jason Cohen, Madison also earned a perfect score on the challenge. WordMasters is a national vocabulary-based competition for students in grades 3-8 that focuses on completing analogies. Over the course of the competition, students will develop verbal reasoning abilities and higher-order thinking skills, improve logic and reading comprehension. 
Photographer Neshama Roash had two of her images selected to be part of the Webster Arts exhibition, "Wanderlust," which runs Feb. 24 to March 31. The exhibition focuses on the use of 2D and 3D visual art that presents the desire to travel the world, see far away places and a love of exploration. Webster Arts is located at 2 Summit Ave. in Webster Groves (at the corner of Summit and Lockwood avenues). Roash is a member of Congregation B'nai Amoona. 
Rabbi Carnie Rose started his new post as the president and CEO of the Mandel Jewish Community Center in Cincinnati. For 18 years he was the senior rabbi at B'nai Amoona. He is currently on the rabbinic cabinets of Israel Bonds and Jewish National Fund.
Attorney John Kemppainen has joined the St. Louis law office of Galloway, Johnson, Tompkins, Burr & Smith as director. A member of Congregation Temple Israel, he serves as president-elect of the National Retail & Restaurant Defense Association. He is also a member of the Transportation Law Committee of the Missouri Bar and the Ethics and Professionalism Committee of the Defense Research Institute.
Betsy Cohen is a new advisory council member of the Washington University McDonnell International Scholars Academy. The academy is a global partnership among academic institutions providing graduate and professional education to prepare global leaders. Cohen is the executive director of the St. Louis Mosaic Project, a program of the nonprofit World Trade Center-St. Louis within the St. Louis Economic Development Partnership. She attends Temple Emanuel.
Sam Dorshow earned his Firefighter I and II designations from the St. Louis Fire Academy. A member of B'nai Amoona, he is currently a paramedic with Abbott Ambulance.
Hannah Wolkowitz, daughter of Amanda and Bob Wolkowitz, was selected to the 2022-23 Missouri High School All-State Band and Jazz Band. She is a sophomore at Parkway Central High School and plays the saxophone. In addition, Hannah will be competing as a national finalist in the U.S. Navy Band's Young Artist's Solo Competition held this month in Washington, D.C. Also in February, she will be performing with the Alton Symphony Orchestra as its Marie Stillwell Young Artist Competition winner. In April, Hannah will perform with the University of Missouri-St. Louis orchestra, after winning its Young Artist Concerto Competition. Hannah is the saxophonist with Klezundheit! a local Klezmer band. She and her family attend United Hebrew.
Annette Heller announced that her law firm, Heller & Associates, is now TM Law & Associates.
Her practice limits itself to trademark and copyright law representing individuals and small and medium size businesses. Heller is a member of Traditional Congregation.
The Taxman Specter Wealth Management Group of Merrill Lynch has been recognized on the 2023 Forbes "Best-in-State Wealth Management Teams" list. Alan Taxman is a member of B'nai Amoona and Matt Specter is a member of Shaare Emeth.