Newsmakers: August, 2022
Published August 16, 2022
Greg Siwak, CEO of Clayton-based veterinary practice manager CareVet, was one of 10 honorees named Entrepreneur of the Year in the Heartland region by accounting firm EY (formerly Ernst & Young). This award recognizes "the most ambitious leaders who are building and sustaining successful, dynamic businesses around the world." This is the second time Siwak, a member of Central Reform Congregation, has received this award — the first was in 2002.
Alyssa Banford is the senior director of business operations at United Hebrew Congregation. She is responsible for the financial sustainability of the congregation in addition to human resources and building security. Banford also started her own consulting firm, Kismet Consulting, LLC. Her services include grant writing, professional fundraising and business development consulting to organizations.
The St. Louis Symphony Orchestra celebrates the careers of six retiring orchestra musicians including second violinist, Wendy Plank Rosen, with 42 years of service. She will continue teaching violin to students, from beginners through high school.
A.J. Moll has accepted the position of food service director with Missouri Torah Institute, a yeshiva high school and post high school in Chesterfield. He was previously the chef/manager of the Saul Mirowitz Jewish Community School. Moll belongs to both Tpheris Israel Chevra Kadisha and Congregation B'nai Amoona.
Frances Levine, retired president and CEO of the Missouri Historical Society, is the winner of this year's Trailblazer Award sponsored by the St. Louis Forum. Levine, a professional anthropologist and historian, administrator, author and academician, was the first woman to lead a Zoo Museum District cultural institution when she was appointed president and CEO of the Missouri Historical Society in spring 2014. The Trailblazer Award recognizes a woman who is an influential community leader and was the first in her field or made a significant contribution toward elevating the image of women in business. Levine attends Temple Emanuel.
Matt Shatzman, a psychotherapist and psychoanalyst, was named semi-finalist for the American Psychoanalytic Association's (APSAA) 2023 Paper Prize. Shatzman, a member of Central Reform Congregation, will present his paper, "The Total Training Situation: Dimensions of (Psychoanalytic) Candidacy that Potentiate Analytic Process," at a 2023 APSAA meeting.
Mark Cantor was chosen by the Missouri Lawyer's Weekly for the PowerList in personal injury law. The PowerList represents the top trial attorneys in the state. Cantor is the founding attorney of Cantor Injury Law.
Sawyer Bland won the USTA (United States Tennis Association) St. Louis Vetta Sunset Series tournament in the category of 16-year-old boys. Son of Karen and Jeffrey Bland, Sawyer will be a junior at Ladue Horton Watkins High School in the fall and attends Shaare Emeth.
Chemistry teacher Aly Levine won Teacher of the Year for Ladue Horton Watkins High School. She and her family attend Congregation Temple Israel.
Monique Levy has launched Levy Consulting Co., a Fractional COO firm that provides creative and affordable solutions for businesses that want the expertise of a chief operating officer but not the investment of a full-time executive-level salary. She is also an operations consultant with The Rome Group. Levy is a member of B'nai Amoona.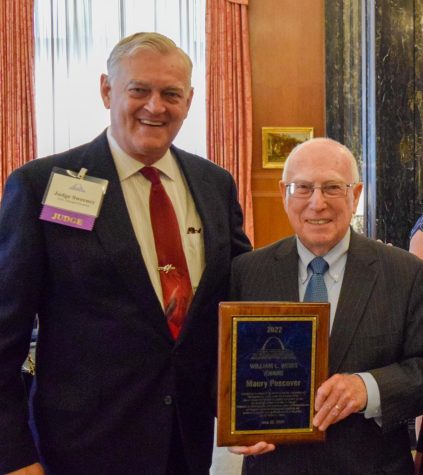 Attorney Maury Poscover was honored by the Bar Association of St. Louis Senior Lawyers Committee with its 2022 William L. Weiss Award, recognizing his long and dedicated service to BAMSL, guidance to lawyers and service to the public. He also started a one-year term as president of the American Bar Association Retirement Fund board of directors. The fund is a nonprofit established in the 1960s to house 401k plans for medium and smaller law firms. Poscover attends United Hebrew and is a past president of the Jewish Community Relations Council.