Missouri AG Schmitt tweets then deletes support for Ye "tour"
Jordan Palmer, Chief Digital Content Officer
Published October 12, 2022
On Tuesday night, Missouri Attorney General and Republican candidate for U.S. Senate Eric Schmitt tweeted and then deleted a tweet supporting the idea of a concert tour featuring Ye, formerly known as Kanye West and rapper Kid Rock. The reason this tweet is important to the St. Louis Jewish community is that it comes after days of intense media coverage, both locally and nationally, of Ye's antisemitic posts on social media.
Context Timeline
Monday, Oct. 3: While attending Paris Fashion Week, Ye wore a black sweatshirt with the image of Pope John Paul II on the front and the words "White Lives Matter" on the back.
Thursday, Oct. 6: Ye is interviewed on Fox News' "Tucker Carlson Tonight," where Carlson praised Ye as advancing "obviously true" ideas. When the topic of the Abraham Accords, which the Trump administration brokered between Israel and Arab countries came up, Ye said he thought Jared Kushner was motivated only by profit. "I just think it was to make money," he said, in a comment that echoed antisemitic tropes about Jewish greed.
Friday, Oct. 7: Ye posted snapshots of a text conversation he said he had with Sean Combs, the rapper also known as Puff Daddy and Diddy. After Combs urged Ye to stop promoting the shirt, Ye responded, "Ima (sic) use you as an example to show the Jewish people that told you to call me that no one can threaten or influence me."
The post — which Ye had captioned "Jesus is Jew" and which harkened to antisemitic conspiracy theories about invisible Jewish control — was deleted, and Meta, Instagram's parent company, said it had removed content that violated its policies.
Ye then switched to Twitter. Elon Musk, the serial entrepreneur and free-speech absolutist who is in the process of buying the social media platform, welcomed him publicly. Ye first tweeted to Meta's Jewish founder, Mark Zuckerberg, "Who do you think created cancel culture?"
It was on Twitter where, early Sunday morning, Ye posted the following.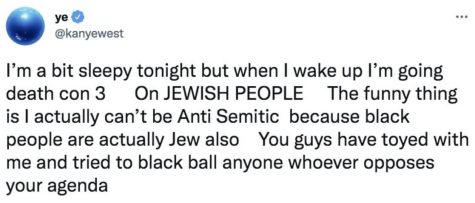 Twitter removed the post.
Soon, Jewish media began publishing stories about Ye's posts and the reactions from Jews worldwide.
The holiest day in Judaism was last week. Words matter. A threat to Jewish people ended once in a genocide. Your words hurt and incite violence. You are a father. Please stop. pic.twitter.com/8iFuKwwspw

— Jamie Lee Curtis (@jamieleecurtis) October 9, 2022
Kanye threatened the Jews yesterday on twitter and it's not even trending. Why do mostly only Jews speak up against Jewish hate? The silence is so loud

— Sarah Silverman (@SarahKSilverman) October 9, 2022
Countless people issued similar statements. "Whether or not Kanye West is mentally ill, there's no question he is a bigot," the Jewish "Friends" actor David Schwimmer wrote in an Instagram post that went viral. "His hate speech calls for violence against Jews."
Outakes From Carlson Interview Released
On Tuesday, Oct. 11, sections of the Tucker Carlson interview that did not air on Fox News were obtained by Vice News'  Motherboard and posted on YouTube. In the sections, Ye makes antisemitic comments, invoking numerous overlapping conspiracy theories against Jews.
S
Standing by Ye
Amid the backlash after the interview aired, some conservatives who had previously championed Ye rejected his comments about Jews, but some did not.
"Back from the Jewish holiday now," right-wing pundit Ben Shapiro, an Orthodox Jew, wrote early Wednesday morning on Twitter. "As usual, two things can be true at once: Kanye's moves toward pro-life, faith, and family conservatism are encouraging; his 'death con 3' posts and Black Hebrew Israelite language are clearly anti-Semitic and disturbing."
Kanye. Elon. Trump.

— House Judiciary GOP (@JudiciaryGOP) October 7, 2022
Indiana's Attorney General Todd Rokita tweeted that "Kanye's message in this instance is fair and accurate, & regardless, he is entitled to his opinion," adding, "The media will steamroll anyone if they do not kowtow to their way of thinking. According to them, you're not thinking correctly if you don't completely agree with them." He later clarified that he was referring only to West's criticisms of "the media and Hollywood elites," not the "Death con 3" comment, and also emphasized that he supports Israel.
Attorney General Schmitt
On Tuesday night, just after 8 p.m., this now-deleted tweet was posted by Missouri Attorney General Eric Schmitt.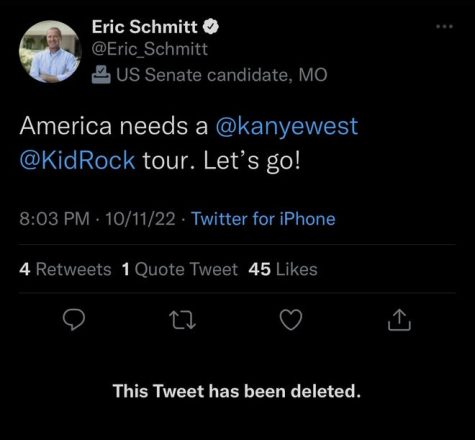 Before the tweet was deleted, Schmitt's opponent in the race for the U.S. Senate, Trudy Busch Valentine (@buschvalentine October 12, 2022) shared a screenshot of Schmitt's post along with a response:
It reveals a great deal about Eric Schmitt's character that tonight he is openly embracing those who spew vile antisemitism. This is both dangerous and appalling. Missouri deserves so much better. pic.twitter.com/5eozqWcUbm

— Trudy Busch Valentine (@buschvalentine) October 12, 2022
On Wednesday morning, Oct. 12, the St. Louis Jewish Light reached out to the Schmitt campaign for an explanation of the tweet. In a statement Schmitt said:
"Regarding my tweet on Ye and Kid Rock: I like their music. Typically, they're against the privileged elites like my opponent The Heiress. But, I don't condone everything they say, unlike The Heiress Valentine who has been silent on Cori Bush's antisemitism and embraced her support for her campaign. I wasn't aware of the recent comments and was commenting on Kanye's recent interview with Tucker Carlson where he called out left- wing hypocrisy. The Heiress Valentine is desperate for any distraction she can create from her being a shill for the Schumer-Biden agenda to raise our taxes, supercharge inflation and allow unfettered illegal immigration."
Rapper Kid Rock has been a longtime public supporter of President Donald Trump and conservative causes.