Monitoring reaction to Kanye West's antisemitic comments and posts
Jordan Palmer, Chief Digital Content Officer
Published October 11, 2022
Back on October 11, Twitter restricted the account of American rapper and designer Kanye West, following an anti-Semitic rant in which he posted to the social media platform that he would go "death con 3 On JEWISH PEOPLE."
The suspension came after Instagram Sunday suspended West's profile on Sunday after he shared a screenshot of a conversation with rapper Sean "Diddy" Combs that was captioned "Jesus is Jew." In one of the messages, West suggested that Combs was controlled by Jews, a centuries-old blood libel.
"Ima use you as an example to show the Jewish people that told you to call me that no one can threaten or influence me," West, who now goes by Ye, wrote.
Since then, the reaction to the rant has gone viral and has become a topic of discussion worldwide. Here is a look a what is being said and posted about the storyline. Warning, some of the posts contain graphic language.
---
Kanye West wanted to title his 2018 album 'Hitler'
Rapper and fashion designer Kanye West has been in the news for the past several weeks, thanks to numerous antisemitic and otherwise hate speech-filled rants he has posted to Twitter or delivered on talk shows. 
According to CNN, "several people who were once close to the artist" told the news outlet that the rapper's antisemitism is nothing new. In fact, according to several sources, West wanted to name his 2018 album "Hitler." (The album was ultimately released with the title "Ye," after West, who legally changed his name to Ye.
A business executive, who spoke with CNN under the condition of anonymity out of fear of retribution from West and because of a confidentiality agreement, showed the news outlet the settlement he reached with West over workplace complaints including harassment. 
---
In newly released interview with Kanye West, a Jewish podcaster fails to elicit remorse for antisemitism
A Jewish podcast host Tuesday released a 2 1/2 hour interview with Kanye West in which he pushes back as the rapper continues to rail against Jews, but elicits no remorse.
Lex Fridman, who was born in Russia and teaches artificial intelligence at the Massachusetts Institute of Technology, is perhaps better known for his podcasts, in which he often interviews controversial newsmakers including Elon Musk, Joe Rogan and Jordan Peterson.
Fridman recorded the interview on Oct. 19, well into the rapper's recent tirades against Jews. He released the podcast on Tuesday, the same day that Adidas, amid public pressure, became the latest of numerous companies to sever ties with West.
---
Kim Kardashian
Hate speech is never OK or excusable. I stand together with the Jewish community and call on the terrible violence and hateful rhetoric towards them to come to an immediate end.

— Kim Kardashian (@KimKardashian) October 24, 2022
---
Reese Witherspoon
Anti-semitism in any form is deplorable. In person. Online. Doesn't matter where. It's hate and it's unacceptable.

— Reese Witherspoon (@ReeseW) October 24, 2022
---
Adidas terminates partnership with Kanye
In a statement published early Tuesday morning, the sportswear company Adidas has announced it has terminated its partnership with rap star Kanye West, now known as Ye.
"adidas (sic) does not tolerate antisemitism and any other sort of hate speech. Ye's recent comments and actions have been unacceptable, hateful and dangerous, and they violate the company's values of diversity and inclusion, mutual respect and fairness," posted the company.
Five days ago, West who continually refuses to back down from his antisemitic rants, was on a podcast and boasted "I can literally say antisemitic s— and Adidas cannot drop me."  Today, Adidas dropped him. 
"After a thorough review, the company has taken the decision to terminate the partnership with Ye immediately, end production of Yeezy branded products and stop all payments to Ye and his companies. adidas will stop the adidas Yeezy business with immediate effect.
"This is expected to have a short-term negative impact of up to €250 million on the company's net income in 2022 given the high seasonality of the fourth quarter."
"adidas is the sole owner of all design rights to existing products as well as previous and new colorways under the partnership. More information will be given as part of the company's upcoming Q3 earnings announcement on November 9, 2022."
Jessica Seinfeld's Instagram post about Kanye West's antisemitism goes viral among celebrities and influencers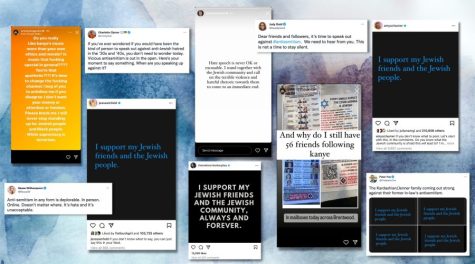 (JTA) — As images of the banner held above Interstate 405 in Los Angeles claiming "Kanye is right about the Jews" ricocheted around the internet this weekend, Jessica Seinfeld decided to take a stand.
A cookbook author and wife of comedian Jerry Seinfeld, Seinfeld posted a simple piece of text on a black background that reads "I support my friends and the Jewish people" and encouraged her 580,000 followers to share the post.
Seinfeld, who is Jewish, was weighing in two weeks after West, the rapper who now goes by Ye, launched a spree of antisemitic comments, including a call to "go death con 3" on Jews. The banner was displayed by members of the Goyim Defense League, a white supremacist group whose calling card is distributing antisemitic literature in communities across the United States.
For many, the banner became emblematic of how West's comments can be seen as part of a broader pattern of antisemitism in the United States — and for Seinfeld and others who are active on social media, it became the latest in a string of high-profile moments that demand public expressions of solidarity. Read More
---
Josh Gad
Fucking evil. There is truly such evil in this world. And specifically in this country. https://t.co/AQxHBz2wLs

— Josh Gad (@joshgad) October 24, 2022
---
Jaime Lee Curtis
Hate has no place in commerce. Thank you @adidas for standing with people united against hatred.

— Jamie Lee Curtis (@jamieleecurtis) October 25, 2022
---
Rob Reiner
Now that Adidas has cut ties with Kanye West, it's time for America to cut ties with the anti-Semitic White Christian Nationalist GOP. VOTE BLUE!

— Rob Reiner (@robreiner) October 25, 2022
---
John Legend
Weird how all these "free, independent thinkers" always land at the same old anti blackness and anti semitism.

— John Legend (@johnlegend) October 10, 2022
---
Meghan McCain
View this post on Instagram
---
David Schwimmer
View this post on Instagram
---
USA Today
The national paper is looking at the controversy through the lens of the mental health issue of bipolar disorder.
Ye, also known by his given name Kanye West, has opened up about his bipolar disorder diagnosis, though we don't know what role it is playing in his recent behaviors. https://t.co/ycDzW6nWMq

— USA TODAY (@USATODAY) October 11, 2022
---
Black – Jewish Entertainment Alliance
The Black-Jewish Entertainment Alliance was launched to bring the two communities together in solidarity, to support each other in their struggles, and to better understand each other's plight and narratives.
---
Jaime Lee Curtis
Jamie Lee Curtis appeared on the Today Show on Monday and addresses her online response to Kanye West's antisemitic posts on social media, saying West's posts were "just abhorrent."
The holiest day in Judaism was last week. Words matter. A threat to Jewish people ended once in a genocide. Your words hurt and incite violence. You are a father. Please stop. pic.twitter.com/8iFuKwwspw

— Jamie Lee Curtis (@jamieleecurtis) October 9, 2022
---
Sarah Silverman
Comedian Sarah Silverman addressed what she describes as silence from those outside the Jewish community following West's statements.
Kanye threatened the Jews yesterday on twitter and it's not even trending. Why do mostly only Jews speak up against Jewish hate? The silence is so loud

— Sarah Silverman (@SarahKSilverman) October 9, 2022
---
Michael Rapaport
Actor and comedian Michael Rapaport, who is no stranger to voicing his opinions on social media addressed his previous defenses of West during his public spat with Pete Davidson.
I'm up going DEFCON 6 Million @kanyewest

S T A Y D I S R U P T I V E @iamrapaport all day everyday
Disruptive Behavior ✡️✡️✡️✡️✡️✡️ pic.twitter.com/KmZcegVKiB

— MichaelRapaport (@MichaelRapaport) October 9, 2022
---