Meet the Jewish Light's 2022 Unsung Heroes
Published September 21, 2022
Six individuals and three groups will be recognized as the 2022 Jewish Light Unsung Heroes on Wednesday, Dec. 7, at 7 p.m. This year's 13th annual event will take place in person at the new St. Louis Kaplan Feldman Holocaust Museum.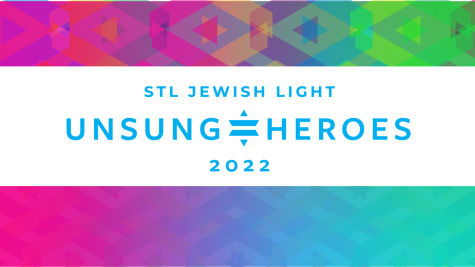 Unsung Heroes, which began in 2010, shines a light on individuals of any background or faith who generously volunteer or go above and beyond to help the St. Louis Jewish community, and Jewish St. Louisans who volunteer, either within the local Jewish community and/or the community at large. Since its inception, more than 110 St. Louisans have been honored.
This year's honorees are:
• Olivia Adams, the economic stability and workforce development manager at the YWCA St. Louis Women's Economic Stability Program (WESP). In that capacity, Adams has been working with the National Council of Jewish Women-St. Louis as liaison to its Healing Hearts Bank program, which provides low-interest microloans up to $500 to women and their families to help them further their financial independence. According to her nomination and several NCJWSTL staffers, Adams goes above and beyond monitoring these borrowers so that they are highly successful making their payments and has also initiated financial workshops not only for YWCA borrowers but for all borrowers of NCJWSTL Healing Hearts Banks.
• Tamar Adler. When Adler could not volunteer in person at St. Louis Children's Hospital due to the pandemic, she created a way to volunteer from a distance and began designing individually packaged craft bags that could be distributed to children in the hospital. The bags are seasonally themed and packaged with a message of hope and pictures of a cheery dog named Charlie, which is the mascot of her non-profit called Cheery Charlie Inc. Adler donates 300 craft bags every month to local hospitals.
• Sam Deutsch, who at just 17 years old, seems to have a knack for identifying a need and coming up with a solution. For example, when Sam determined that some tents at Camp Sabra used for overnight sleepouts were old and in disrepair, he took it upon himself to raise the $5,000 needed to replace them. He reached out to developer and philanthropist Michael Staenberg and asked if he would match the funds Sam raised. Staenberg agreed and, of course, Sam was able to raise the needed funds and Sabra now has new tents. In BBYO, Sam was voted to be the St. Louis Council Gadol (the highest male leader) this school year. According to Ben Panet, the BBYO regional director, Sam played a "giant role" in supporting all of the BBYO chapters in St. Louis with developing great programming, bringing in more Jewish teens to events and helping the St. Louis Council fundraise throughout the year.
• Dr. Craig Reiss, chief of cardiovascular medicine at St. Luke's Hospital, who is a founding member of, and has served for the past 12 years as chairman of the board for Missouri Torah Institute in Chesterfield. He has helped the yeshiva thrive as it grew from six boys to some 120 from across the United States and several other countries.
• Julie Frankel, who embodies what it truly means to be a volunteer. She was co-chair of the St. Louis Jewish Book Festival for three years and still serves on the committee.  She is on the St. Louis Jewish Film Festival committee and reviews the films to determine which should be seen by the committee as a whole.  She also volunteers two mornings a week at Congregation B'nai Amoona, one morning a week at Crown Center and is a Holocaust museum docent.
• Ben Horwitz and Nathan Goldstein. In the spring, when they were still juniors at Horton Watkins High School, Ben and Nathan started a St. Louis chapter of a non-profit called Planting Shade and planted 1,000 trees throughout the St. Louis area. They designed and sold T-shirts to raise funds to purchase 1,000 river birch saplings, which are native to Missouri.  They reached out and contacted several area schools, hospitals, camps, community centers and private homes to get permission to plant trees on their respective properties. They contacted MSD to find homes in the area where sewer line construction was causing deforestation and contacted homeowners to plant some of the trees to reforest those areas. They also partnered with other local non-profits to secure shovels, mulch and other necessary supplies for planting.
• Founding members of MaTovu: Abby Bennett, Shira Berkowitz, Katie Garland, Tasha Kaminsky, Nava Kantor, Caroline Kessler, Barbara Levin, Russel Neiss, Paul Sorenson and Andrew Warshauer. Based in a former synagogue in south St. Louis, MaTovu is a volunteer-founded, volunteer-driven, diverse and open St. Louis Jewish community that aims to be deeply connected to its city neighbors, and actively grapples with important and complex issues relevant to who and where its participants are now as Jews. It hosts a variety of spiritual, cultural and social programming — including Shabbat services, concerts, readings, neighborhood meetings, simchas, youth programming, adult Jewish education courses, and more. MaTovu also seeks to connect Jews with other diverse communities in our region by providing an inclusive gathering place for both Jewish and non-Jewish programming. 
• Michele Siler, who is a champion of social justice causes. As an active member of Congregation Shaare Emeth's Mental Health Initiative Committee, she was instrumental in bringing awareness, knowledge and programming about mental health issues to congregants during the pandemic. For years she has been the lead congregant for participation in gay pride celebrations with the local Jewish community. She also delivers packages to homebound congregants, makes bi-weekly phone calls to check on vulnerable seniors and became a notary last year as part of Shaare Emeth's effort to help notarize all voter's absentee ballots.
• Advisers of the Jewish Light's Ohr Chadash Teen Page: Caroline Goldenberg (current); and (past) Jenny Wolkowitz, Mimi Pultman, Peggy Kaplan and Lauren Sagel. The Ohr Chadash (which means "new light") Teen Page began as a completely volunteer-conceived and volunteer-led effort in the 2008-2009 school year, and has been going strong ever since. Jewish Light former board members Jenny Wolkowitz and Mimi Pultman came up with the idea for a monthly Jewish Light teen page that would be staffed by St. Louis teens who would write and edit stories, take photographs and design their own pages. Co-Chairs Wolkowitz and Pultman enlisted the help of Jewish Light staff to provide some training and oversight to the teens, but the volunteer co-chairs — then and now — do the bulk of the work of recruiting and vetting staff, appointing teen page editors, organizing monthly meetings, and being available to help the teens plan and execute their stories, videos and photographs and layout their pages each month. These are volunteers who have been completely hands-on and taken charge of the teen page project from the start.
For more information or to purchase tickets, go to stljewishlight.org/unsung.