How heirloom recipes connect generations in the sweetest way
BILL MOTCHAN , SPECIAL TO THE JEWISH LIGHT
Published November 17, 2022
When Erin Wolfman May bakes a batch of mandel brot, she feels a special closeness to her great-grandmother Clara. That's because she uses Clara Wolfman's recipe. It's just one in a collection of recipes May cherishes.
"She was a fabulous cook, and I still use some of her recipes," said May, communications director at Congregation Temple Israel. "I know some of them by heart. She was the best cook in the family, she kept kosher and kept the traditional, old school family recipes."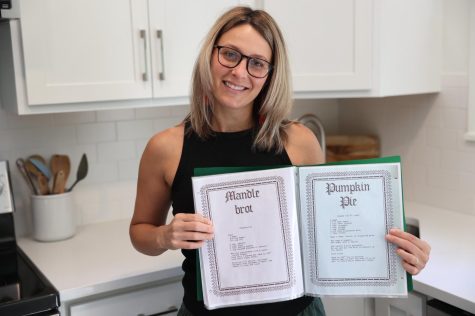 May keeps her Clara's recipes in a binder. They're all printed with the exact ingredients and cooking instructions handed down to her. 
Barb Singer said she keeps the worn, handwritten recipes of her mother, Bernice, because, "Her writing speaks to me. I mean, that's Mom, so it's my history, and food has always been important to the Jewish community."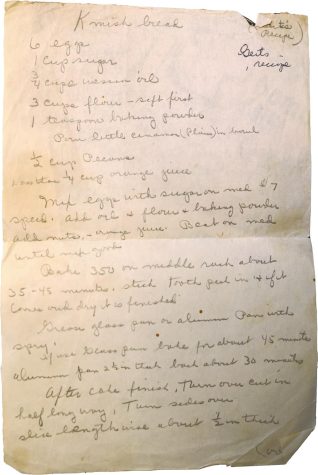 Sherilyn Krell is a good cook, but she rarely strays from the recipes her mother, Eleanor Kean, handed down, including specific instructions for kamish bread. Her husband, Barry, favors his mother's kamish bread recipe, so Sherilyn keeps that version on hand, too. Those recipes are also handwritten on index cards.
My mother, who died in January at the age of 100, was not a very good cook. When she and my father were newlyweds living in the George Washington Hotel on Lindell Boulevard, each evening she would try cooking roast beef. Proving inedible, they'd toss it down the incinerator and walk across the street to the Toddle House for dinner.
However, she did a great job with holiday cookies. That may be because she meticulously followed her mother's recipes. My grandmother was a very good cook. I recently found a stash of her recipes, also handwritten on note cards. I know they were written by my grandmother because the penmanship was a bit shaky. My mom's handwriting was calligraphy-grade perfect.
Family heirloom recipes
It's fairly common for Jewish St. Louisans, especially baby boomers, to have a box full of recipes handed down through their families. Our parents didn't have the internet when we were kids, and they couldn't use Google to call up a recipe on demand. Cookbooks were an option but, often, the foods we ate as kids were based on recipes our parents got from their parents.
Those recipes have become a cherished family heirloom, as valuable as a piece of diamond jewelry or fine china.
"My mother immigrated here after the Holocaust, she was a survivor," said Margi Lenga Kahn, cooking instructor, food historian and Jewish Light contributing writer. "She kept a file box with little frogs on the outside and there were handwritten recipes. Some were from the newspaper with notes, and others were handwritten. Those are the gems, and they are really special to me."
Jo Ellen Dardick Lewis, a member of Central Reform Congregation, said: "I love looking at these recipes as my mom handwrote them. I remember her handwriting very well. They are stained, as are probably all recipes of this age as they were used often. I also love seeing the difference in ingredients that were used when she made these dishes. The carrot ring calls for 1½  cups of Crisco. That's an ingredient not often used today."
The handwritten index cards are meaningful, especially if they have food stains. It means a parent or grandparent was in the kitchen holding the card and cooking for their family decades before.
"I use my mother's recipes," Wendy Wax said. "I have them because they were in her handwriting and a couple of them I make but I use a different recipe. Her blintze recipe is in there and she spelled it wrong (blinse), and she would make them for us all the time. My husband doesn't eat the cheese in them, so she always wrapped them up without cheese, which was just a crepe.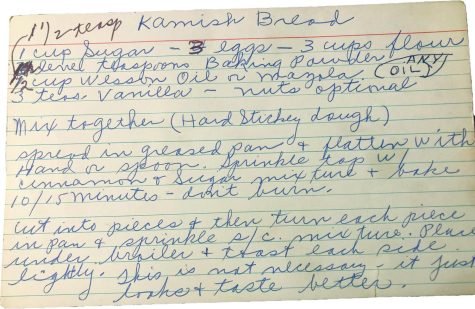 "It's like a piece of her is still here. It's sentimental because it's in her handwriting. Would my daughter-in-laws want them? Probably not. One is a vegetarian and, anyway, who makes blintzes anymore? You go buy the frozen ones at the grocery store. Since my husband doesn't like the cheese, I buy him the blueberry ones."
The recipes tend to be simple, with easy-to-find ingredients. That proved useful for Krell.
"When I got married in 1970, I couldn't boil water, but my mother always said if you can read, you can cook, so I started reading all these cookbooks I got as gifts," she said. "When my mother-in-law died, we added all her recipes to my collection, so that's how I have her kamish bread recipe sitting here on my cabinet."
Old World Jewish Ashkenazi food
A look through the many handwritten recipes kept by Jewish St. Louisans reveals a pattern. They use copious amounts of butter and sugar for sweets, and schmaltz for savory dishes. Noodle kugel shows up frequently, as do kasha and shells, potato latkes and bread dressing. This is not keto-friendly cooking.
"It's Old World Jewish Ashkenazi food," May said. "The women on my dad's side of the family, they're from New Jersey by way of Poland, so my experience growing up was these women with thick accents. I remember my grandmother walking into the room with her New Jersey accent. They were loud, and this is reminiscent of my childhood and connects me to being Jewish and connects me to my history before the Holocaust."
The recipes sometimes reveal the economics of the time. Bill Livingston, a member of Congregation Shaare Emeth, keeps his grandmother's recipe for gingerbread apple cake, which specifies getting day-old gingerbread from the baker for 5 cents.
Bernice Singer passed down dozens of recipes to her daughter Barb, who knows the origin of each.
"She'd write down who provided the recipe on the card: Dorothy's recipe, Gert's recipe, Sylvia Rosen's recipe," Singer said. "I love the way she'd always give credit to whose recipe it was."
Interpreting the recipes can be challenging at times because the instructions aren't always specific. Some use a unique measurement tool, Kahn said.
"A lot of the recipes, the ones that came from the old country, they were written in a way that's hard to understand," Kahn said. "For instance, a lot of the measurements were done in the memorial Yahrzeit candle glasses. You wouldn't say one cup, you'd say three glasses, and that's how they measured their ingredients, not in measuring cups."
Food memories and traditions
Will the tradition of passing down recipes diminish with changing tastes and healthy eating trends? Perhaps not, because the note cards have such an intrinsic value.
"How could I throw this away?" Singer asked. "These are my family history, a family food tree."
"I will always treasure these," Lewis said. "Seeing my mother's handwritten recipes from years gone by makes me feel like she is with me though she has been gone a long time."
Marilen Pitler, a member of United Hebrew Congregation, doesn't have any recipes from her mother or grandmother, but she is a grandmother and she has a special challah recipe she was taught 50 years ago.
"I scanned the card I typed over 50 years ago and gave the original to my granddaughter in Florida," she said. "Several years ago, I was visiting her during Thanksgiving, and we made the challah together.  It was even better than the day I first made it. In fact, my three kids would feign illness to stay home on a Friday morning just to be able to make their own mini-challahs.  My Florida granddaughter has held on to my recipe card, making more of the delicious challah long after I returned to St. Louis."