Highcroft Ridge Elementary combating antisemitism after International Night incident
Bill Motchan , Special to the Jewish Light
Published May 16, 2023
Earlier this year, an incident at Highcroft Ridge Elementary School in Chesterfield was marred by what some students and their parents viewed as a message of hate and antisemitism. At the school's "International Night" a table representing Palestine displayed several anti-Israel posters, including an image of a hand holding a spray bottle adorned with Stars of David that read "ethnic cleansing."
In the aftermath of the January event, Chris Clark, principal of Highcroft Ridge, told parents that the school would add safeguards to prevent a similar episode in the future. In a letter to parents, Clark said the school would review participant materials prior to future events and that "these procedures should ensure any content represents our values of respect and inclusivity and celebrates our students and families."
On May 10, Highcroft Ridge took an additional step toward combating antisemitism. School faculty took part in a training session focusing on recognizing antisemitism and how to address it. The session was facilitated by Orna Bitton Dar and Jeny Dementeva from the Israeli American Council (IAC).
"Parents approached the IAC because they wanted some proper education for their teachers and they wanted an Israeli and Jewish organization to be involved," said Dementeva, the council's national director of activism. "We offer this training to schools and we have a platform called School Watch, where parents, teachers and kids can report an antisemitic incident in school."
Principal Clark said after the session that while he is not Jewish, as a Black man, he is all too familiar with hate speech.
"I grew up in north St. Louis County during a time where there weren't many people of color there," Clark said. "I remember that feeling the first time being called the N-word by someone who I thought was a friend."
The IAC antisemitism training provided school faculty with an opportunity to recognize a hate message directed at Jews.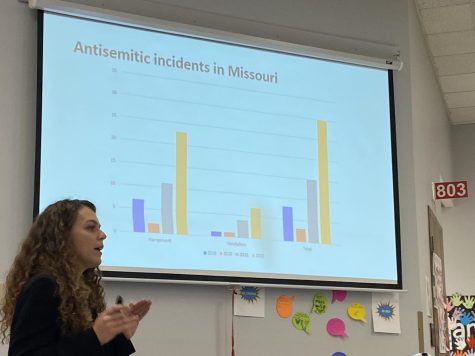 "Now that we have this awareness, we can be more able to identify those things. When the need to confront those things happens, now we have something else in our lexicon and we're armed to be able to confront those pieces," Clark said.
Dementeva said it was important for the IAC to hold the training because antisemitic incidents are on the rise nationally and in Missouri.
"From the last Anti-Defamation League report about antisemitism, we saw that from 2021 to 2022, it doubled," she said. "There were 15 antisemitic incidents in Missouri in 2021. That doubled in 2022 to 30."
One of the faculty members who attended the training was Emily Mueller, who grew up in Eureka, Mo. Prior to working in the Parkway School District, Mueller's familiarity with Judaism was limited. She said that Dementeva and Dar helped her gain more perspective on Jewish students.
"It was a great representation of what we need to continue to be doing here to support our kids," Mueller said. "We have to call things out. We have to support our kids when they need it and we have to show up so they all understand the differences that we are all different."
Nikki Goldfeder is a Highcroft Ridge counselor who participated in the training. Goldfeder, who is Jewish, said the session validated a lot of her knowledge of, and experience with, antisemitism.
"It was a really powerful opportunity to learn a little bit of the history of antisemitism," she said. "In order for us to take a stand about any kind of oppression, whether it's antisemitism or racism, we have to first know how to recognize it. And that's really where the presentation focused. Because if we don't know that something is antisemitic, then we don't have a chance of providing that counternarrative or pushing against it or educating our kids and our families."
The school's teachers "want to ensure that we're creating communities where everyone feels safe, where everyone feels a sense of belonging," said Goldfeder.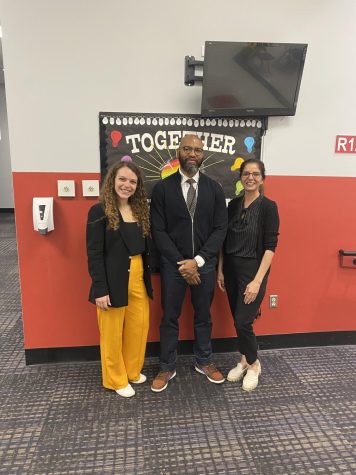 "We can bring in information from all different cultures, all different backgrounds. We can have conversations. We can share our beliefs, our traditions, and our customs without bringing in hateful rhetoric, without bringing in propaganda that contributes to socializing our kids and families into these hateful belief systems without even realizing it."