Anti-Israel display at Parkway elementary school sparks outrage
An anti-Israel display at an "International Night" at a Parkway elementary school Thursday evening sparked outrage among some of the 500 children and their parents who attended, including several who are Jewish.
In a letter sent to families and faculty at Highcroft Ridge Elementary School in Chesterfield on Friday, Principal Chris Clark explained that "an individual at one table chose to display images and messages that were extremely hurtful to members of our Highcroft family of the Jewish faith and/or of Israeli descent."
The table host, representing Palestine, displayed several placards with anti-Israel sentiments, including an image of a hand holding a spray bottle adorned with Stars of David that read "ethnic cleansing." The bottle, spraying what looked like blood, was aimed at a map drawing of Israel colored like the Palestinian flag, accompanied by the words: "It was never a conflict . . . It's always been genocide."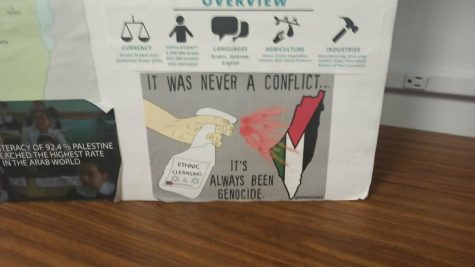 Another image showed a map of Israel depicted like a puzzle, with the phrase, "The only peace Israel wants is another piece of Palestine."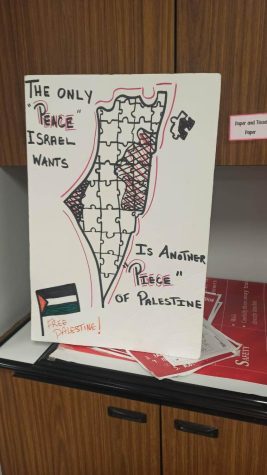 In the letter, Clark explained that the Highcroft Parent Staff Organization (PSO) and Equity in Action Team, which partnered to host the event, were not aware of the controversial display prior to the evening.
"The images and messages were discovered soon after the start of the event," Clark said. "I immediately addressed the individual to remove the hate speech, to which they complied. I also made it very clear there is no tolerance for divisive and hurtful speech at Highcroft Ridge."
A Parkway District spokesperson said the event was the first time Highcroft Ridge, which encompasses kindergarten through fifth grade, had hosted an International Night. Its purpose was to expose students and their families to the diverse cultures that make up the school community. Roughly 15 countries, including Turkey, Germany, Scotland, France and Colombia were represented that evening, with booths depicting the foods, costumes and traditions of the various countries.
On Friday, after a St. Louis Jewish women's Facebook group posted images of the anti-Israel display, several group members responded with outrage and disappointment. One member commented, "Personal viewpoints, especially political and hateful, should never be a part of anything at a public school, especially at the elementary school level and at what I imagine was supposed to be a night of sharing CULTURES, like food, music, art, architecture, and traditions from different countries. Wrong on so many levels."
Another wrote: "I was horrified yesterday. I was shaking and could barely talk . . . I can't believe we have this kind of hate in our Highcroft Ridge community."
Some commenters said that they had called Parkway's superintendent and were told the administration would be issuing a statement. The Facebook group later posted Principal Clark's letter in its entirety.
In his letter, Clark noted that the offensive content was not the creation of a student, but the actions of an adult. As a result, no student will be punished because of the rhetoric.
"We regret that anyone had to witness the display or heard about it," he wrote. "The Highcroft Ridge PSO shares our concerns, and we are working to add additional safeguards, including reviewing participant materials prior to any event. These procedures should ensure any content represents our values of respect and inclusivity and celebrates our students and families."
Parkway Superintendent Keith Marty said there were "several takeaways" to be learned from the incident.
"We've had a lot of international nights or cultural nights at schools in our district and never had any problems," he said. "But clearly moving forward we can't take anything for granted.  Henceforth, we probably need to get a pretty clear idea of what might be displayed at these nights and even before the event make a quick tour to make sure everything is appropriate."
He also said the district plans to look at what more it can do to stop the spread of hate and antisemitism "to make sure our Jewish students and their families," as well as everyone else in the district, feels safe.
"As a district, we need to continue to enhance understanding so that acts (of hate) aren't allowed to occur," Marty said. "As we watch social media and as we hear conversations, we need to make sure we are aware if there is something very subtle, or (hateful) things happening, that we are able to intervene because as we are finding in so many areas, bullying and in other areas, behaviors can be hurtful. We need to be more diligent about what is said and what behaviors might be occurring among students and families."
RELATED