12 St. Louis Holocaust survivors among 90 photographed for new Wash U exhibit
Bill Motchan, Special To The Jewish Light
Published October 20, 2022
As a boy growing up in Mainz, Germany, Luigi Toscano was fascinated by World War II. But he was frustrated by a lack of detail about a dark period in the country's history: the Holocaust. His history teacher offered little information, and his textbook contained only a couple of photographs. So Toscano did his own research and eventually visited Auschwitz to learn more.
"I was shocked," said Toscano, 50. "I remember standing in front of this whole mountain of kinder shoes, and I cannot believe that that happened."
That haunting experience motivated Toscano to launch an ambitious Holocaust remembrance project eight years ago. Now a noted filmmaker and photographer who was named an Ambassador of Goodwill last year by UNESCO, Toscano's "Lest We Forget" is a series of more than 400 images of survivors that has been exhibited around the world. Now, these powerful photos are in St. Louis.
'Lest We Forget'
Last May, Toscano spent several days in St. Louis photographing 12 local survivors. He and Dee Dee Simon, chair of the Missouri Holocaust Education and Awareness Commission, worked together with Washington University to bring this public art exhibition of his photographs to campus. Toscano overseeing the installation.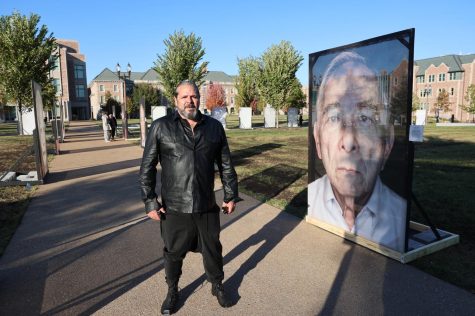 "Lest We Forget" will be on display beginning Oct. 20 and will run through Nov. 6 in the Ann and Andrew Tisch Park on the Washington University campus. This exhibition comprises more than 90 larger-than-life portraits of Holocaust survivors from Europe, Israel, and the United States, including the 12 people Toscano photographed in St. Louis.
The work offers an opportunity to commemorate survivors at a moment when accurate collective knowledge about the Holocaust is at a historic low and distortion and denial of the atrocities, as well as public expressions of antisemitism, are rising alarmingly. The placards that accompany the photographs tell stories of suffering and loss but also resilience and humanity, providing a window into the experience of the last living survivors of the Holocaust.
Previously presented in 17 cities—among them Berlin, Brussels, Geneva, Kyiv, New York, Vienna, and Washington, D.C.—this exhibition traveled to UNESCO headquarters in Paris as part of the International Day of Commemoration in memory of the victims of the Holocaust on Jan. 27, 2021.
"Lest We Forget" is presented at Ann and Andrew Tisch Park courtesy of Eliot and Dee Dee Simon and Conversation Builds Character.
Luigi Toscano's 'Lest We Forget'
"Lest We Forget" began after Toscano completed another major portrait project that featured refugees who immigrated to Germany. Many of them were mistreated and attacked. Some had their homes burned.
"I was sitting in my home office watching the news, and I wondered what a Holocaust survivor would think about the (atrocities)," he said. "I thought I could use the same concept. There was a small former concentration camp near my home in Mannheim. And every year, survivors came for visitors to celebrate their liberation. I told the director of the institution about my idea, and he said, 'Luigi, you can meet them in the hotel lobby and you can speak with them, but I cannot promise you that they are willing to let you take their pictures.' "
Toscano hung his refugee portraits on the wall, and a group of survivors came to see the exhibit. One of them looked at the photographer's work and said he wanted to participate in the new project. With that, Toscano began searching for other survivors around the world. In addition to his traveling exhibit, the work is featured online.
Following his St. Louis visit, Toscano returned to his home base in Mannheim, then went to Paris to prepare for an exhibition, then to a school in Austria. Since he began "Lest We Forget," the exhibition has traveled the world to big and small venues, but he especially wants to reach curious children in the classroom.
"We bring this exhibition to schoolyards, especially in Germany," he said. "In the last couple of months, I showed this exhibition 10 times, and more and more schools ask us to bring it."
Oskar Jakob and Rachel Miller
Oskar Jakob and Rachel Miller are two of the St. Louis area survivors photographed by Luigi Toscano for his "Lest We Forget" Holocaust remembrance project.
Miller was born in Paris in 1933. When she was 7 years old, her father and uncle were taken away by the German SS and French police. The following year, they received injections in a French hospital and within hours both died.
Miller's mother sent her out of the country and told her to assume the name Christine to hide her identity. The last time Miller saw her mother and brothers and sister was July 13, 1942. They were taken to Auschwitz where they perished. After liberation, Miller immigrated to the United States and lived in five foster homes.
Oskar Jakob was born in 1930 in Simlul, Romania. His family moved to Dobra, where they were the only Jewish family in 1944 when Hungarian Nazis deported the family to Auschwitz, Dora, Nordhausen and Bergen-Belsen. They faced hard labor, beatings and a severe lack of food and water.
On April 15, 1945, the British Sixth Army liberated Jakob from the Bergen-Belsen camp. It was far from a joyous moment because prisoners were extremely malnourished. In fact, after the British soldiers gave them bread, many died because their bodies couldn't digest food.