Israel sends a world-class team to Tokyo Paralympics
The Paralympics is about world-class athletes competing in a world-class event, says Israel's Paralympic sponsor Andrew Danos.
Published August 24, 2021
(Israel21c) – For Andrew Danos, the moment he really understood the importance of the Paralympics was when he presented a trophy at the national tournament for wheelchair tennis in Israel, and met a young South African tennis player who had lost both his legs.
"He told me that in South Africa this kind of disability destines you to a life of begging on the street. Wheelchair tennis allowed him to escape that life, and now he goes around the world playing tennis," Danos told ISRAEL21c. "That story really stuck with me, and from that point on I was connected."
That was six years ago, and Danos today is the honorary president of the 
Israel Paralympic Committee.
His family company, the James Richardson Group, is the main sponsor of the Israel Paralympics team.
Israel's multifaith delegation to Tokyo this year includes 33 athletes with physical disabilities, ranging in age from 18 to 55 and competing in 11 sports. On August 24, rower Moran Samuel and boccie player Nadav Levi will carry Israel's flag into the opening ceremony.
The first to compete will be a Muslim swimmer, Iyad Shalabi, 33. The last will be 41-year-old shooter Yulia Tzarnoy, on September 5.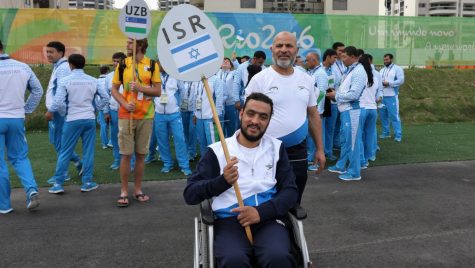 Danos, who spoke to ISRAEL21c as the Israel team headed to Japan, is a fairly new immigrant to Israel. He arrived six years ago from Australia, where his grandfather founded the James Richardson chain of duty-free shops in Australia and in Israel's Ben-Gurion International Airport.
At 36, Danos is taking a lead in the family business and its philanthropic endeavors focused on education, sports and health.
When he arrived in Israel, the family business supported wheelchair tennis in Israel, but after that first event, Danos became increasingly involved.
When Israel hosted the International Tennis Federation (ITF) Wheelchair Tennis World Team Cup in May 2019, the James Richardson Group agreed to sponsor that tournament.
"Our connection to Paralympic sports grew and grew," says Danos.