Nancy Lee Gimpelson
Published October 15, 2022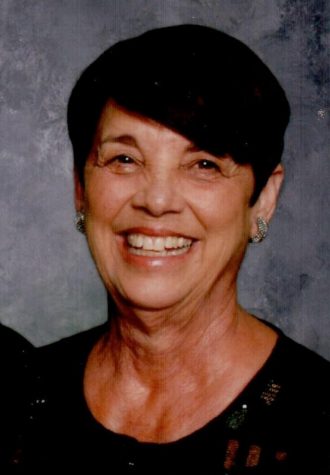 Nancy Lee Gimpelson, October 10, 2022
Nancy (Nan) Lee Aleshire Gimpelson passed away with her husband Richard and her son Jonathan by her side on October 10, 2022. She fought galanty against the brain cancer from which she eventually succumbed. Born on October 31, 1946 in Columbus, Ohio Nan is predeceased by her parents William and Charlotte (Wilson) Aleshire. She is survived by her husband Richard, her sons and daughter in law Joshua (Megan Morris) and Jonathan, her grandchildren Charlotte, Graeme and Lucy and her brother and sister-in-law Michael (Jill) Aleshire. She will be sadly missed by her nieces and nephews Allyson and Jim Olivera, Ryan and Emily Aleshire, Kristin and KC Middendorf and Mitchell Schneider.
Nan grew up in a hard-working family in Grandview Heights, Ohio. Her father was a truck driver until the age of 55 when he became disabled and her mother worked as a waitress beyond the age of 80. Nan had that same work ethic beginning when she was a teenager working during the summer at a nursing home. She then became a Registered Nurse after graduating from St. Anthony's School of Nursing in Columbus, Ohio. Her nursing career took her to operating room jobs in Chicago and Fort Myers. She eventually made her way to St. Louis and was able to find a job at Mercy Hospital as an operating room nurse. One day an OB-GYN Resident named Richard stepped into the operating room and was mesmerized by these sparkling brown eyes and he knew she was beautiful even though she was wearing a surgical cap, mask and scrubs. He immediately found an opportunity to get to know her and realized she wasn't only beautiful but sweet, kind and had a sense of humor. After dating for 2 years, they married and during that time period she was promoted to head nurse of the operating room. After several years she retired to stay home and raise Joshua and Jonathan. When the boys became old enough, she returned to work in Richard's office and continued working there until he sold his practice in 2011 and began working for Mercy Hospital St. Louis.
Throughout her life we were able to enjoy many family vacations, in addition at least 2 trips a year to visit Nan's family during winter holiday and during the summer for the Ohio state fair. When Nan's mother was diagnosed with colon cancer and could no longer care for herself Nan had her come live with us until she passed away.
Nan had many interests and activities but her greatest joy besides the family was working in her gardens. Nan was truly a down to earth person, was kind to everyone and had many friends. She never forgot the humble beginning she came from. She loved her boys and her husband until her final days.
God blessed Richard, Joshua and Jon for having a wife and mother so loving and beautiful as Nan.
Graveside service Wednesday, Oct 19th, 1:30 PM, at Bellerive Gardens Cemetery, 740 Mason Road. Memorial contributions preferred  to Martha's Hands, Unity Hospice of St. Louis, Mercy Hospital St. Louis, Shriners Hospital, St. Jude Children's Research Hospital and Aish Ha Torah of St. Louis. Visit bergermemorialchapel.com for more information.
BERGER MEMORIAL SERVICE