Murry Aaron Marks
Published January 27, 2022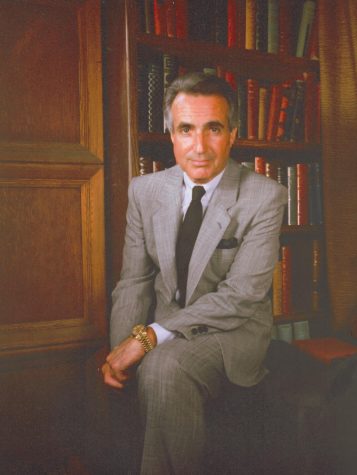 Murry Aaron Marks
Born July 14, 1933, and passed away peacefully on January 21, 2022. Son of the late Harry Marks and the late Esther Greenberg Marks. Survived by his spouse, best friend, and love of his life for fifty-eight years, Floryne Beverly (Silverstein) Marks, his sons Jason (Lauri Cearley) Marks and Jonathan (Melanie) Marks, and his grandchildren Sara Marks, Madison Marks, and Mason Marks.
Murry lived a remarkable and extraordinary life.  He grew up in St. Louis during the Great Depression and found solace in music. A trumpet prodigy from a young age, he received an invitation to the Interlochen Music Academy at age fifteen, obtained his musician's union card at age sixteen, and began playing professionally while still attending Clayton High School.  His music career included playing with many of the best of the Big Band era, both locally and around the country. He studied theater and communications at Northwestern University. While completing his undergraduate studies at Washington University, Murry regularly appeared as a feature actor in performances at the Empress Theater, appearing on stage with stars like Vincent Price. He was also a member of the Sigma Alpha Mu fraternity.  He served in the United States Army, entertaining troops as part of the Army band.
He received his law degree from Washington University School of Law, beginning a nearly sixty-year career as an attorney. After working for the St. Louis County Counselor, Murry opened his own firm with his law school classmate Forrest Elliot, the first racially integrated partnership in St. Louis. Later, Murry went solo, opening what is now The Marks Law Firm. A highly respected trial lawyer, Murry handled thousands of criminal and civil cases, including the largest class action toxic tort in Missouri, the dioxin cases of Times Beach. He was a member of the Missouri Bar and was admitted to practice before the United States Supreme Court and the United States Tax Court, as well as the federal district courts in Missouri. Repeatedly recognized in Who's Who in American Law, he was also an active member of numerous local, state, and national legal organizations, as well as a Life Member of the National Association of Criminal Defense Lawyers, a member of the Million Dollar Advocates Forum, and a Distinguished Fellow of the St. Louis Bar Foundation.  Murry took particular pride in his alma mater, and as a member of the Eliot Society he and Floryne established a scholarship that annually funded the legal education of one deserving law student.
An athlete all his life, Murry ran and worked out religiously into his eighties.  A member of Meadowbrook Country Club for forty-seven years, Murry played golf as often as possible, competing in the St. Louis District Golf Association in both regular and senior categories.  As much as he loved practicing law, for Murry family always came first.  He worked hard so he could make sure his wife and sons always had the best in life. He and Floryne treasured time together, whether on vacations or dining out around town.  True partners their entire married life, Murry and Floryne enjoyed the arts, including the Fox Theater, the Art Museum, the Botanical Gardens, and the St. Louis County Library, all of which they supported over the years.  A wonderful father, Murry introduced his sons to everything from sports to literature, and he gifted them his love of life and laughter. Excited that both his sons became lawyers and fathers of their own, Murry felt fortunate he had the chance to share with his grandchildren many joyous experiences.  Though he left an indelible mark through his law practice – the many people he helped, the many lawyers he mentored – he felt happiest spending time with his family, particularly golfing or dining with his wife and sons.
A private funeral service was held on Monday, January 24, 2022, at United Hebrew, followed by internment at Chesed Shel Emeth Cemetery.  A celebration of life will be held at a later date.  Contributions in his memory may be made to the Siteman Cancer Center, the American Brain Tumor Association, or a charity of your choice
BERGER MEMORIAL SERVICE