They're just like us — 5 Israeli politicians who went wild on Purim
Andrew Tobin
Published March 13, 2017
TEL AVIV (JTA) — Like most of us, Israeli politicians spend most of the year trying to be taken seriously.
On Purim, they get the same chance as Jews everywhere to let off a little steam by dressing up in ridiculous costumes. The difference, of course, is that as public figures the scrutiny never stops — especially when they post photos on Facebook. Here's how five leading Israeli politicians — and one not-so-leading one — looked on the holiday, and a little about what it means.
Defense Minister Avidgor Liberman: Comedian Asi Cohen
A former nightclub bouncer turned hardline nationalist politician, Defense Minister Avigdor Liberman is not known for his sense of humor. His joke last week about joining a hunger strike by residents of Amona, the recently evacuated illegal West Bank settlement, reportedly fell flat with other coalition leaders. But on Purim, you can be whoever you want, and Liberman dressed up as Shauli, a Mizrachi everyman played by comic actor Asi Cohen, who has impersonated Liberman on "Wonderful Country," Israel's version of "Saturday Night Live." Alongside this photo he posted of himself in costume on Facebook Sunday, Liberman wrote: "Hi Asi, regards from Shauli."
Yair Lapid: A haredi Orthodox Jew?
Formerly a well-known journalist, Yair Lapid skyrocketed to the top of Israeli politics, and the Finance Ministry, in 2013 with a campaign promise to get haredi Orthodox Jews to share the burden of military conscription, from which most are now exempt. In the political opposition since 2015, Lapid has backed off the issue in what some see as an attempt to curry favor with the haredi political parties ahead of the next election, which he hopes will make him prime minister. Facebook commenters offered competing interpretations of this photo of him from Friday wearing a fake grey beard. Few doubted he was dressed as a haredi Jew. But some suggested he was mocking his one-time nemeses, while others saw the costume as ingratiating.
Merav Ben Ari: A tribal warrior 
Merav Ben Ami has long been a social justice warrior. She was an education officer in the Israeli army and the head of the student union at the Interdisciplinary Center, Herzliya. With 5 million shekels ($1.3 million) she won on an Israeli reality show, she set up a chain of centers for at-risk youth, which she ran until being elected to the Tel Aviv City Council in 2013. In 2015, she talked her way into a spot on the list for the new Kulanu party and was elected to the Knesset, Israel's parliament. As a Mizrahi single woman, she has redefined what it means to be a Knesset member, including by last year getting pregnant with her gay male neighbor in Tel Aviv. What kind of warrior she intended to be in this photo is unclear.
Culture and Sport Minister Miri Regev: A jester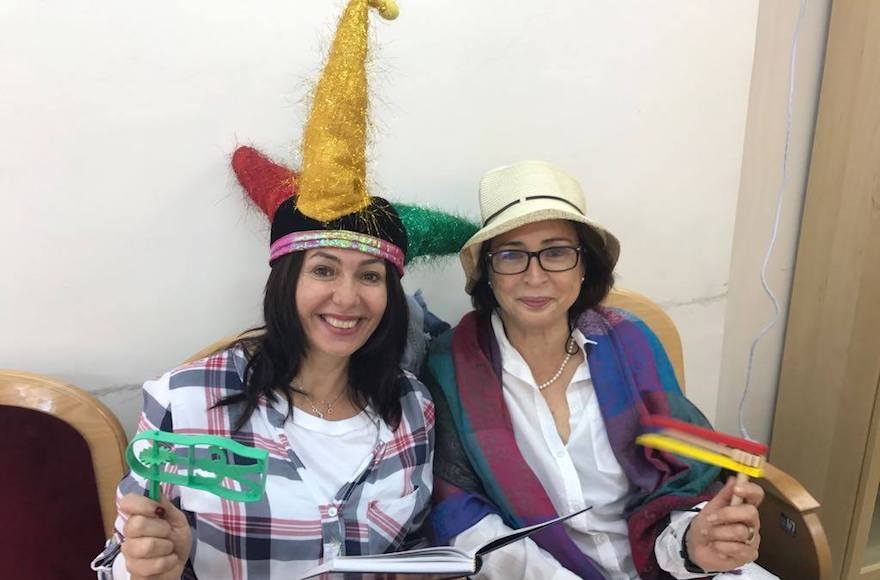 Miri Regev is not afraid to make herself heard. Once the Israel Defense Forces spokeswoman, she has been outspoken as the culture and sport minister, attacking the allegedly Ashkenazi-dominated Tel Aviv cultural establishment in the name of Mizrahim and those in the country's periphery, from which she hails. She posted a photo of herself Sunday shaking a noise-maker at a "neighborhood synagogue," apparently in the small town near Tel Aviv where she now lives. Reviled on the left and revered on the right, she earned roughly equal numbers of outraged and supportive comments for her post.
Interior Minister Aryeh Deri: Rashbi
Interior Minister Aryeh Deri was close to former Chief Sephardi Rabbi of Israel Ovadia Yosef, the late spiritual head of the Shas political party that  Deri has headed for three decades (minus a three-year break he spent in jail on corruption charges). But since Yosef died in 2013, the relationship has been called into question, including by the release last month of a video of Deri rubbing an onion on his eyes to make himself cry during the filming of a 2015 election campaign video memorializing the late spiritual leader. In this Facebook photo from Sunday, Deri dresses as a historical spiritual authority, the great Jewish sage of the 2nd century CE, Rabbi Shimon Bar Yochai, known as the Rashbi.
Bonus: Coalition Knesset member Oren Hazan: A pineapple
Oren Hazan, of the ruling Likud party, is probably Israel's most scandal-plagued lawmaker, infamous for, among other things, insulting Arab and women lawmakers and allegedly procuring prostitutes for and doing meth with guests as a casino manager in Bulgaria. This Sunday, he posted a video on Facebook of himself discussing the future of the West Bank on Israeli TV, wearing a pineapple hat.