Tel Aviv's 7 best thrift stores
Want to turn heads, without harming the environment? These secondhand and vintage shops are guaranteed to jazz up your wardrobe.
Sol Gruffy
Published October 5, 2021
(Israel21c) – Tel Aviv is known for being one of the most innovative, artistic and fashion-forward cities in the Middle East.
With its budding fashion scene, original independent labels, and social-media influencers that exist to make you feel old — the pressure to keep up with the trends is on.
Alas, fashion is the second most polluting industry in the world. And shopping online for fast fashion is not only wasteful, but you'll probably end up wearing the same blouse as Suzanne from HR.
Therefore, when looking for a one-of-a-kind look while remaining sustainably conscious, going vintage is the perfect solution.
Thrift your way through the White City with our list of the best vintage and secondhand shops in Tel Aviv, presented here in alphabetical order.
Aderet
Aderet has been a thrift lovers' favorite for almost two decades. Here you can find secondhand clothes and accessories from Israel and abroad for men, women, and kids.
Most of the items come from customers, so if you live locally you can go Marie Kondo on your closet and sell Aderet your pre-loved clothes; schedule an exchange here.
A few years ago the team opened an additional, more luxurious store, Argaman, right next to Aderet, where you can find one-of-a-kind vintage items and secondhand luxury brands such as Gucci, Chanel and Dior.
Aderet, 53 Bograshov Street
Sunday-Thursday 10am-10pm; Friday till 4pm
Betty in Vintage Land
Betty in Vintage Land was first established in the Golan Heights and moved to Tel Aviv a few years ago, now located between Nahalat Binyamin and the Carmel market.
The beautiful boutique is filled with vintage items imported from Amsterdam and every item is one-of-a-kind. The passionate team will only hold items that are truly vintage — nothing less than 30 years old.
Betty Vintage, 7 Rambam Street
Tuesday-Thursday 10am-6pm; Friday till 5pm
Chelsy True Closet
Chelsy is a sophisticated secondhand chain with branches in Tel Aviv and Givatayim. The two-story shop in Tel Aviv is filled with color-coordinated vintage items and a huge selection of secondhand clothes, accessories and shoes for women and men.
All the items sold in the store are collected from customers after a careful selection and assessment. You can find vintage and luxury brands from all over the world alongside pieces from well-known brands. Items that are not sold are donated to nonprofit organizations.
Chelsy True Closet, 22 Mikve Israel Street
Sunday-Thursday 11am-7pm; Friday 10am-4pm
Flashback Vintage Store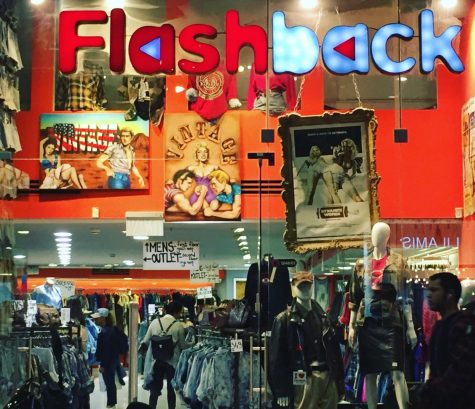 Flashback is the perfect spot to locate fashionable, trendy secondhand items at relatively affordable prices. All the pieces are original vintage from the Fifties to Nineties, and each item is carefully selected by the style team.
Flashback offers a range of jeans, colorful sweatshirts, branded sports tops, vintage dresses, and windbreakers from the Nineties. They also create up-to-date and cool pieces from old clothes.
Flashback, 72 King George St 72; Sheinkin St 33, Tel Aviv-Yafo
Sunday-Thursday 10am-10pm; Fridaytill 4:30pm
Habigudit WIZO
WIZO (Women's International Zionist Organization) was founded in England in 1920 to provide community services in Israel and is a volunteer organization dedicated to social welfare.
WIZO branches around the country operate secondhand stores, and all the proceeds go to help children and women at risk. The Habigudit branch at King George Street is a must for any thrift lover (think of it as the Israeli Salvation Army), where you can drop off old items for charity and find clothes, accessories, shoes, toys and books for super cheap prices.
Habigudit WIZO, 35 King George Street
Sunday-Thursday 10am-3pm
Limonada
The shop's original name is the optimistic phrase: When life gives you lemons, make lemonade (limonada in Hebrew). Janet, the owner, buys the items from nonprofit organizations and then cleans and repairs them as needed.
The store stands for recycling, fair wages and ecological shopping while maintaining self-expression through fashion and unique personal style. Here you can find jackets, knitwear, dresses, jeans, accessories, shoes, and even lingerie at affordable prices.
Limonada, 76 Nahalat Binyamin Street
Sunday-Thursday 10am-6pm; Friday 9:30am-2:30pm
Loni Vintage
Loni Vintage is a magical boutique in the heart of Jaffa that offers a wide variety of carefully selected vintage clothing and luxury brands such as Dior, Lacroix, Chanel, Prada and Gucci.
The boutique was founded 20 years ago by Lidia Messing,who travels the world to locate unique items from auctions. Among her finds: a collection of sunglasses that belonged to Elizabeth Taylor and Princess Caroline of Monaco's wedding dress. The large variety of items in the store allows you to fish even non-elite items at attractive prices.
Loni Vintage, 6 Yoezer Street
Sunday-Thursday 11am-4pm; Friday 10am-2pm