Meet John Magaro: The Jewish actor who plays a young Silvio in new 'Sopranos' movie
Dan Buffa, Special to the Jewish Light
Published September 28, 2021
David Chase, the television Godfather of mafia lore, is well-known for casting Jewish actors in Italian roles. To him, if the actor looked Italian and acted Italian but was really Jewish, it didn't stop him from casting them in an Italian-American role. Just take a look at his new movie, "The Many Saints of Newark," which is an origin story for his beloved HBO series, "Sopranos."
The New Jersey mobster epic drama is packed with Jewish actors, from Jon Bernthal (playing Tony Soprano's dad, Johnny Boy) to Corey Stoll, who plays a younger Uncle Junior. John Magaro, who was tasked with playing a young Silvio Dante, a role made famous by musician/actor Steven Van Zandt, provided Chase with the perfect ethnic background: Part Italian, part Jewish.
Magaro, whose dad is of Italian descent and mother carries a Jewish background, is familiar with Chase through the 2012 film, "Not Fade Away." That was the first project Chase took on after "Sopranos" ended its run on HBO after six seasons. The 38-year-old played Doug in that Chase-directed feature film, the young lead singer of a rock band in 1960s New Jersey who experiences an early brush with fame while dealing with disappointment back home with his dad (James Gandolfini, taking a gear shift down in patriarch mode).
The role of young rocker Doug was more than likely the front door Magaro took to finding a way into "Many Saints," which has been in development and production for a good chunk of the time that the show has been off the air. The role may have given him the keys to the Silvio castle, but it also opened doors to other highly successful film work, specifically in Adam McKay's "The Big Short" and last year's surprise indie hit, "First Cow."
Unassuming yet indelible when the camera does find him, Magaro doesn't soak up much space in most of his films, preferring to gather your attention with the actions and words of his character. It's that very 60s Jersey period of time that Chase dials into with the "Sopranos" prequel. The movie doesn't just show how one of Hollywood's greatest gangsters came to be, but also highlights the racial unrest on the streets: the mob war that developed between the Italians and the African Americans mob crews.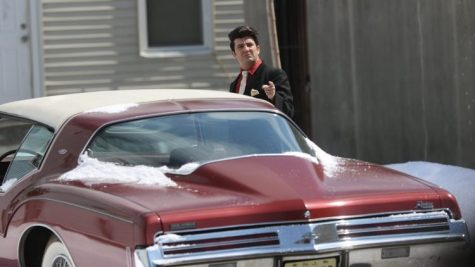 While Magaro's role in "The Many Saints of Newark" is smaller than some may think, he makes a mark as one of the more likeable characters from the show. Dante was Tony's right-hand man, his consigliere, on the HBO show-but in the movie, he's working for Dickie Moltisanti (Alessandro Nivola), the father of Michael Imperioli's Christopher, who had a big part on the television show. Instead of answering to and working for Tony, Magaro's Silvio works for the guy who helped mold Tony in Dickie.
It's a great role and another reminder that minimalistic can merge with exuberance, if the character and actor are right. Magaro nails the walk and talk of Silvio, honoring Van Zandt's portrayal instead of producing a mere impersonation. A particularly juicy late scene between Silvio and Dickie connects hard due to the expertise of the actors not doing too much and just sinking deeper into their roles. The secret sauce of Silvio was his ability to slip into the background and step up when he's called upon without being overly intimidating. In a way, he was the Joe Pesci of the crew: a deadly yet wise man who kept the books and tried to keep his mouth shut.
"The Many Saints of Newark" opens Friday simultaneously in theaters and on HBO Max. Don't miss it, or my upcoming coverage and review this week of Chase's film. By going unconventional and casting the right Jewish actors in vital Italian roles, he hit a home run. Magaro's work is confirmation of that. Don't miss the movie, and don't forget about this young actor.