How to order your 2023 National Mah Jongg League card
Jordan Palmer, Chief Digital Content Officer
Published February 1, 2023
For fans and disciples of Mah Jongg, the National Mah Jongg League (NMJL) is accepting orders for the new 2023 card, via their online store.  The cost is $14-$15, depending on the size selected.
American Mah Jongg uses the card that lists the winning combinations of tiles (called "hands"). The goal of the game is to be the first player at your table to match all 14 tiles with one of these combinations.
Having a card adds an interesting twist to the game since players need to know it well enough to be able to quickly pattern-match with the tiles they're dealt. To keep players on their toes, a new card is published every year, around late March or early April. So, just when you think you've memorized and mastered the card, you have to start over and learn a new one!
"Mah Jongg Mania": A Jewish game?
"It is impossible to tell the story of American mahjong without its players, who are mostly Jewish women," said John W. Davis, the editor of MJ DIVA Magazine."But the game has been moving, though, from elderly Jewish women to younger ones and to non-secular players over the past 15 years."
While not technically a Jewish game, Mah Jongg does have a Jewish connection with historical roots dating back to the 1920s, a time of newfound, mass upward mobility for many children of Eastern European immigrants.
In her book, "MahJong: A Chinese Game and the Making of Modern American Culture," University of Oregon history professor Annelise Heinz writes, "The National Mah Jongg League was founded by Jewish women, so the game spread through their networks. Jewish Americans were at the forefront of creating these leisure patterns, such as family resorts in the Catskills and other vacation communities. Jewish women were experiencing a widely shared, gendered experience, and the game was part of that fabric."
Understanding the Tiles
American Mahjong sets have 166 tiles, but 152 are used in play and the rest are spares. The 152 tiles are divided into four groups with their subgroups:
Numbered Tiles
These tiles have a symbol based on the suit and a number. The 3 suits are called cracks, dots and bams and the numbers run from 1 to 9. There are 4 instances of each tile.
Cracks

Dots

Bams

Winds
There are 4 types of wind tiles: North, East, West, South. There are 4 instances of each wind tile in the game.

Dragons
There are 3 types of dragons: Green Dragon, Red Dragon, and the White Dragon. The White Dragon tile on the right is also known as "Soap". Soaps can be used as zeroes when putting together certain hands. There are 4 instances of each dragon tile in the game.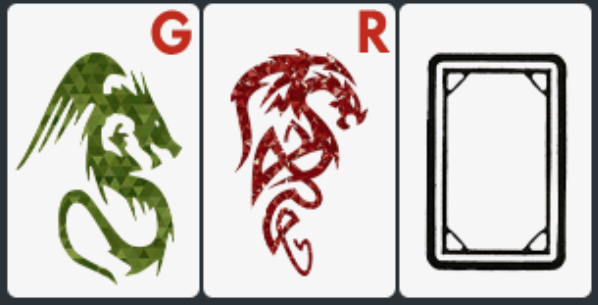 Each dragon is associated with a suit. Green Dragons are with Bams, Red Dragons with Cracks and White Dragons with Dots.
Flowers
There are 8 flower tiles in the game. They are usually represented as different flowers and may also have seasons printed on them. All flower tiles are interchangeable. This illustration is the flower used in the I Love Mahj online game.
Jokers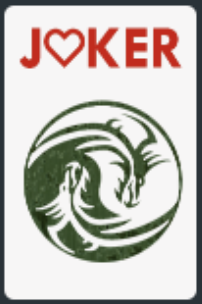 An American Mah Jongg set also includes 8 jokers. Jokers, like in a deck of cards should be considered wildcards and can substitute for any tile when building a hand.