How three Israeli filmmakers wound up becoming the story in Africa
Josh Hasten, JEWISH NEWS SYNDICATE
Published August 4, 2021
(JNS) Three Israeli documentary filmmakers arrived home safely from Nigeria at the end of last week, after what they described as 20 "hellish days" detained under inhumane conditions by the government's Department of State Services (DSS) security agency.
Rudy Rochman, David Benaym and Noam Leibman had set off for the African country as part of their "We Were Never Lost" documentary project aimed at telling the stories of disconnected and lesser-known Jewish communities around the world.
However, after several days of filming members of the Jewish Igbo people in the southeastern city of Ogidi—they consider themselves to be descendants of the biblical tribe of Gad—a group of heavily armed and masked DSS agents forcibly took the three into custody on July 9, seizing their passports and cell phones, and taking them in for questioning.
The agents said the matter would take about 15 minutes. It wound up turning into 20 days of imprisonment.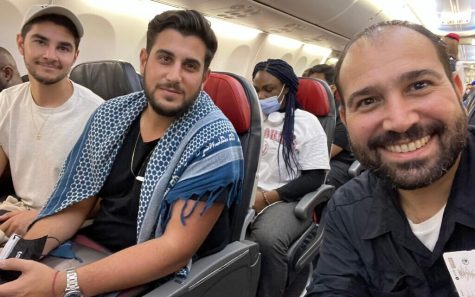 Rochman, a Jewish-rights activist with several hundred thousand followers on social media who came up with the idea for the documentary and was serving at its producer and host, told JNS that local bloggers had put the group in danger by publishing articles erroneously claiming that the filmmakers were political or security figures, or perhaps even Mossad agents who arrived from Israel in order to help the Biafra separatist movement take on the Nigerian government.
In the late 1960s, Nigeria and a secessionist state called the Republic of Biafra, which had declared its independence, fought a bloody nearly three-year civil war in which Biafra (supported by Israel at the time) lost an estimated 2 million civilians—mainly due to starvation as a result of a Nigerian blockade—along with 100,000 soldiers. Biafra lost the war, and the area was reabsorbed into Nigeria.
In recent years, tensions became high again between the two sides with the founding of the Indigenous People of Biafra (IPOB) separatist movement led by political activist Nnamdi Kanu. Rochman explained that Kanu recently returned to his Igbo Jewish roots.
On June 27, Kanu was arrested by Interpol in the Czech Republic and extradited to a Nigerian prison for trial, accused of starting an anti-government uprising.
Despite a public statement on the "We Were Never Lost" platform explaining that their presence in the country was purely cultural, the blog posts seemed to draw a connection between Kanu, the activities of the separatists and the arrival of the filmmakers.
"Our goal was to document the lives of the Jewish community and to share their stories, struggles, experiences, aspirations and to bring their story to the world," said Rochman, emphasizing that they were not on a political trip.
However, he said, the Nigerian government "sees a blur of everyone who is Igbo and connects them to Judaism, Israel and to the separatist movement."
'I wanted to keep it at the diplomat level'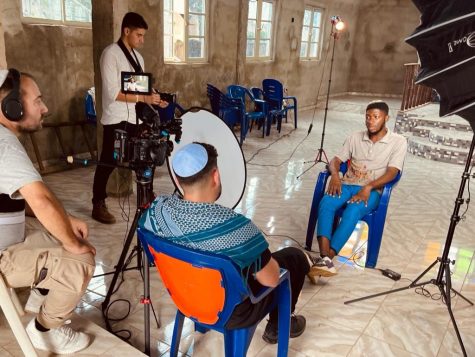 On their first day in detainment, Rochman said the group was placed in a cell at the local area police station where the interrogations began. The day they were taken in, a Friday, led into Shabbat, and the filmmakers begged for some grapes, which they used to recite Kiddush (the Shabbat blessing over wine), and some crackers, which they used as bread for their Shabbat "meal."
Early on Saturday morning, the men recount being led out of the prison at gunpoint and placed into a van, where they were taken on a nine-hour drive to the capital city of Abuja. Despite being told that their passports and phones would be returned to them upon arrival, and that the Israeli ambassador was waiting for them in the capital, it wasn't the case.
Instead, Rochman said that the gunmen forced them to take off their rings and shoes, and "they threw us into a circular cage, where you could walk maybe three or four steps in each direction. It was pitch-black and reeked of urine, with bottles of urine still there from former prisoners. There were cockroaches and mosquitoes, and we slept on the floor. I used my jacket as a pillow. It was like that for an entire week."
For the first six days, the group survived on bread and crackers, without showering and with daily interrogations, thinking that perhaps this would be their reality for years.
On the sixth day, Benaym, the project's field producer, who suffers from immunosuppression due to a past illness and was unable to take his daily medication since it was in their hotel, wasn't feeling well and was unwillingly taken to a local hospital.
He told JNS that "leaving my friends behind was extremely hard. I kept telling them, 'I'm not going; I'm not leaving you guys.' But they told me, 'You have to—you have to talk to our families and the ambassadors to make sure everybody knows. And they said you have to be healthy, so you have to go.' "
After treatment at the hospital, Benaym, who also holds French citizenship, was released to the French Embassy on the condition that he be transported back to the police station daily for interrogation.
While under the custody of the French, Benaym was able to use the opportunity to work towards the release of his colleagues and friends. He opened a line of communication with the three families and the various Israeli, French and U.S. embassies/consulates (Rochman and Leibman are dual Israeli/U.S. citizens; Rochman is also a French citizen) to coordinate a strategy.
As a veteran freelance journalist (formerly with i24 News), Benaym encouraged all parties to refrain from providing the media details of the ordeal. He explained that he didn't want further misinformation spread, which would only jeopardize their release. "I wanted to keep it at the diplomat level," he said.
Back in prison, Rochman and Leibman were allowed kosher-food delivery from the local Chabad House once a day, even though Rochman said that on several occasions, food was withheld. On the seventh day, they were given a bucket of water to pour over their heads and finally given a change of clothes.
The two, however, became more nervous after the interrogations stopped on day nine.
Describing the experience, Leibman, who was the film's director, told JNS, "I was definitely losing my mind at times—weeks in a blank room with no phone, computer, books, magazines or anything to do. Rudy definitely helped me keep my composure. That man can handle any situation thrown at him."
On the 10th day, they were moved to a different "cage" with other prisoners, who Rochman says were working as informants for the authorities in an attempt to extract information from the pair. At this point, they were allowed visits from Israeli Chargé D'Affaires Yotam Kreiman and Rachel Washington, a representative of Deputy Chief of Mission Kathleen FitzGibbon of the U.S. Consulate General in Nigeria.
Over the next 10 days, the young men remained in custody under similar horrible conditions as the relevant bodies worked to secure their freedom. On day 20, the three were transported to the airport, and after their airline tickets were scanned, were given back their passports and cell phones, and put on a flight to Turkey, where they took a connecting flight back home to Israel.
'We won't be able to create the episode we envisioned'
Rochman believes that the main forces who helped secure their release were his parents, who he said "managed to get everyone involved from businessmen to politicians on the Israeli, American and French side, going up to [Emmanuel] Macron, the president of France, up to U.S. Secretary of State [Antony] Blinken, along with Israeli businesspeople in Africa."
He added: "Everyone cared. It was clear people were trying to do things even when we felt helpless."
A day after arriving in Israel, the group paid a visit to the Western Wall in Jerusalem to thank God for their safe return.
Rochman said, "For us, it's difficult to sleep at night. For me, personally, from the overstimulation—where you go from seeing nothing, doing nothing for weeks in a very dark place, and all of a sudden there is light, you can breathe outside air—it's almost if you are on an adrenaline rush at night, and it's hard for us to sleep."
Leibman acknowledged that since they were detained after only several days of filming, they won't be able to produce the full documentary as they had hoped. "After being forced to leave Nigeria, we won't be able to create the episode we envisioned, but I think this incident has brought a much-needed wave of interest and attention to the Igbos from world Jewry," he said.
Nevertheless, the filmmakers insist that they will continue their "We Were Never Lost" project. According to Rochman, they will start filming in other countries shortly, taking added precautions and aiming to work completely under the radar.
"I'm still as motivated, and even more so about the documentary," said Benaym. "As a journalist, we never want to become the story; it's not our goal. The second that we became the story, we knew that something was going to go wrong. So our goal is to put the focus back on these communities, and make sure that we never become the story again."