Benjamin Netanyahu calls Philippines president Rodrigo Duterte friend during meeting in Jerusalem
JTA
Published September 3, 2018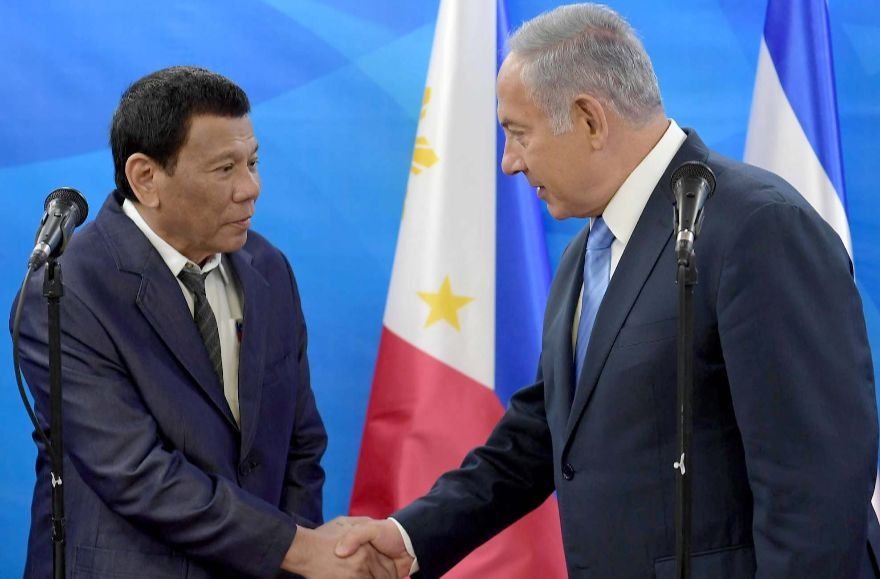 JERUSALEM (JTA) — "We remember our friends," Israeli Prime Minister Benjamin Netanyahu told Philippines President Rodrigo Duterte at the start of a meeting between the two leaders.
The official visit that began on Monday is the first by a resident of the Philippines in the history of Israel.
"It is deeply appreciated. We remember the exceptional role of the Philippines that received Jewish refugees during the Holocaust. We remember that the Philippines was the only Asian country that voted for the establishment of the State of Israel in the UN resolution in 1947. Mr. President, we remember our friends. And that friendship has blossomed over the years, and especially over the last few years," Netanyahu said Monday at the Prime Minister's Office in Jerusalem.
Three bilateral agreements were signed during the meeting: an agreement to improve financial conditions for the tens of thousands of Filipino workers in Israel; a memorandum of understanding on scientific cooperation; and a memorandum of understanding on cooperation in encouraging bilateral investments.
Duterte praised Israelis for treating Filipino caretakers well.
"They have been very happy working here. And I have heard that they have been treated as human beings, unlike in other places, which I am not going to mention now," he said.
Earlier on Monday Duterte addressed a meeting with some 1,400 Filipino workers who gathered in Jerusalem to see the president.
He said during his address to his fellow countrymen that the two countries share a commitment to peace and against "corrupt ideologies."
"We share the same passion for peace. We share the same passion for human beings," said Duterte. "We also share the same passion of not allowing a family to be destroyed by those who [have] corrupt ideologies," a reference to his war against drug dealers in his country.
He is facing two complaints of murder and crimes against humanity in the International Criminal Court. His war on drugs reportedly has led to the execution of thousands of alleged drug dealers and addicts.
During the meeting, which was closed to journalists but reported on in the Israeli media, he reportedly defended recent remarks in which he said there would be many rape cases in a Philippine city "if there were many beautiful women."
Israel and the Philippines established diplomatic ties in 1957.
Duterte, who has been president since 2016, in that year compared his campaign against drug dealers to the Holocaust, and said he would kill dealers like Hitler killed Jews, Haaretz reported.
"Critics compare me to Hitler's cousin," he said. "Hitler massacred 3 million Jews … there's 3 million drug addicts. There are. I'd be happy to slaughter them."
"If Germany had Hitler, the Philippines would have …," he said and pointed to himself.
Duterte apologized for the Hitler comments during his October 2016 Rosh Hashanah speech at a synagogue in Manila. Following the apology, he talked about the quality of Israeli arms and asked the congregants to "Please, ask your people who are here to sell us arms."
He is scheduled to visit Yad Vashem later on Monday. On Wednesday he will lay a wreath at a monument to Filipinos who rescued Jews during the Holocaust in a park in Rishon LeZion, located near Tel Aviv in central Israel.
Some critics of the Duterte visit say Netanyahu is cozying up to authoritarian governments. In recent years the prime minister has either visited or hosted the presidents of Russia, Hungary and Azerbaijan.  Netanyahu touts the support for Israel from these leaders in international forums.